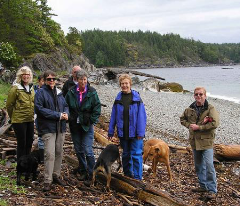 In January, Stephen and Chi Lippman arrived on Cortes Island from West Vancouver to take possession of their new 153-acre property, purchased from Island Timberlands for $1.4 million. On January 6, the Lippmans - who had plans to build a summer home - arrived at the Cortes Friday Market with their two children. The family, perhaps unwittingly, walked into a maelstrom of public protest regarding traditional public access across their property to a popular beach.
Inside the community hall, the Lippmans faced a sign that read "Save Hank's Beach." Local citizens signed a petition and picked up a sample letter urging them to write to the family. "Hank's Beach is a very important place for Cortes Island ecologically and culturally," read the letter. "I am writing to ask you to allow public access … I would appreciate the courtesy of a response."
"Courtesy?" Stephen Lippman said later. "The whole thing was distasteful. We're tree-hugger types. They should have talked to us privately."
Tzeporah Berman, who organized the protest and has a long history of forestry campaigning in BC, said islanders did talk to Lippman privately and that he insisted he had no intention of allowing public trails through his property. "We set up a table in the hall to raise awareness about the looming prospect of losing public access to Hank's Beach," said Berman. "Seventy people signed the petition in two hours and the next day, 35 people gathered at the beach in the pouring rain."
"Most islanders welcomed us," says Lippman. "A few were aggressive and hostile." Bruce Ellingsen, whose family has lived on the island for generations, said, "The land is private, so public access will be up to the owners. The beach has been used since the 1940s, and there are community and moral values at stake, but legally, the land is theirs."
David Shipway, who co-founded the Cortes Ecoforestry Society, and helped produce ecological maps of the island, points out that the controversy on Cortes Island reflects a larger issue throughout BC: forest companies converting forest land into private residential land without public scrutiny. "The forest companies have benefited from decades of low silviculture land taxes," says Shipway. "The sell-off amounts to an unregulated form of subdivision. Normally this would trigger a public process, including the protection of public access. Years ago, our community made agreements with MacMillan-Bloedel to preserve this access, but they ducked their commitments through a series of land deals. This isn't the Lippmans' fault, but the community has a right to protect its values."
Chain of title
In the late 1800s, Henry Herrewig homesteaded the piece of land now in dispute on Cortes Island. Under the BC 'preemption' policy, Herrewig built a shack, planted a garden and thereby won title to the land. By 1910, this particular shoreline on the southeast coast of Cortes was known as "Hank's Beach."
Of course, before Hank and the BC government, this land was the territory of Salishan First Nations, specifically the Klahoose band on Cortes. In 1875, the BC government formed an "Indian Reserve Commission," which hastily carved up the province, without treaties, ignoring the claims of First Nations. BC simply assumed title to the land and we are still unraveling the legal mess today.
Although BC First Nations have stated that they would not seek private land in their land claims, Kathy Francis, treaty negotiator for Klahoose, called Lippman and explained the historic use of the land and the band's working agreement with the logging companies. "He was rude to me," she claims. "We've used the land continuously. We're not going after private land, but I'm not saying we're not interested in it or the public access."
In the 1950s, MacMillan Bloedel picked up BC land at about a dollar per acre, as many homesteaders defaulted on land taxes. Tree Farm License 19 on Cortes, like forest company land throughout the province, was zoned 'Forest 1' and taxed modestly as a managed forest unit.
In the 1980s, as forestry disputes raged throughout BC, Cortes islanders began negotiations with MacMillan Bloedel and local loggers. The islanders achieved what they believed was an agreement to preserve certain forest lands, including public access rights.
Meanwhile, MacMillan Bloedel had drafted a secret plan, unknown to its own community negotiators, to unload the land. In a series of corporate deals in the 1990s, MacBlo sold its entire 741,300 acres in BC to Weyerhaeuser, the world's largest private owner of softwood timberland, with operations in 18 countries. Weyerhaeuser then sold this land to Brookfield Asset Management (Brascan), which assigned the Cortes Island land to its subsidiary, Island Timberlands, which sold contiguous forestry lands to different buyers, without typical subdivision procedures such as public hearings to preserve community interests.
Island Timberlands sold the Hanks Beach property to the Lippmans, who now inherit a century of broken promises to the local inhabitants of Cortes Island. This story is hardly unique. It reflects the story of disappearing commons throughout British Columbia.
Tragedy of the commons
Many jurisdictions and communities - the Welsh countryside, for example - have preserved public pathways through otherwise private land. On Cortes Island, in the 1980s, Hollyhock retreat centre purchased forest land from MacMillan Bloedel to keep it from being logged, and then sold residential properties, but with covenants that restricted logging and preserved public pathways. Renewal Land Company recently offered 25 lots on Cortes Island, in a strata deal that creates a 129-acre forest conservation area, cedes a 32-acre public park to the regional district, retains public pathways through the land and returns a local skating pond to the community.
In both cases, the venders were small businesses with ties to the local community. Brascan, on the other hand, manages $40 billion in global assets, including 90 urban office properties and 130 power plants. They boast of "6,000 professionals focused on creating value for shareholders." Indeed, the Brascan share price grew 53 percent annually over the last five years; great news for their shareholders, but at a cost to British Columbia communities.
Meanwhile, the current BC government has changed forestry legislation to allow logging companies to sell large tracts of forest land without government review, leaving communities on their own to protect their social and environmental interests. When Weyerhaeuser sold $1.2 billion of timberland to Brascan on Haida Gwaii, the Haida blockaded public roads, denied access to Weyerhaeuser and the BC Forest Service and forced their claims into court.
"We need to resist the progressive enclosure of the commons at the macro-scale," says David Shipway, "or it undermines the principle of maintaining public access at the micro-scale with residential development. Large corporate subdivisions should trigger the creation of legal easements for historic trails, new parks, or ecological reserves that are typically required in subdivision at the next scale down of land development."
Collecting point
When MacMillan Bloedel sold their Cortes land to Weyerhaeuser, the BC courts established the condition that Weyerhaeuser must deal with Cortes "in good faith." After the sale, Weyerhaeuser executive Charles Smith wrote to the Cortes Ecoforestry Society (CES) that the Hanks Beach property "will not be listed by Weyerhaeuser." When the property was sold to Brascan, Reid Carter of Brascan told CES director Noba Anderson "While business minded, we are willing to work with islanders, First Nations and the community towards a solution."
When Brascan sold to the Lippmans, neighbours Barry and Carrie Saxifrage met with the new owners and explained the history of public use. They claim Stephen Lippman insisted there would be "no public access" across his property. Carrie Saxifrage says that the Lippmans told her their realtor, Ed Handja, assured them "just throw up a gate, and they'll forget about it in a couple of years."
"Even if this were true," says Saxifrage, "the point is that the earth needs communities that have strong relationships to the land. There are many ways in which a community shares its resources, even on private land. We all use public and private trails, we collect mushrooms and we collect seaweed for our gardens. These common uses of land are the fabric of a community."
Carrie recalls a Sunday at Hank's Beach: "Two boys building boats out of flotsam, a retired professor walking his dog, a young couple climbing the rocks to find privacy and two old fishermen putting out a campfire on the beach. With the trails open, grandparents and toddlers can walk to a wild bit of public coastline." The Saxifrages asked Stephen Lippman if he would sell to an island buyer if such a buyer could be found. They say he agreed if they found a buyer before the closing date, within five days. "We found a buyer," says Carrie Saxifrage, "with the long-term intention of creating a park. The buyer met Lippman's price, including full recovery of expenses. In the end, however, Lippman rejected the offer."
Stephen Lippman describes himself as "an entrepreneur with a soul." Asked if he would consider negotiating a deal with islanders for a public access across his land, Lippman says, emphatically, "No. I'm putting gates up. We're simple, modest people. I'm not looking to subdivide or log the property. We'll build a small place and put up solar panels. Eventually, this will all blow over. Most of the islanders have welcomed us."
Indeed, full-time islander Dwayne Rourke wrote a public apology to the Lippmans saying "I acted hastily" in signing the petition, and "I wish to heartily welcome you to Cortes Island." Nevertheless, Rourke added, "I ask that you consider providing foot trail access to the beach as this would be a great show of acknowledgement of the many island folk who have been using the existing trail for decades."
Pathways
Island regional director Jenny Hiebert believes there may be other options for convenient access to the beach and says the regional district is "investigating the requirements needed to develop them for public. "The family who purchased the land is not the problem," says Hiebert. "The lack of public access is the problem." "I don't want to make Steve and Chi Lippman the bad guys," says Barry Saxifrage. "I'm just hoping they will choose to become the good guys."
Saxifrage may see some hope in a gift Lippman gave them, a sample of a product he distributes. On the bottle of "Faithful" bodywash, with "100 percent bio-active organic chamomile" the company slogan reads, "Paths are made by walking."
Rex Weyler is a Vancouver journalist and the author of Greenpeace: How a group of Ecologists, Journalists and Visionaries Changed the World.