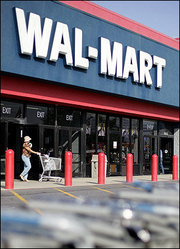 Wal-Mart's recent attempts to kindle a greener image lie in sharp contrast to a scene four years ago in Courtenay, B.C. On two consecutive Saturdays, volunteers holding shovels and dirt-filled bags walked the site of a new Wal-Mart, adjacent to the salmon-bearing Millard Creek, rescuing swordferns and other native plants before bulldozers chewed them up.
This year, Wal-Mart unveiled its wholesome-sounding "Green Grants" program for Canadian communities. The program, in what big box store opponents might call an oxymoron, will "link retail development with environmental revitalization and stewardship." The rules? All grant recipients must use native plant species. Wal-Mart Canada's ecological grants are one small part of the company's recent worldwide initiatives to buff its pockmarked image. Faced with mounting criticism that its big box stores hurt both the environment and communities, Wal-Mart Canada has set out to highlight its positive contribution to society. Out of 24 news releases Wal-Mart Canada put on its website during the first nine months of this year, nine touted Wal-Mart's support of what the company calls its "Good Works".
Other chains give more
All told, Wal-Mart has contributed more than $50 million to Canadian charities since it came to Canada in 1994 through the purchase of the struggling Woolco chain, says company spokesperson Kevin Groh. The charities include everything from the Children's Miracle Network, a non-profit association that raises funds for children's' hospitals, to the Canadian Red Cross. (In January, Wal-Mart Canada announced it would donate $300,000 to establish a joint "Canadian Red Cross/Wal-Mart Canada Disaster Preparedness and Response Fund.")
Yet, Wal-Mart's reputation for stinginess dodges the company even in the grant-giving field. Wal-Mart Canada's average annual donations pale compared to its rival, Hudson's Bay Co. Hudson's Bay Foundation, representing The Bay, Zellers discount stores and Home Outfitters, donated almost $11 million to charitable organizations in 2004. Wal-Mart's average annual donation over the past 11 years is $4.5 million. HBC donates the equivalent of five percent of pre-tax earnings, according to foundation spokesperson Alisha Bard. (Bard did not have figures for the percentage of HBC contributions that are donated by customers.) Wal-Mart, by contrast, is "working towards" its goal to donate approximately one percent of pre-tax earnings, says Groh, who declined to say how far the company is from that target.
Employee efforts
Wal-Mart Canada's "Good Works" appear even leaner when you consider that customers donate 50 percent of Wal-Mart's charitable offerings during campaigns organized by company employees like Linda McClung, who often volunteer their time. "In general, the benchmark is that the company commits about half," says Groh. McClung, a husky-voiced grandmother of six, manages the seasonal department at Wal-Mart's Victoria store. She is also a member of the store's Sunshine Committee, a volunteer group of employees who organize a myriad of fund-raising efforts for causes ranging from helping needy families at Christmas to the Special Olympics.
McClung estimates that she spends 26 weekends a year volunteering for Wal-Mart's "Good Works." On Saturdays and Sundays, her days off, she and a colleague often set up a barbecue outside the store, collecting up to $3,000 per weekend from hotdog sales. Wal-Mart supplies the barbeque, gas, hotdogs, buns and other trimmings, while McClung and other company volunteers chop onions, sizzle hotdogs and make change. Any money they collect is matched by Wal-Mart. "It's fun," says McClung, who volunteers less these days because she is recovering from a heart attack. "We care about our communities and where we live. It's part of the culture with Wal-Mart."
McClung, since becoming a Wal-Mart employee in 1994 (she worked for Woolco prior to that), has engaged in so many fund-raising efforts she has trouble recalling all of them. She makes goodies for annual employee Christmas bake sales to raise money for needy families. She packed Christmas presents for a widow with three children, sold draw tickets for televisions, patio furniture and a barbecue donated by Wal-Mart to support a variety of causes and cheered on her store manager while he climbed up scaffolding to spend a weekend on a platform with a police officer to raise money for the Special Olympics. McClung estimates that 80 of her store's 300 employees are involved in fund-raising efforts that include everything from the company's "Adopt-A-School" program to environmental initiatives.
'Evergreen' news release blitz
No Wal-Mart donation for environmental causes is too small for mention in a news release, including a recent $350 grant to Burnaby's Lakeview Elementary School - part of another Wal-Mart Canada initiative to "green" Canadian school grounds. Lakeview Principal Donna Beaumont was surprised to learn that money to buy native plants came from Wal-Mart, and perturbed that Lakeview is named in a news release she has never seen, posted on Wal-Mart's website. "If it's done anonymously and quietly, fine, but if Wal-Mart wants recognition for that, then I don't think that's okay."
Lakeview applied for the schoolyard grant through a non-profit environmental organization called Evergreen, created in 1990. Evergreen promotes urban environmental initiatives through donations from individuals, foundations, government agencies and corporations such as Wal-Mart, Toyota Canada Inc. and Unilever Canada.
Vancouver's Tyee Elementary School also applied to Evergreen for money to purchase native plants for a school butterfly garden. Like Beaumont, Tyee Principal Stephanie Sellars was not aware that her school's $750 grant came from Wal-Mart and "uncomfortable" that Tyee Elementary is mentioned in a joint Wal-Mart/Evergreen press release. "If Wal-Mart had done that anonymously, without any listing on their website, we'd say 'well okay, that's very generous of you,'" says Sellars.
Wal-Mart's new Green Grants combat criticism that the company fosters urban sprawl and paves green spaces ranging from wetlands to meadows. In July, Campbell River city council turned down a proposed Wal-Mart store on the grounds that its location, adjacent to the Campbell River estuary on the east coast of Vancouver Island, would be detrimental to the environment. The estuary nourishes tens of thousands of salmon (five different species) and is home to 123 bird species, including the rare purple martin, on B.C.'s red list for endangered and threatened species.
Campbell River to Vancouver
Just two days after Campbell River council unanimously rejected Wal-Mart's plans--for a 111,000 square foot store with a 700-car parking lot--the city's parks and recreation department received some welcome news. Campbell River had been selected as one of the first recipients of a Wal-Mart Green Grant, channeled through Evergreen.
The $8,000 grant will be used to help restore Baikie Island in the Campbell River estuary, a small island that once housed a sawmill. The island, owned by the city, would have been clearly visible from outside the Wal-Mart store had the development been approved. Wal-Mart's money will be used to purchase native plants -- including Sitka spruce trees and salmonberry, snowberry and flowering current bushes-for a riparian zone under reconstruction, says parks supervisor Susan Simson, who applied for the grant after seeing it on the Internet. Wal-Mart plans to distribute $300,000 worth of Green Grants this year -- $10,000 for each of the 30 new Wal-Marts scheduled to open in Canada in 2005.
Among the eight B.C. Green Grant recipients is the Tsolum River Restoration Society in Courtenay, which has used its $9,000 grant to remove Scotch broom and other invasive species from the Towhee Creek, replacing them with native species such as thimbleberry and cedar. The Strathcona Community Gardens Society in Vancouver will use its $10,000 grant to drill in a wetlands area under development so that native species planted in the area can be kept naturally moist with water from an aquifer.
Strathcona Gardens treasurer Muggs Sigurgeirson says the decision to apply for money from Wal-Mart was a very contentious issue amongst gardeners. "This one wasn't easy," she says. Most Strathcona gardeners agree with Vancouver city council's decision last June to reject rezoning for a proposed Wal-Mart on Southeast Marine Drive, says Sigurgeirson, but they are willing to accept funds from the company as long as the gardens do not have to display a corporate logo or plaque, or accept any on-site advertising by Wal-Mart.
Groh points to Green Grants distributed in Vancouver and Campbell River as proof that Wal-Mart is genuinely committed to the environment and is not merely courting support in communities in which it wants to locate. Two additional Vancouver groups - the Musqueam Ecosystem Conservation Society and the Cascadia Society for Social Working -- received Green Grants even though Wal-Mart's rezoning plans were rejected by the city, says Groh. "It was not 'we'll give you this if you give us that.' That wasn't the spirit of it."
BC dotted by 34 Wal-Marts
Wal-Mart's proposed Vancouver "green" store design is also indicative of the company's desire to improve its environmental track record, says Groh. The design included windmills to provide power for store heating and cooling systems, rooftop water collection for use in store toilets, and climate-controlled skylights. Wal-Mart, which owns the site where rezoning was turned down, legally has to wait only until next June before it can re-submit another rezoning application to a new city council.
A Vancouver Wal-Mart, along with six other B.C. stores currently in the works, would bring the total number of Wal-Marts in the province to 34. "Many additional markets" in B.C. are under consideration, according to Groh. Across Canada, the number of Wal-Marts and Sam's Clubs has risen to 261.
Wal-Mart's annual Canadian sales are difficult to gage, because sales are lumped in with the company's other eight international divisions, but analysts estimate Wal-Mart Canada's annual sales to be about $11 billion. Hudson's Bay Co. reported sales and revenues of slightly over $7 billion for fiscal 2005.
Competition from Wal-Mart and other big box discounters is cited as a major factor in HBC's lackluster financial performance, which in October led to a takeover bid by South Carolina businessman Jerry Zucker, owner of Maple Leaf Heritage Investments Acquisition Corp. Less than one week after Zucker's takeover bid, Hudson's Bay Co. announced it would eliminate 825 management and administrative positions to reduce costs.
The question remains: how much will Wal-Mart give to Canadian communities? And how much will it take?
Sarah Cox is a journalist and researcher based in Victoria. Her last story for The Tyee was Wal-Mart on the Rez.