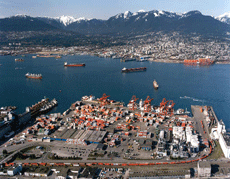 Mediator Vince Ready arrived at the Burnaby Hilton on Friday, July 29 armed with new proposals to resolve the bitter truck dispute paralyzing local shipments to and from the Vancouver region. And they were well received by the fledgling Vancouver Container Truck Association, an ad hoc organization formed by drivers to negotiate better container haul rates and to deal with a long list of grievances.
Late on Friday, The VCTA executive voted unanimously to recommend Ready's recommendations be accepted, and is asking the roughly 1,000 members to vote in favour on Sunday. However, VCTA lawyer Craig Paterson said that all the lawsuits against the VCTA have to be dropped before there's a deal. Only one of the 11 lawsuits has so far been dropped, he added.
Those are the latest twists in a fight that may seem specific to BC, involving local port drivers, local trucking companies and with most of the container goods bound for local stores. But listening to the Vancouver and Fraser Port truckers on the picket lines, their concerns are similar to truckers at many of the ports all over North America.
A litany of stories about long waits outside container terminals without a cent to show for it, low rates for transporting containers, spiraling operating costs, high fuel costs and a general feeling that they are getting shafted. A very similar but shorter strike took place at the port of Oakland, northern California for eight days last year, and truckers are grumbling right now about a new off-peak program called PierPASS at the southern California ports of Los Angeles and Long Beach.
So what is it that has got the truckers so riled up?
'Bottom feeding bunch'
On a visit to the docks earlier this week, the smell of sawdust fills the air along River Road, south of the mighty Fraser River. This winding road is normally busy with container trucks roaring to and from Fraser Surrey Docks, now a major hub for CP Ships and other shipping lines. It's surprisingly quiet today though: just a couple of dump trucks and a flatbed truck carrying lumber heading down the road. Turn left across the rail tracks and you come to the terminal entrance, where about eight to 10 truck drivers are playing cards or talking quietly under a covered tent that looks remarkably similar to a summer fruit stall.
In the background, a ship is discharging containers. But although the ships keep on coming, their containers are going nowhere for now. About 1,000 of the 1,200 region's container truckers have withdrawn their services from Vancouver's three container terminals Deltaport, Centerm and Vanterm as well as this one at Fraser Surrey. Technically it's not a strike, as the drivers are non-union contractors not employees, but the effect is the same as a strike. Local goods aren't being collected or picked up from the docks, apart from drivers for a small number of companies.
An injunction granted by the B.C. Supreme Court ordered the truck drivers to stop blocking traffic to Fraser Surrey, after one truck driver alleged that protesters hurled rocks at his rig. So now two cop cars are parked discreetly up the road within sight of the information picket. Thrown rocks can seem the least of it in this oft violent conflict. Tires have been slashed, windows smashed, and gunfire raked eight trucks at Pro-West Transport, including the cab of a sleeping non-striking trucker, who escaped unharmed.
It's a complex, messy dispute, prompting many people to wonder whether deregulation is a good thing. Three-quarters of the truck drivers are non-union owner-operators, each having separate contracts with at least 47 individual trucking companies or brokers. These brokers organize deals with customers to pick up or drop off containers at the ports and are used to competing with each other, not working with each other.
VCTA lawyer Paterson put it bluntly. "The brokers are a chaotic, bottom-feeding bunch. They undercut each other and there are no regulations governing the brokers' function," he said.
'We're going broke'
"We need more money. We're actually going broke," said Steve Bechtel, picketing near Vanterm terminal, just east of downtown Vancouver.
Drivers complain, for example, that they receive about $62 for a trip from Vanterm that can take four hours, spending $30 in fuel, as well as the high overheads of owning, insuring and maintaining their trucks. The truck drivers say their pay levels haven't increased for years, and to make matters worse, diesel fuel costs have risen from around 45 cents/litre in 1998 to around Cdn. $1/litre nowadays.
They are also annoyed that some trucking companies are charging fuel surcharges to their customers, but are not passing the money received on to the drivers.
"We don't seem to see the money," said Bechtel. A larger group of truck drivers is picketing on Commissioner Street, to the east of downtown Vancouver. They say the dispute is not just about the set rates for hauling containers, but long wait times. Ranjit Singh said he gets up at 5 a.m. and starts driving around 6 a.m., sometimes waiting in line at terminals for up to three hours, without receiving a cent for his waiting time.
Vancouver Port Authority brought in a truck reservation system after the last truck strike in 1999, to ease concerns over long waiting lines at terminals. They now quote truck turnaround times inside terminals averaging under 30 minutes. While the drivers agree wait times are better than in the past, they say the quoted turnaround times are totally misleading, as they don't count the time drivers have to wait outside terminal gates.
Jerry Uppal, manning one of the VCTA information pickets near Vanterm container terminal on July 27, said that getting a reasonable pay rate is important, but getting to keep the same rate three or four months after any settlement is even more important. "We want control over what we charge for our services," he explained.
The drivers are bitter that the deal reached after the 1999 strike broke down after three or four months, fuelling their determination this time to get a system that works in the long run. Mike de Jong, BC's Minister of Labour, acknowledged this problem in an interview just before Vince Ready made his final proposals on July 29. "This is the second go around, so the lesson here is that we can't apply a band-aid and have the same issues reappear," he said.
The mistrust between drivers and brokers also surfaces in the contentious 70/30 issue. Under the current system, the brokers pay truck drivers 70 per cent of the revenue received from customers for moving goods, and keep 30 per cent for themselves. The problem is that there is no disclosure by the brokers about the overall revenue figure. "If we keep the 70/30 split, we want to have a minimum pay rate guarantee as well," said Uppal, an owner-operator since 1994. Difficulty making a living prompted him to take work as a longshore casual just before Christmas, although he still owns two trucks. "There's not enough money to be made in trucking at present," he said.
Ranjit Singh is also unhappy with the way they are paid. "None of the companies show us their billing. We don't know what they charge the customer. We don't have a clue. But we feel they are charging customers lots of money and we are not getting our fair share," he said.
Trucking companies frustrated, too
Lawyer Richard Longpre, who represents virtually all the 49 trucking companies involved in the dispute, is also frustrated. He said that even after trucking companies offered the drivers a 28 percent rate increase, VCTA members were not satisfied, and kept adding to their list of demands.
The provincial and federal government brought in facilitator Vince Ready to resolve the dispute, and after extensive talks, he presented both sides with non-binding recommendations on Friday. The truckers and brokers have been told to give a yeah or nay by Sunday afternoon, and if both parties ratify the agreement, the ports could be up and running by Tuesday, August 2.
Longpre, speaking in mid-July, said three major issues are rate schedules, fuel surcharges and enforcement of the new rates and surcharges by all the trucking companies. However, the licensing of truckers who enter terminals is also an issue. Bob Simpson, president of Team Transport, also speaking in mid-July, said that the trucking companies gave drivers a 15 percent increase in June 2004, that they had offered a 28 percent increase during negotiations, but that the VCTA kept increasing its list of demands.
Paterson retaliated by questioning how many of the 1,000 drivers actually received the 15 percent increase. Many of the trucking companies were also worried that reaching a pricing agreement with the truckers would actually break the law, specifically the anti-combine or anti-competition legislation. Mike de Jong revealed on July 29 that the federal government is planning to suspend the anti-combine laws for 90 days until a solution can be reached on this thorny issue.
"It's not a conventional labour dispute, so we had to show some imagination," said de Jong. He added words of caution. "We're not at a solution yet it's only a series of recommendations."
Port Authority criticized
The truck drivers have accused Vancouver Port Authority and the Canadian government of turning a blind eye to their problems, and failing to address congestion problems at the port.
Chris Badger, VPA's vice-president of operations, disagreed, saying the port is doing its part to address operational issues that will support the ability of truckers to earn a good wage. These include expanded monitoring of waiting times for trucks accessing the port's terminals; improving productivity; looking at expanding truck gate hours; and committing to involving truckers in strategic planning.
He said Vancouver and Fraser Surrey's container terminals handled about 3,000 truck transactions per day, and turnaround times were fast, but there was only so much that could be handled in eight hours per day. Badger said the port could not get involved in compensation issues. As to the truck drivers, he said: "They chose to be owner-operators. It's a decision they made."
The BC Trucking Association, which represents the trucking companies, has also chosen not to get involved. BCTA president Paul Landry said they had no mandate to deal with discussions involving freight rates.
As Vince Ready pointed out in his recommendations, however: "There are other issues that cannot be settled by the truckers and companies alone, because the potential solutions involve other parties. The most obvious and visible of these is the problem of waiting times at the ports. There is something fundamentally wrong when truckers must wait for hours to get access to the containers."
For these reasons, Ready recommends setting up a joint task force involving the provincial and federal governments to look at logistics and other operational problems and ways of ensuring the new agreements and increased pay rates he proposes remain in force.
US faces similar battles
South of the border, U.S. truck drivers have had or continue to fight very similar battles at the ports. On April 30 last year, several hundred owner-operators servicing the port of Oakland went on strike, occupying the gate area outside the APL terminal, bringing truck traffic to a virtual standstill for eight days. Their main complaints? Just the same as those in Vancouver. Namely, low base rates for picking up containers, high fuel costs, long waits at terminals, and a firm belief that the brokers weren't playing fair with them.
In that case, the port of Oakland which like Vancouver is largely a landlord port helped organize meetings between all the parties involved. "We tried to facilitate some solutions," said Marilyn Sandifur, spokesperson for the port of Oakland, adding that there have not been any work stoppages by the truckers since last year. The Oakland dispute was finally resolved when trucking companies and shipping lines agreed to pay the truckers a 25 to 30 per cent increase in base rates and 10 per cent fuel surcharge to offset high diesel prices.
Irvinder Dhanda, an owner-operator and spokesperson for the Oakland truckers at that time said in mid-July that trucking companies were paying the increases as promised. "We solved the problem," he said.
The trucking industry in the U.S. deregulated in the 1980s under President Ronald Reagan, effectively ending the Teamsters' contracts then in place. Now non-union companies dominate the port short-haul trucking business. As in Vancouver, either the shipping companies, brokers or trucking companies contract with independent truck owner-operators to pick up or deliver containers to/from the ports to local customers. One difference is that US terminal operators mainly run chassis operations, unlike Canadian operators, but that doesn't really change the main trucking issues for drivers.
Teamsters make headway
Ancient U.S. antitrust laws complicate negotiations between the parties. Truck owner-operators are considered independent business people and are barred by federal price-fixing laws from negotiating or talking with employers together. When the port of Oakland hosted a meeting between the involved parties, for example, the independent truckers that attended had to negotiate with brokers separately, in accordance with antitrust laws.
The Sherman Anti-Trust Act of 1890 was brought in to fight corporate oil monopolies, but became used as a weapon against labor unions. Although it was later amended to prevent it being used against labor, critics say it is now used against port drivers on the technicality that they are legally classified as "independent contractors".
The Teamsters union has concentrated efforts on organizing long-haul drivers, but more recently has gone after the port short-haul drivers as well with limited success. Its way round the antitrust legislation is to convince regional trucking companies to hire the truckers as direct employees and lease the trucks from the drivers, which would allow the drivers to be unionized. A major union success came this June, when the Teamsters and Long Beach-based Maritech Leasing announced the first new union contract between the Teamsters and a port trucking company in more than 20 years.
It's a relatively small step as Maritech, a subsidiary of Carrix, is a small operation. But as Chuck Mack, director of the Teamsters port division, noted, it is an initial step in re-establishing the Teamsters in America's ports. "Port drivers on the West Coast now have a contract that guarantees them fair wages, health and pension benefits and a grievance system," he added.
Bob Kelly, president of Maritech Leasing, named driver shortage and the need to keep a low turnover of drivers as his main reason for agreeing to the union contract. "Drivers are leaving faster than the industry can replace them," he explained in a statement.
Major driver shortage
The current shortage of port drivers in the U.S. stems from thousands of truckers leaving the industry in the last three years, frustrated by long line-ups at terminals and pay rates that have failed to keep pace with soaring fuel prices. This shortage is acknowledged by shipping lines and terminal operators, and also discussed in a report called "The National Marine Container Transportation System: A Call to Action", released by the industry-led Waterfront Coalition in May.
"Today, the independent owner-operators that make up this industry are struggling to earn adequate compensation for their service. This is creating a driver shortage at a time when imports are skyrocketing," said the authors, a group of U.S. manufacturers, brand name suppliers, retailers, farmers, and transportation providers. "Addressing road congestion and terminal efficiency will go a long way toward increasing the number of daily trips harbor truckers need to improve the economics that will avert a further shortage of drivers."
At the ports of L.A. and Long Beach, where there are approximately 10,000 mostly Latino port truckers, the head of one local trucking company agreed recently that there are not enough truck drivers because of low rates. "If they can't get more turns (cargo shipments), and make more money, we're not going to get more drivers," said Bob Curry Jr., president and CEO of California Multimodal, Inc. (CMI).
Trucking boss: Turn times critical
He told the June "Pulse of the Ports" conference in Long Beach that in the last five years, driver insurance costs have risen 100 per cent, registration (tractor plates) by 90 per cent, fuel costs by 60 per cent, and maintenance costs by 30 per cent. At the same time, pay rates have not changed much in the last 15 years and the average number of daily turns has stagnated as traffic in the ports and on the 710 Freeway link increases all the time. As a result, the incomes of truck drivers in adjusted dollars are substantially less than five to 10 years ago.
Truckers are also unhappy that unlike longshore labor they aren't receiving any extra compensation for working nights under the new off-peak gate PierPASS program which started on July 23. All 12 international container terminals in L.A./Long Beach are now running five new off-peak shifts a week on nights and weekends, in a bid to reduce congestion on local roads.
The Teamsters' Chuck Mack criticized the new hours, saying they pose an unfair burden and place extra costs on motor carriers for nighttime security and operational expenses, without offering even a portion of the new funds obtained through a surcharge shippers now have to pay.
However, PierPASS officials pointed out that almost none of the 10,000 drivers serving the ports are Teamsters' members, that drivers will likely make more money by being able to complete a greater number of turns during off-peak shifts, and that trucking companies are looking at additional incentives for drivers during these shifts.
What mediator Ready proposes
Back in Vancouver, the boxes pile up as the strike ends its fifth week, customers are increasingly frustrated, and the flurry of lawsuits filed by shippers and trucking companies against the Vancouver Container Truck Association continue to mount.
The truckers and brokers are now examining Vince Ready's recommendations, which propose increases to the container rate schedules, fuel surcharges when the average price of diesel tops $1.05 per litre in any quarter, and a way of enforcing the agreement so that companies don't undercut each other at the drivers' expense. And to smooth the way, the federal government announced Friday it was lifting laws, for 90 days, preventing the parties from negotiating an interim agreement.
Even if the dispute is settled shortly, sorting out the lawsuits and broader operational problems will take far longer. Sorting out the bitterness on both sides is likely to take an even longer time.
Alison Bate, formerly of the Vancouver Sun, writes for a variety of international publications.