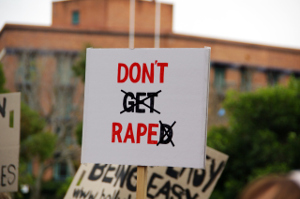 In an eerily coordinated offensive, Barbara Kay and Margaret Wente took to the pages of both Canada's national newspapers this past week to inform their readers that rape culture is fiction, appropriately behaved women face a level of risk which is "nugatory" and the concept of consent is the forward artillery of the "war on men."
Yes, seriously. In 2014. In the same week that the University of Ottawa suspended their entire men's hockey team following allegations of gang rape, and the president of their student union was the target of graphic online rape fantasies, and then doubly victimized when their authors threatened her with a lawsuit for exposing their dirty little secret.
"The manufacture of 'rape culture,' proclaims Wente, "is a triumph of ideology over substance. It has inflated a serious but uncommon threat into a crime wave."
"So relax ladies," adds Kay. "Although there should never be sexual assaults on any woman on campus, there is no need to panic. Moreover, it is fair comment to observe that those women students who do not drink to excess, who are prudent about the kind of parties they attend, and who are selective about their sexual partners in general will doubtless reduce their odds much further, down to statistically nugatory levels."
In her piece, Kay uses a blog post by a business professor in Pittsburgh to call into question all existing research on the occurrence of sexual assault. It is fair to assume that if she could have supported her position by reference to more credible sources, she would have done so. But just in case, here are some real statistics, from real research, not speculative blog postings.
Sexual assault is still the most underreported crime with reporting as low now, according to the UCR (operated by the FBI), as it was in the 1970s. And it is a nationally representative survey carried out by the Centres for Disease Control (CDC) in the U.S., not some hysterical feminist group (as these columnists seem to imply), which presents the fact: one in five women have been raped.
According to a 2011 review of academic research spanning the past 15 years, the assailant is as likely to be drunk as the victim, impulsive types are more likely to assault when they are drunk and predatory types will drink as an excuse to assault -- so perhaps it is their drinking we should call into question.
But let's step away from emotional arguments about the effect of rape on its victims, and look at the subject from a purely economic standpoint. Surely Kay and Wente are concerned with the impact of rape culture on our economic prosperity? A 2009 Justice Canada study, reported on by the Canadian Press, "assessed five types of violent crimes that had an economic impact of $12.7 billion. The report contained a detailed accounting of dozens of factors, from medical care and lost wages to court and social welfare costs."
"By far the largest single cost -- $4.8 billion of the total -- was attributed to sexual assault and other sexual offences, crimes in which more than 90 per cent of victims were women."
Fantasies of false rape reports
We were initially inclined to take to heart the most valuable advice the internet has ever produced: don't feed the trolls.
After all, aren't Kay and Wente fighting a desperate rear-guard action in a war long since lost? So why provide oxygen to an argument so absurd it seems ripped straight from the 1950s? Because despite what we tell ourselves, what we hear, what legislation has been enacted over the years, we still live in a world where too many with power and influence justify rape -- or at the very least, excuse it away, case by case.
Rape continues to be the only type of violence where the victim is questioned, doubted, and sneered at. The only type of violence where women's skirt hems are measured, alcohol consumption judged, past sexual history used against them and as a barometer of how much fault they should be assigned. Because that one silent, accusatory question still continues to fester in many people's minds: she must have done something to bring this on, right?
We live in a culture that normalizes violence towards women, justifies its existence and seeks to blame the victim instead of the perpetrator. Especially if the perpetrators look like good kids from good families with good futures ahead of them. Remember CNN News commentators lamenting the bright futures the Steubenville rapists had thrown away, by, you know... raping?
In her column, Kay ups the ante of public irresponsibility by asserting that what many call "rape" is ultimately "unwanted or regretted sex," "false allegations" or "hazed over by an alcoholic smog."
Perhaps most troubling is the idea that women, in today's hostile environment, would willingly and casually file false rape charges, or that such a thing would be more prevalent than rape itself. While the odd case of false reporting exists, as it does for false reporting of any crime, the overwhelming majority of reports are genuine, according to the RCMP. The fantasy that false rape reports happen more frequently than false reports of other sorts of crime is not only repugnant and irresponsible, but simply not supported by any form of evidence.
Can you imagine a victim, trying to decide whether to report their assault, coming across this article? Being told that only bad girls get raped, and besides, they've probably just got a case of the regrets?
The damage done
Is it really any wonder then that so many women choose not to report a rape, when one sees the public blaming and ruthless finger-pointing that takes place the moment a woman finds the courage to expose her raw wounds for all to see?
What of the young women heading off to university, or life, and having the cautions of their parents and teachers poo-pooed from the bully pulpit of an "award-winning" columnist at a national newspaper, whose message is students on campus: nothing to fear.
To our minds, the first rule of this platform from which we pronounce our opinions to a national audience is to do no harm. The words of these two writers this week could reduce reporting of rape, re-traumatize victims and give all young women a false sense of security. They are irresponsible, dangerous words, and most importantly, entirely without basis.
Perhaps it's not surprising that The Globe and Mail rejected a version of this piece, nor that the National Post wanted to edit it so severely that our thesis was removed. At those publications, however, the people in need of rigorous editorial oversight are Wente and Kay.
In fact, this level of irresponsible nonsense by Wente and Kay has no place in a national newspaper. It's high time their employers parted ways with them. Until they do, they will remain black spots on the reputations of their respective newspapers.