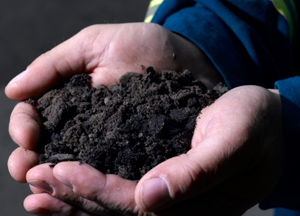 David Black has a jar of bitumen and a vision.
He doesn't have $13 billion in financing or support from the oil industry or any First Nations to build a refinery in Kitimat that would treat Alberta tar sands gunk before it's shipped overseas.
But the Victoria newspaper publisher has a vision and he outlined it at a Vancouver news conference on Aug. 17 at the Pan Pacific Hotel which, coincidentally, is at Canada Place where the premier's Vancouver office is located.
Black wisely took advantage of a Friday morning on one of the traditionally slowest news weeks of the year. Just to be safe, select media (like the Victoria Times-Colonist) got a sneak peek and published embargoed stories just in time for the 10 a.m. news conference.
Black obviously understands how newspapers work. He became wealthy through his Black Press, which owns 75 newspapers in B.C., nine in Alberta, dailies in Honolulu, San Francisco and Akron, Ohio, and 17 printing presses. He is, however, downplaying the June rating downgrade by Standard and Poor's of Black Press from stable to negative, in part, for "less than adequate liquidity" and the "ongoing headwinds" it faces amid revenue and profitability declines.
Nevermind all that, because Black now wants B.C. to believe he fancies himself an oil tycoon. That may never happen, but he has already achieved a milestone. The B.C. Liberal supporter inserted himself into the debate over the Enbridge Northern Gateway pipeline and gained profile in a fashion that would not have been possible by simply penning a chain-wide editorial in his community newspapers.
This wouldn't be the first time that a grandiose idea that involved exploiting natural resources got the gee-whiz treatment in major media.
Adi Bauer's big announcement
British Columbia marked the centennial of colonization in 1958 when W.A.C. Bennett was premier. B.C. families were buying cars and TVs. When they weren't watching their TVs in winter, some packed up for weekend getaways to Banff or Sun Valley, Idaho, to try skiing. Money was starting to flow out of the province and the challenge was to keep it inside.
A new highway was built in 1958 that stretched from the North Shore to Squamish. The Sea-to-Sky Highway afforded drivers a chance to look way up at the snowy peaks and wonder about the possibilities. A few brave souls ventured into the wilderness with their skis, snowshoes and tents, but if you wanted a ski resort experience, you had to go somewhere else, like Idaho or Alberta.
Enter Adi F. Bauer, an Austrian engineer who came to Canada, became a citizen and lived in West Vancouver's Whytecliff neighbourhood. Bauer migrated in 1951 and worked on Alcan's Kemano smelter, B.C. Electric's Cheakamus power station and, coincidentally, the Trans-Mountain oil pipeline. He supervised the building of tramways in his mountainous home country and saw an opportunity to build a ski resort close to Vancouver.
On Dec. 26, 1958 -- the last Friday of the year -- Bauer called a news conference in Vancouver to announce he was going to build a ski resort of Olympic proportions near Squamish. Nevermind that he had never done so before and that he didn't have financing. But, boy did it get attention!
Province reporter Paddy Sherman, the future publisher, wrote a front page story under the screaming, bold, all capitals headline: "HUGE RESORT FOR GARIBALDI."
There was a photograph of an artist's rendering. "Plan will cost $5,500,000," said the subheadline.
"The world's longest aerial gondola tramway is to be built seven miles north of Squamish in a $5,500,000 bid to make Garibaldi park one of the finest ski and mountain resorts in the world," Sherman wrote. "Details were announced jointly Friday by Adi F. Bauer, president of Garibaldi Development Co. Ltd., and financial agents A.E. Austin and Co. Ltd."
Sherman wrote that it was to be "financed entirely by European capital" and work would start in six weeks.
The development was to include a six-mile gondola ride "dwarfing anything in the European Alps," that would whisk 600 people an hour to the 6,000-foot level in six-passenger, all-enclosed cars to the luxury Royal Alpine hotel "which will cater for everything from winter Olympics to business conventions."
Adi-os
The four-season resort would boast 10 square miles of skiing and a four-mile bobsled run in winter, a mountaintop golf course in summer, "all in magnificent scenery within three miles of the tip of 8,787 foot Mt. Garibaldi and eventually a spectacular aerial tramway to the summit of Garibaldi itself."
Bauer boldly dubbed it a "sportsman's paradise, equal to anything Europe can offer."
That's as good as it got. The European capital never came. By August 1959, Bauer's company was bankrupt and he had left town.
"Grandiose Garibaldi Scheme Falls Flat on Its No-Assets" was the cheeky headline in the Jan. 22, 1960 Vancouver Sun.
"Documents on file in the offices of the official receiver show debts of $51,314. Assets are nil," wrote reporter Jack Brooks. "In a statement also on file Bauer said he put up $8,300 and obtained a $10,000 loan from British Ropes Ltd. He said Austin's were to raise $4,500,000 but had failed to do so."
Bauer had been in the United States "for months and has not contacted his Vancouver representatives for many weeks."
"And the provincial government has threatened to withdraw easements and leases granted on the mountain unless surveys which should have been filed six months ago are filed by next Tuesday.
"Bauer's lawyer in Vancouver, C.R. Skatfeld, said the only address he had for Bauer was a post office box in St. Paul (Minn.).
"'I have not heard from him for some time. So far as I know there are no plans at the moment to go ahead with the scheme,'" he said."
A ski resort eventually opened in 1966, but up the highway in Whistler by Franz Wilhelmsen and his group of Vancouver businessmen who came home from the Squaw Valley 1960 Olympics in Northern California with visions of Olympic glory.
The latest bid to build a resort near Squamish, this time for $2 billion by the Gaglardi and Aquilini families, stalled in 2010 after an unfavourable environmental assessment report.
No one's saying David Black is Adi Bauer. But B.C.'s media might want to remember the virtue of remaining skeptical until all the financial evidence is in.