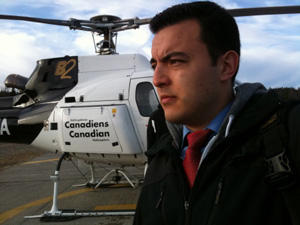 When 24-year-old Kai Nagata quit his job a few weeks ago as CTV's Quebec City bureau chief and wrote 3,000 words about his choice and the decline of TV journalism on his blog, the response was immediate and overwhelming. Clearly, Nagata had hit a nerve. CBC reported that the original blog post was viewed more than 100,000 times, and over 1,300 readers left comments. Readers ranged from offering their full support ("You have courage. And that was a great piece of writing. Very brave and generous to leave your job in a noble pursuit") to expressing complete disgust ("I don't know what you plan to find when you get over the rainbow, but I think you will find it very disappointing. Many of us call this 'reality', pretty boy").
What is it about Nagata's choice that triggered that kind of response, and why were the comments so wide-ranging? Why do we care that some 24-year-old quit his job and passed judgment on the system he was in?
One way or another, we care deeply about Kai Nagata's personal choices because his experience is a microcosm of something bigger and largely unspoken that's playing out all around us, in all kinds of places -- not just in print and broadcast media, but in schools, public libraries, local and federal governments, corporations, churches, museums and arts organizations.
Nagata's personal experience is an in-the-flesh example of how the adoption of economic values and assumptions, this time in the TV journalism industry, have slowly overtaken journalism's traditional values. In other words, imparting information for the public good so citizens can participate effectively in a democratic society has given way to audience-building, giving the customer what he or she wants, and constant competition in a world of markets.
As Nagata put it, "...information is a commodity, and private TV networks are supposed to make money. All stations, publicly funded or not, want to maintain or expand their viewership. This is what I'll call the elephant in the room... Simply put, you can tell less truth and make more money... there is an underlying tension between 'what the people want to see' and 'the important stories we should be bringing to people.'"
Vying stories
What Nagata is inadvertently referring to are two competing cultural "stories" about what the purpose of journalism is. The "old" journalism is about keeping citizens informed for the public good, where information, which wasn't a commodity, allowed citizens to hold their democratic leaders accountable. The "new" journalism is about using whatever attracts eyeballs (the "news" loosely defined, which then allows for stories about cute pets, scandalous affairs and shocking violence) as a means to an end of building the biggest audience, increasing revenue streams and showing sustained corporate growth.
Where you place yourself in terms of those two mutually exclusive stories -- the "old" journalism versus the "new" journalism -- shapes how you'll react to Nagata's decision. You'll either think he's brave and principled for standing up for his own values (being more aligned with the "old" journalism), or you'll think he's naïve and idealistic, even stupid, and will learn to compromise the hard way (being more aligned with the "new" journalism and the economic story's assumption that any sane person would realize that an economic reality is the only reasonable reality that exists.)
Of course, that's not to say that "old" journalism was always above monetary concerns, but at one time those concerns weren't what journalism was fundamentally about. "Old" journalism was never some kind of "pure" journalism -- an untainted, unadulterated "just-the-facts-ma'am" approach to the news -- but the ideals and assumptions behind the industry were in fact different before the rise of the economic story -- and those different ideals gave journalists themselves something different to aspire to.
The remnants of "old" journalism are still floating around in the public consciousness and influencing people. Then, when someone like Nagata gets into an organization and discovers that the old story that he thought he might be part of has lost its cachet to the economic story, he, along with the rest of us in our own organizations, is faced with a profound decision. Do we stay and bury our own values for the next few years or decades, or do we leave and try to find another way to live the story we want to tell with our life?
Foregoing the filter
For his part, Nagata said, "Every question I asked, every tweet I posted, and even what I said to other journalists and friends had to go through a filter, where my own opinions and values were carefully strained out... I know I can't go back to working parallel to the real problems, hiding my opinions and yet somehow hoping that one viewer every night might piece together what I wanted to say. I thought if I paid my dues and worked my way up through the ranks, I could maybe reach a position of enough influence and credibility that I could say what I truly feel. I've realized there's no time to wait."
So Nagata chose to leave, clearly recognizing the discrepancy between the story he wanted to tell with his own life and the economic version of journalism he was being asked to participate in as a TV reporter. Our responses to him as readers are immediate and polarized because the larger cultural stories we're now experiencing are polarized too. Nagata's experience in TV journalism is playing out in a similar way in health care, education, libraries, governments, churches and arts organizations. That means we each are being asked, on some level, to face that kind of profound discrepancy in our own lives and work, since economic values and assumptions are seeping into so many areas where other values and assumptions used to hold sway.
We all face similar choices
The reason Nagata's choice evokes such interest is that it represents a choice we all face, whether we know it or not. Unfortunately, there's no easy way out of the dilemma of what any of us ought to do when what we want for our life doesn't match the values of our organization, our industry or our culture. It may not be as straightforward as quitting your job, or it might be. We each have to figure it out for ourselves, in light of the story we each want to tell.
But it's important to realize that no matter what kind of story you want to tell, economic values and assumptions are on the rise across many different systems. And those economic values are conflicting with the stories we're used to -- stories, for example, about what journalism could be at its best -- stories that represented a much wider range of human values. From an economic point of view though, those old stories are idealistic, naive and old-fashioned.
But as Kai Nagata found out, sometimes those old stories are also just too painful to ignore.