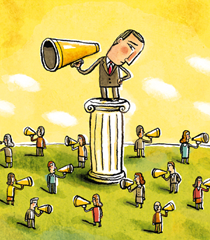 Media giant Canwest reported a $33 million loss in the quarter ending November 30, 2008, and an overwhelming $3.7 billion debt. In the past 12 months, Canwest has also cut over 1,000 jobs, is scaling back local operations and is considering shutting down some stations entirely. Collectively Canwest, Torstar, Quebecor, and CTVglobemedia have cut over 1,300 more jobs in the past three months, on top of deep cuts made last year. With ad revenues expected to slump further, there is no end in sight.
The effects of these dramatic cuts in journalism will negatively affect public debate and discourse in Canada because, as former Toronto Star publisher John Honderich notes, "The quality of public debate, if not the very quality of life in any community, is a direct function of the quality of media that serve it."
Journalism's diagnosis
In a recent article in the Toronto Star, Honderich does a good job of explaining why journalism is important in a democratic society. Honderich also gives good ideas on how to revive journalism however; he fails to discuss why journalism is in its current state of crisis.
So what is the cause of the current state of journalism in Canada? In a statement made by Leonard Asper, Canada's largest media baron, on the likely demolition of TV stations located in Montreal, Hamilton, Red Deer, Kelowna and Victoria, he declared, "as they are currently configured, these stations are not core to our television operations going forward...we believe that our efforts are best focused on the areas of greatest return." Asper reveals that news outlets, and the journalists that work for them, are increasingly treated as a part of a business rather than a unique social institution that is essential to a functioning democracy.
But Big Media executives try to claim journalism's woes are caused by the slumping economy or the displacement of audiences to new online media. While these are factors, the primary cause is the highly concentrated media ownership in Canada combined with the deepening bottom-line mentality of big media corporations.
Media ownership is more highly concentrated in Canada than almost anywhere else in the industrialized world. Since 2005, almost all private Canadian television stations have been owned by national media conglomerates. And, because of increasing cross-ownership, most of our newspapers are owned by the same corporations that own television and radio stations. Something to think about is how, just hours before CTVglobemedia announced its intention to take over CHUM, it laid off 281 people and canceled news broadcasts across the country.
Big Media's race to the bottom
In 2007, the Canadian Energy, Communications and Paperworkers (CEP) union published a study entitled Voices from the Newsroom, in which they found that only 9.5 per cent of journalists indicated that they believe the corporate owners of their news outlet valued good journalism over profit. Unsurprisingly, 44 per cent of journalists reported a decreased desire to stay in journalism. The CEP report clearly illustrates the sentiment felt by many journalists: that the bottom line mentality of big media owners is having an increasingly negative impact on their ability to do their jobs.
Allowing just a few companies to own most of our media means journalism is likely to be less grounded in local communities and thus less relevant to audiences. A newspaper is not likely to provide engaging journalism if it is geared towards efficiently delivering eyeballs to advertisers while investing the least amount of money possible in journalism.
Combine this bottom-line mentality with an uncompetitive, concentrated traditional media market, and the erosion of ad revenue, and you'll find a race to the bottom for journalism in Canada. The news entity that can most effectively cut costs and exploit journalists wins!
Mergers, debt and lockouts
Some might argue that even if a media outlet has a social or public service mandate, it still has to make money in order to produce journalism. Putting aside the assumption that media outlets need to be run as money making businesses, let's debunk another myth about journalism: that it is unprofitable. In looking at the Canwest job losses, the blame can be placed squarely in corporate mismanagement. What is the debt from? Not unprofitable journalism, but rather acquisitions and mergers that were entirely unnecessary, and profoundly unpopular with the public.
Quebecor, one of the country's largest media conglomerates, recently locked out workers of its most profitable newspaper, the Journal de Montréal. The Journal's union estimates Quebecor drew in $50 million in profits from the Journal de Montréal in 2008. Why, we might ask, lock out workers in a profitable business? While Quebecor may be profitable, in Canada's uncompetitive traditional media market, it can be MORE profitable if it breaks, or at least weakens, worker compensation and benefits. When a media company is focused on achieving utmost profitability, it may be inclined to continually push for more and more output by fewer and fewer journalists, thereby creating a downward spiral for journalism. The problem with journalism in Canada isn't so much the economic slow down or new media, these just exacerbate a trend that was already underway. The real culprit is the propensity of big media to treat news operations as just another business.
Opportunity missed, experiments needed
The CRTC had a good opportunity to decentralize and diversify Canadian media ownership in their 2007 Diversity of Voices hearing. While they established important cross-ownership rules, they did so after allowing several mergers to go through. The new rules seemed carefully crafted to avoid any forced divestment of Canadian media companies. To make matters worse, the response to the current state of journalism, and to the wider economic turmoil, seemed to further deepen the trends that helped produce the crisis in the first place. Besides recent and (seemingly) successful efforts by big media to lobby the CRTC to soften it's regulatory orientation, The Canadian Press agency is looking to move from an industry co-operative funded by its members to a business aimed at turning a profit for new investors -- the exact opposite of what journalism in Canada needs right now.
Despite the layoffs, weak morale, and big media debt, journalism in Canada is far from its grave. Now that we have properly diagnosed what has deflated journalism, we can come up with the antidote: develop and experiment with new forms and mechanisms of financing journalism. With the decline of big business financed journalism, this is the perfect time for us to re-imagine what journalism in the 21st century should look like.
In my next column, I will lay out various schemes for rejuvenated 21st century public services journalism in Canada. There's no shortage of experiments underway, and you may in fact be reading this column on one of those experiments right now.
Related Tyee stories: