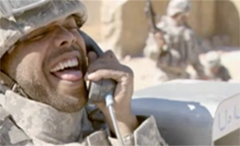 "Hey, dude. Wassup?"
"Nothin' B. Watching the game. Drinking a Bud."
Those are the opening lines to the original, year 2000, Budweiser commercial that inspired people in every social circle to shout, "Waassssssuuuuuppppp!?" Whether it annoyed or amused you, you can't deny that this commercial was one of the most influential of its time, and that you either annoyingly said this word or knew people who did.
Pre-9-11, pre-market crash, the five Joe Sixpacks in the spot had jobs and nothing to worry about but beer, the game and how to alleviate their boredom.
Fast-forward eight years to this week: a video portal called 60 Frames gathered the crew from the original spots to answer the question "Wassup?" In other words, what would each be up to now.
It opens with the original character sitting at home. He's not watching the game, but John McCain announcing that the fundamentals of the economy are strong. This time instead of drinking a beer, he's reading the classified section -- he's lost his home and is looking for a job.
It's revealed that each of the original characters is suffering in some way as a result of the current Bush government's failed polices: one is serving in Iraq, one is unable to pay for health care, another attempts suicide after watching the collapsing stock market, and to top it all off, the last is stuck in a hurricane.
At the end of the commercial, when his Iraq-based buddy (at a phone booth in the desert) asks him again, "Wassup?" the lead character breaks into a smile as he watches Barack and Michelle Obama at a rally on TV.
Nobody embodies Joe Sixpack, or the other average Joes, more than those five actors, famous only for being average guys in a beer commercial. With Obama positioning himself as the protector of the little guy, this spot suggests the message, "Change. That's wassup," might be getting out there.
On the other hand, the Wassup guys are, of course, actors. So does the video suggest Obama is actually reaching Joe Sixpack, or just that more actors wish he were?
Related Tyee stories