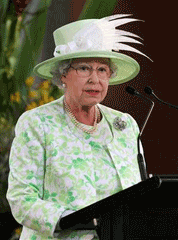 Monday is Victoria Day. And while Queen Victoria herself is probably far from the minds of most Canadians this May long weekend, her descendants continue to make headlines.
Just this week, Victoria's great-great-great grandson, Prince Harry, made news when it was announced that he would not be deployed to Iraq with the rest of his military battalion.
And, it's not just in the U.K. From Spain to Nepal, Thailand and Australia, countries around the world remain fascinated and divided by their royals.
Below is a round up of world opinion on emperors, princes and kings. Click through for more information on each poll.
Europe
In Spain, where changes to the country's succession laws are being pondered, 65 per cent of respondents to a recent poll said they are satisfied with their monarchy.
In the Netherlands, meanwhile, more than two out of every three Dutch citizens want 40-year-old Prince Willem-Alexander to take over from the aging Queen Beatrix.
And in Britain, speculation about the next monarch continues unabated, where Prince William is the slightly preferred successor to Queen Elizabeth II, edging out his father, Prince Charles.
Asia
In Nepal, where preparations are underway for a Constituent Assembly election, less than one-in-four respondents see a role for the monarchy in legislation and policy. Just last year, public protests forced King Gyanendra to loosen his grip on power.
Just to the east in Thailand, meanwhile, respondents put much more faith in their king. Before last year's military coup, 70 per cent said the country's political problems would be solved if politicians listened to the advice of King Bhumipol Adulyadej.
Finally, in Japan, 56 per cent of those recently polled want women to be able to inherit the Chrysanthemum throne. Support for changes remains high, despite the recent birth of Prince Haruhito.
Related Tyee stories: