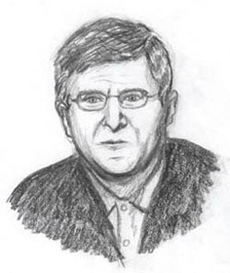 TheTyee.ca
Most Canadians think journalists are about as trustworthy as the politicians they cover, and that's not saying much. Ethical lapses of individual reporters—a little plagiarism here, a little fabrication there—have stained the profession's reputation, of course. But it's the broader ethical issues, such as media bias that have earned the industry such disdain: three quarters of Canadians think the media's in the thrall of the rich and powerful , not to mention their corporate masters .
Stephen J. Ward, a UBC journalism professor, has contemplated this sorry spectacle as a journalist and ethicist. His conclusion? We have seen the end of journalistic ethics—or at least as we known them—and the profession is in a state of "ethical vertigo."
At the university's Brown Bag Lunch series last week, Ward outlined his prescription for the rehabilitation of journalistic ethics. He rejects the extremist positions that bracket most debates of one of the most contentious aspects of journalistic practice, objectivity. On one side are those who contend objectivity is a myth, because bias intrudes at every stage of the story—from the decision about which event to report, to the experts consulted, to the play given the piece in the paper or on air. Partisans of this extreme conclude that you may as well declare your biases, and go with them, because to pretend otherwise is delusional. At the other extreme are those who remain convinced that truth is out there, the facts are neutral, and good reporters and editors are capable of subduing bias in their work.
'Passion' plus 'verification'
Ward proposes a middle way towards a renewal of journalistic ethics. "I want my reporters to have passion," he said, "but I also want verification of the results." In a new book, Invention of Journalism Ethics: The Path to Objectivity and Beyond , Ward advances "pragmatic objectivity," which is tolerant of interpretation, but insists on testing these interpretations against the evidence.
"The ideal of objectivity, properly understood, is vital not only for responsible journalism but responsible scientific inquiry, informed public policy deliberations and fair ethical and legal decision. The peculiar Western attempt to be objective is a long, honorable tradition that is part of our continuing struggle to discern and communicate significant, well-grounded truths and make fair decisions in society," he writes in his book.
Can these lofty ideals can be translated in the rough and tumble of the workaday world of journalism? Most news organizations already have ethics guides that typically spell out obvious improprieties (don't plagiarize) and the obvious virtues (get the facts straight). But the more nuanced ethical dilemmas, such as how to sensitively cover a rash of teen suicides without creating a copy-cat effect, are covered in many as well.
Ian Haysom, the news director for Canwest Global television in Vancouver, says the ethics guide used by his station is a hefty document, but that ethical considerations are a part of the on-going discussions of the newsroom. However, "we reflect society, and some practices are superb, and some practices are questionable," he said. "I've always said a healthy mistrust of the media is a good thing, because we're as human as anybody else."
Ombudsman needed?
An ethics guide is a valuable addition to a news organization, but "if it's just wall art, then it's absolutely useless," says Ward, who as a journalist covered the Gulf war and for 15 years served as Vancouver bureau chief for Canada Press.
Odds are, sooner or later, news organizations will have their ethics codes tested by the behaviour of some of their members. Last year, Vancouver Sun columnist Angele Yanor was caught plagiarizing the work of a New York Times reporter, and was dismissed. At the time, Sun Editor-in-chief Patricia Graham said, " We're going to strike an ethics committee to review our internal processes with respect to both freelance and staff-generated copy. We need to remain diligent that we have adequate safeguards in place."
However, Graham was unwilling to speak to The Tyee about the scope of the committee's work, what ethical breaches it has explored, who sits on the committee, and whether any of its work will be made public. Nor has she commented on a report this week that a Sun staffer is being disciplined.
For ethics committees to be meaningful, they need to include members of the public, Ward says. However, he thinks an ombudsman is an even better solution. This is an approach that has been adopted by a number of American newspapers. After a series of high-profile scandals, the New York Times appointed Daniel Okrent as its public editor/ombudsman in Oct. 2003. Independent of management, the newsroom, and editors, Okrent responds to readers' concerns, raises plenty of his own, and publishes his analyses of journalistic pitfalls in a regular Times column. He also keeps readers up-to-date on internal developments at the paper, frequently posting internal memos and reports on his website.
Okrent frequently indicts a newsroom climate that tolerates—or even encourages—sloppy journalism, such as insufficient scepticism in the face of political spin, an over-reliance on anonymous sources, and arrogance. In Okrent's views, it's not just the hacks writing the flawed stories, but the institution itself that has to change.
Protected spines
In Vancouver, Mike Bocking is the president of the Media Union of B.C. . He disputes the idea that good reporting must bow to management pressure. If management changes a reporter's story to give it a slant the reporter disagrees with, for example, it's the reporter's right—under the collective agreement—to pull their by-line, even if this raises eyebrows in executive offices.
"In any walk of life," he says, "you're going to have people who have the guts to stand up for what they believe in and those that don't," he said. "I can't grow some people a spine, but for those of them who do have a spine, we protect them, so actually the advent of unions in newsrooms, in my opinion, has elevated journalistic standards for the very simple reason that you can take issue with a journalistic issue—not just necessarily your own story, but broader issues, without necessarily being fired."
Judith Ince is on staff at The Tyee.