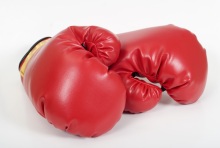 I've just absorbed a two-minute beating that's softened my face into an over-ripe tomato. I'm hanging over the ropes in the Astoria Boxing Club's ring, trying to breathe, but the air seems too thick. Liquid — possibly blood, or spit, or sweat — oozes gently down my face, and I try to wipe it with the cuffs of my gloves, but my biceps and shoulders are burning, so instead, my hands just drop like weights. Terry Cooke, a chiseled old coach with a bulldog's voice, barks instructions at me — he's trying to save my life. But my head is ringing so loud I can't understand anything he's saying. What I do make out is a sharp buzzing sound that fills me with dread: round two is coming. Hanging here, I wonder again how I fell for boxing. From the outside, boxing seems to be either for people who love pain, or for the human equivalent of pit bulls. I was as surprised as anyone to find that there's something peaceful and even meditative about this violent sport.
It didn't start peacefully. In fact, the club I box at is in one of the roughest neighbourhoods in the world – Vancouver's Downtown Eastside. The club exists underneath a creaky rooming house, and used syringes litter the sidewalk out front and in the back alley.
But the unlit staircase in the back of the Astoria's beer store descends to a place where legends are born. The bottom stair at the Astoria's basement can be for some, the first step out of this 'hood. In 1990, a native kid of less than 120 pounds named Geronimo Bie boxed himself out of the Ray Cam housing projects two blocks from here and into the Commonwealth Games. Half a planet away from the Astoria, under the bright lights of a New Zealand boxing ring, he fought his way to silver.
If they're fat, they're new
A dozen or more fighters train here three times a week. The boxers' bodies are so lean their limbs look like they've been carved with a scalpel. "If they're fat, they're new," Terry says. I search the room and realize that I'm the only rookie.
Five women are among the regulars. As they stretch and chat in their sport tops and stretch pants, you could mistake the scene for a yoga class, were it not for the surroundings. That illusion is shattered when two of them step in the ring, and pound each other with brutal speed. I hate looking like the wussiest guy in the room, though I know in truth, I am. Two days later, I'm taping my hands in the corner of the club, preparing myself to train.
I pick out one of the heavy bags and self-consciously prod it with my fists. Something's wrong. My whap, whap, whap sounds nothing like the rat-a-tat-tat I'm hearing from the bags around me. I look to my left and watch a girl pound a drum solo into her bag as she dances her way around it.
Jab, feint, jab
I feel like the kid in gym class that everyone else makes fun of: the awkward runt who can't run, throw, or field the ball. As much as I try to imitate the boxers around me, I can't match their violent grace. Their hands float through the air and their feet glide.
The first time you hit the bags, a two-minute round is eternity. A jab or two is nothing at all, but a hundred more is torture. I struggle to finish off a few rounds until I can't lift my hands to my face. The next week of my life is filled with new challenges: washing my hair, lifting a book, spooning soup into my mouth. But each workout proceeds a bit better than the last. I gradually improve my stamina until I can still punch at the end of a round.
I start heeding some of the coaches' advice. Fully extend your arm when you jab. Don't bend your knees too low. Protect your head when you punch. Little by little, my body learns the words they pour in my brain and I'm feeling more like a fighter.
After a few weeks, Terry rounds me up a partner other than my punching bag. He finds John, who's my height, but outweighs me by about 40 pounds and has been doing this longer than I have. John looks my way, and nods to accept the challenge.
Gonna dance
I stand in silence in the corner of the ring, rehearsing my plans for the fight. "I'm gonna dance," I say to myself, channeling Mohammed Ali. I'm going to move so he can't hit me, and save the few punches I've got left in my arms. The buzzer sounds: round one. I learn a new lesson. You can't run backward as fast as your opponent can run toward you. I twist from side to side, but still can't avoid the fists that are raining on my headgear.
I throw my first punch since junior high, and learn lesson two: punching bags don't hit back but John does. My fist glances off John's right, and his left connects with my face. My nose snaps, and my eyes well with tears. My mind submerges into a fog. I'd tell you the events of the next minute and a half but honestly, I don't remember.
Round two starts a lot like the first. Suddenly I'm back in grade two. Dwayne Baker, a freckle-headed monster is beating the lunch money out of me and I'm trying to wait out the storm. I bury my head into my gloves as I'm pounded off the ropes. Lesson three: schoolyard bullies let you off the hook once they've put you in your place, but boxers don't give up until they've dropped you to the floor. I bury myself deeper. The end of the round is impossibly far away. I want to crawl inside my gloves or get rocked with a merciful last blow. But Terry's voice finds my hiding place and yanks me back in the ring. "Look at your opponent," he yells, "Stop looking at the floor!"
I peer out from behind my gloves just to see another fist slam into my face.
But this time, I rear back and fire a combination. Left-right-left-right-left. Two shots to John's ribs then three flush to his head. "That's it," Terry shouts. John looks genuinely surprised – almost as surprised as me. "Keep punching," Terry yells. "Get your jab in his face!"
"Jab, jab, jab," he instructs, timing his words as if they were my hands. I hide from another attack, but I'm getting sick of hiding. I muster all my strength to throw a jab, just to keep my opponent at bay. My glove sails weakly like a badminton birdie, and I earn a punch to the head for my trouble.
I try again. By miracle, my fist lands flush and I earn a brief respite. Lesson four: the best defence is a good offence. The more I punch, the less John hits me. My mind starts growing clearer. The buzzer again. The round is over. Terry says that's good enough for now. "Good fight," a couple boxers congratulate me, tapping my gloves with theirs. The eyes in the room look at me differently now, like I've passed my initiation. I'm beaten, but I belong.
The big question
Why do people do this? What makes them stand in the way of so much suffering, time and time again? The boxers here don't seem to hold any great love for pain – whether they are giving it or receiving. I could tell you it's the egalitarianism of the place: neither your looks, nor your origins, nor your bank account bear any currency inside the Astoria's ring. But such ideals aren't on the fighters' minds when someone smacks the consciousness out of their heads. The buzzer rings again. I take to the heavy bags for one last round, but something's different with my body. I just don't feel the same. It's then I realize the answer to my quest doesn't lie in my scrambled brain, but in my chest and in my limbs. My fear and fatigue have melted into a warm, sweet glow and my feet feel quicker than ever. My hands tingle and seem light as wings, and I can't wipe the bloody grin off my face.
Dee Hon is a regular contributor to The Tyee.