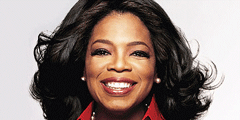 With each passing season, the premises of reality television become more ludicrous and degrading to participants on both sides of the screen, eroding our notions of human dignity and blurring further the lines between natural curiosity and ghoulish morbidity.
Sound like an over-reaction? Witness some of the "plots" of recent reality shows? VH1's Celebrity Rehab With Dr.Drew invites the cameras along as famous and notorious personalities vomit, defecate and weep their way through a battle with their personal demons. The Moment of Truth, from the Fox Network, grills contestants on their worst sins under watch of a lie detector. The list goes on, from the Machiavellian Big Brother to the perverse Crowned (a trashy mother-daughter beauty contest). Each lowering of the bar hurts us all, as it further warps our ability to summon empathy, compassion and sympathy for what we see in our everyday lives.
Perhaps then, we should be glad for one Ms. Oprah Winfrey and her new reality show Oprah's Big Give, which premiered on Sunday on ABC. Say what you will about the Big O (and Lord knows, people will), but she's got it right with this one. Indeed, the philanthropically-premised Give may be Winfrey's most politically powerful move to date, never mind her ringing endorsement of Democratic presidential hopeful Barack Obama.
The big idea
The set-up is simple for the Big Give. Ten contestants from various walks of life -- a 22-year-old dot.com millionaire, a West Point grad, an Amtrak rail attendant to name a few -- are given a small sum of money and a sorely needy cause, and each is asked to effect the biggest change in their case's lives. The premiere, which included more than a few lump-in-throat moments, saw contestants paired up and given $2,500 to help 5 groups in need of a good deed -- a mother of two made homeless when she escaped domestic violence, a Down Syndrome support group in need of a centre, an injured vet looking for financial respite, a student loan-shackled doctor and a gun-violence widow looking to keep her home in the wake of her husband's death.
Contestants are encouraged to turn that $2,500 into as much support and help as they can -- financial, emotional, and spiritual help to turn their cases' lives around. At the end of each episode, their results are measured and one contestant, judged by a panel of celebrity philanthropists (and Oprah pals) is sent home. The last contestant standing is the "biggest giver" and will be "surprised" with a million dollars.
Of course, the show's premise of do-goodery is at odds with the snaky, elimination-based format of reality TV. Indeed, it was a clunky end to the first show when, after single moms had been housed, debts had been paid, soldiers had been good fortuned, and centres (both physical and spiritual) had been found, the 10 contestants gathered to be critiqued on the efficacy of their kind-heartedness. In the end, the judges, Chef Jamie Oliver, football star Tony Gonzalez and former UNICEF worker Malaak Compton-Rock, sent AMTRAK worker Marlene Snipes home, as she failed to raise enough money for her student-loan shackled doctor.
Hijacking horror shows
It seemed an ugly-ish end to the show's cavalcade of warm 'n' fuzzy moments, but someone had to go. After all, the hook to this show is that it hijacks the addictive trappings of reality TV -- emotional pornography, drama and competition -- and subverts them to offer a different philosophy of entertainment. Whereas reality TV has traditionally preached that people act only out of self interest, Oprah's Big Give assumes contestants will take pleasure in the social nature of helping others.
Indeed, while some contestants originally reeked of self-promotion and congratulation, by the end of the show, you see their genuine joy at having helped others -- and one would hope the audience at home was reminded that nothing feels so good as making someone else happy.
Whether or not the show will draw the ratings of a juggernaut like American Idol remains to be seen. One hopes that the clearly intended message of the show, simple kindness, will spark even a minor ripple. That audiences were listening when one contestant spoke the words "Service is the rent you pay for living."
Ah, but you sneer
To the cynics out there, who throw stones at any of mega-rich Oprah's endeavors, who scoff at her extravagances and see self-interest in all of her motivations, I confess that I, too, used to doubt her. Sometimes Oprah, handing out cars to middle class white-ladies in a orgy of gleeful consumerism, is too much Oprah. But to cast aspersions on someone so clearly trying to affect positive change in the world, well, it's just so utterly useless.
We doubt Oprah's altruism in part because reality TV and the media tells us we are all self-serving cretins, incapable of performing acts of kindness without a payoff for ourselves. Reality and tabloid culture, and it's mean-spirited, gawking nature, have trained us to pay attention to staged, petty dramas, to hate upon straw man after straw man, and to fiddle the most self-involved tune while Rome burns. Who cares about Iraq and Afghanistan and New Orleans and the Congo when Paris Hilton is such a weapons-grade bitch?
If Oprah's Big Give works, perhaps viewers will be inspired to shake off the inhumane muck and connect to the people around them. Wouldn't that be a nice gift.
Related Tyee stories: