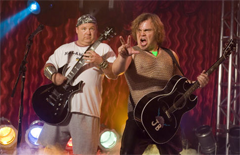 The oceans are acidic, the fish are disappearing and Britney Spears keeps forgetting to wear her underpants. When everything is a scam, a con, a grab for your meagre money, covered in E. coli, blown up with a bomb and clotted with crap, what's left?
Love? Family? God?
Only one thing might redeem your faith in this world, pull you up before the dark tide of despair closes over your head, and that thing is ROCK!
It is? Well, maybe.
At least according to Tenacious D, the self-proclaimed greatest band in the world and their new film Tenacious D: The Pick of Destiny. Will rock and roll really save us all? Probably not, but it might stave off the darkness for a while. And well, if you can't always get what you want, you can sometimes get what you need.
'Pick of Destiny'
The Pick of Destiny is not a great film, or even a good one, but it has a few redeeming bits, not least of them the capering, anarchic spirit that refuses to back down, that won't get a job, contribute to society, or clean up after itself. It's the raging voice in your brain that howls like a wild thing, "Fuck You! I won't do what you tell me." It sounds a lot like a 14-year-old boy (or girl) but there is a lot to be said for that revolutionary cri de coeur. In a word, it's trouble. Perhaps, though, we could all use a bit more trouble.
Jack Black is only one half of the band -- the "Tenac" if you will. The other slab of "ious D" is represented by one Kyle Gass, a large balding man, who at first glance appears to be the antithesis of rock god. Where's the snake-hipped, heroin-thin, leather-clad musician with ambiguous sexuality? Gass looks like any mid-40s suburban dad. But deep in the heart of almost everyone lurks the thundering heart of a power balladeer.
The pair (Black/Gass) has produced a biopic of sorts, charting their rise to fame. It is a vanity project to be certain, one part Bill & Ted, another part The Who's Tommy rock opera, and a bit little penis. Make that a whole lot of penis; they don't call it cock rock for nothing, my lovelies. If the idea of Jack Black's hammerhead makes you a little uneasy, this is not the film for you; the digit is given a starring turn. It's rude, crude and lewd, dude. Which is the title of a Mötley Crüe album, I think, or at least it should have been.
The film looks like it might be better than it actually is, beginning with a big nod to rock operas of the past. A young Jack Black, embodied to pint-sized perfection by Troy Gentile, lips off his dad (played by Meat Loaf). Into this typical family of middle-American dysfunction, steps Ronnie James Dio, to advise our young rebel to head for Hollywood, and the rock opera rolls.
Before you can say "straight outta Compton," little JB (Jack Black) hooks up with big KG (Kyle Gass) in the city of fallen angels. The duo determines to win the open mic talent night in order to pay the rent. In their quest, the pair inadvertently stumbles upon one of rock's biggest secrets, the pick of destiny, a glowing green triangle that has been used by guitar greats down through the ages, and was last seen in the hands of AC/DC's Angus Young. The pick was carved out of the canine of the devil himself, and is imbued with the dark power of its unholy master. There are lots of cameos from famous friends -- Ben Stiller, Tim Robbins and Amy Poehler. But it is his Satanic Majesty, played by ex-Nirvana drummer and current Foo Fighter Dave Grohl, who brings the heat, quite literally, lighting everything on fire with a lick of his sulfurous breath. This is one horny devil, a demon to make Gene Simmons quiver in his big boots. The stage is set for a rock-off, Robert Johnson-style.
If Tommy makes no sense, Pick of Destiny makes absolutely no sense. There are musical montages with sasquatches, a lot of extremely creative profanity and many knowing winks to other famous rock and roll films such as The Blues Brothers, This Is Spinal Tap, and The Rocky Horror Picture Show. If you put your brain in park, it's all vaguely amusing, in a silly fashion, much like a Ramones song, three chords of dumb fun that blows away like so much dry-ice smoke.
'Air Guitar Nation'
If you'd prefer a bit more substance, and less hookah-pipe dream, there are a bevy of other fine rock films to pick from. You're Gonna Miss Me, the documentary about the rise and fall, and rise again, of Roky Erickson; LoudQUIETloud, which followed the Pixies on their reunion tour; and even the little ole Dixie Chicks all made for good films this year, but by far the most fun has to be Air Guitar Nation. Although not in wide release yet, Air Guitar Nation screened last weekend at the Whistler Film Festival. Mark your calendar and prepare thyself, it will rock your world.
The project started with an article in the Wall Street Journal about the world air guitar championships held each year in a tiny town in Northern Finland. Two friends, Kriston Rucker and Cedric Devitt, decided, apropos of nothing, to attend the air-guitar training camp, where they met the then-current champion Zac Monro. Monro, a British practitioner of air Zen, who prepares for each competition by drinking three beers. At camp, Rucker and Devitt intoned enough profound bits of wisdom about the value of performance art and world peace, they decide to launch an American competition. But first they need a champion to bring the crown home of the birthplace of rock and roll. And lo it beings -- first in New York, where two fierce contestants emerge to battle lick-to-lick, and then in L.A., Björn Türoque (pronounced born to rock, naturally enough) and C-Diddy, a ferocious stylist who with the help of Hello Kitty spread the air guitar message to the airwaves. Howard Stern, Conan O'Brian, Jay Leno and Carson Daly took the two fledging air guitar gods into heavy rotation and the thing exploded with the white-hot heat of a miniature sun.
Like The Pick of Destiny, Air Guitar Nation is another epic quest, fraught with triumph and failure. It isn't so much the battle of the one-man-bands that is so compelling, as the journey itself, as sublime as it is ridiculous. The anarchic spirit that can't be claimed or stopped because "It's invisible," as Zac Monro says, is summed up by the motto of the world championship -- air guitar for world peace. It is a sentiment that is given voice in the big finale when all contestants take to the stage and air out to Neil Young's "Rockin' in the Free World." Through some strange alchemy of passion and silliness, the fake becomes the real. It is mysterious, but genuine, you can feel it in the film, and at the screening at Whistler in the audience. A strange communion was joined in this ode to joy, and our common humanity. Or as Bjorn says, "To err is human, to air guitar, divine."
But can rock and roll really save your soul?
'You're Gonna Miss Me' and 'LoudQUIETloud'
In the final moments of You're Gonna Miss Me, when the shambling wreck of Roky Erickson picks up a guitar, opens his mouth and out comes the voice of a fallen angel, it's pretty easy to think that it might.
The same spirit is on the stage when ex-Pixies Kim Deal and Frank Black pick up in LoudQUIETloud pretty much where they left off, to the delirious jubilation of audiences around the world. There is joy here, so pure and undiluted it will take your breath away. Anyone who's ever owned a record, a CD or an iPod knows the feeling: pop, rap, hip hop, rock opera or real opera. Whenever I feel truly terrible, I turn to Wagner's Ring Cycle to pick me up. It's something about the bright spears of sound overtop of bass thunder, the surging score rising up from the deepest primeval depths, the Nibelungs screaming and the ringing clang of Wotan's spear cutting through the muttering violins. The thunderous rolls of this sound scrapes the sides of your skull, races up and down your spine, runs in bright rings across your whole body, brings that sad small spirit hiding in some hidden corner of your belly, surging up and out of your throat. If only you could stay there. But sometimes that one instant is enough, the swirling darkness that resolves into searing light, like a star imploding inside your brain.
Just when you've about given up on the world, along comes something like Air Guitar Nation, with its message of "make air not war," and you realize that maybe the rebellious heart still lives, pumping hard inside every man, woman and child. Or as Peaches might say, "Rock show, this ain't fuckin' talking show."