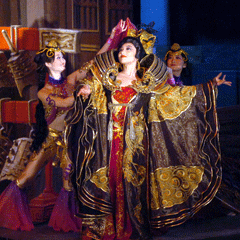 Dennis Law is on a mission, and it's a big one. "The last 400 years saw deterioration in Chinese arts and culture, because of corrupt officials, wars, poverty, foreign occupation and political pressure," he says, as he sits in the VIP room of Vancouver's Centre for the Performing Arts. "The creative community has been robbed, and it needs to grow."
Law, one of four Hong Kong-raised, U.S.-educated brothers who purchased Garth Drabinsky's ill-fated Vancouver theatre in 2001, sees the venue and its productions as pivotal. "I believe I am doing the job of bridging a gap in Chinese performing arts," he says of his action musicals, which marry Chinese traditional culture with western stage traditions.
Of course, Drabinsky's efforts to give North Americans something they at least occasionally want -- big-budget New York-style musical theatre -- ended in bankruptcy and the courts. Law, whose second Chinese Performing Arts Festival runs at the centre until August 6, wants to close a gap that has rarely been bridged, and his progress hasn't been easy.
Many reviews have been brutal, and Vancouver attendance has been disappointing. However, Law still feels his cause -- to reinvigorate his native culture through hybrid productions around the world -- is a noble one.
Law takes stories and music from Chinese history and translates them "with the best of the world in costume and set design" for North American markets, where China is now a buzzword. He insists on directing and producing the shows himself to ensure they have an "authentic Chinese element...international audiences can accept."
"I would sit down with my composer and say, 'Don't give me Hollywood music. I want symphony orchestra, but it has to have Chinese instruments -- the interesting sound that is traditionally Chinese,' " Law says.
The approach doesn't come cheap. Tang Concubines, which premiered July 14 to 23 with 20 sets, 100 performers and 600 costumes, cost $2.5 million. Terracotta Warriors, a story about the rise and defeat of China's first emperor, first produced in 2004 and remounted July 28 to 30, cost $3 million. A reworked version of Of Heaven and Earth, the 2002 action-musical, will wrap up the festival August 3 to 6.
Most of the shows didn't come close to earning the Laws' money back. "My loss every year is in the seven-digit figures," he told the Toronto Star. But the empty seats don't seem to dampen his spirit, because he says he doesn't do the shows for money. "It's always hard for arts and culture to make money in Vancouver," he says. "It is my contribution to mankind, just like people donating money to education. I want to make the Chinese culture as mainstream as any other culture."
Behind the dream, a movie
One source of Law's stubborn belief in his mission is the success five years ago of Crouching Tiger, Hidden Dragon. The Ang Lee film, which blends Chinese legend, martial arts and gorgeous scenery, was made for a mere $15 million yet grossed $128 million in the U.S. alone -- quite an achievement for a foreign production. "I want to parallel it in live theatre," Law says. In fact, he hired the film's Oscar-winning art director, Tim Yip, for the first production of Of Heaven and Earth.
"Crouching Tiger, Hidden Dragon hit the western market at the right time and distributed by the right company. You'll need to be lucky," he says.
Law and his brothers certainly saw Vancouver as the right place just after they bought Drabinsky's former Ford Centre. At the time, Dennis Law talked openly about his faith in the city's future as an entertainment hub, and how it was the right time and location for their project. "Vancouver's evolving greatness depends on the vibrancy of artistic, cultural and entertainment venues. Arts and culture are the elements that define humanity. Vancouver needs to be a leader in performing arts, not a follower," he told the Vancouver Courier.
Now that he's fallen well short of paralleling Crouching Tiger, Hidden Dragon's commercial success, he puts the blame on the false sense of multiculturalism in Vancouver, despite the fact that it may well be the most Asian city in North America. "Vancouver is a segregated society. The Koreans don't see Chinese shows and the Chinese don't see Japanese shows," he says.
"Toronto is better and so far the States is the best [in attendance]. People are more willing to take risks, and they go to all kinds of shows," says Law, who adds that Vancouver's reluctance to take risks on the arts affects many of the city's arts groups. "It's not only us that has the low-attendance problem."
But, Law says, he never regrets taking over the Vancouver theatre and he feels he has enjoyed some success. In 2005, the Toronto production of Heartbeat won three nominations, including one for outstanding direction of a musical, for the city's Dora Awards.
The critics are, well, critics
Yet it's the ability of Law, a former surgeon, as a producer and director that often attracts critical scorn. Alexandra Gill's Globe and Mail review of Terracotta Warriors had this to say: "The problem, however -- and it's a big one -- is that although this emperor has quite gorgeous clothes, he has no direction. All the on-stage elements for a successful show are there, but Law obviously doesn't have the experience to pull it together behind the scenes and he hasn't handed the reins over to anyone else who might. The overall effect is painfully amateur."
Richard Ouzounian's Toronto Star review of the Toronto production of Warriors questioned Law's mission: "Law may think he is doing Asian culture a favour, but he's actually betraying it, by presenting this historical tale in a mixture of styles that owes as much to the MGM musical as it does to the Beijing opera."
The National Post's Gord McLaughlin wrote that Law is a self-described banana, yellow on the outside and white on the inside. He quoted Law saying he had no attachment to Chinese arts and culture until about eight years ago -- when he went back to China for the family project, the $35 million film Warriors of Virtue -- and met his wife, Moon Lee, a now-retired Chinese dancer and action film star who co-produces most of Law's projects.
Others, however, applaud Law's intentions as well his productions. Jan Walls, director of Simon Fraser University's Asia-Canada Program, says he really enjoyed the shows. "The Chinese traditional instruments usually sound scratchy and not very pleasant to foreign ears," he says. "That's why I really appreciate Law's approach to promoting traditional culture -- packaging it in a way that would appear more attractive to western audiences."
Walls acknowledges the challenge of promoting one particular ethnic culture in Vancouver, where the big ethnic groups are very self-sufficient with their own media and there is little incentive to cross the cultural borders. And he defends him against those who think his productions are not true to Chinese culture. "I don't think Dennis Law intends to put on authentic Chinese shows. He's trying to put on large-scale spectacles and make them more appealing to metropolitan audiences," Walls says. "He aspires to provide a model for internationalizing traditional Chinese culture."
As such, Walls also welcomes the prospect that Steven Spielberg may be interested in putting China's Monkey King story on the big screen. "The story told through Spielberg may be a bit different than the one known among the Chinese," he says. "But it is intended for a different audience. The bottom line is China's literature classic will get international exposure."
Walls believes cultural hybrids open cultural doors. "In most cases, people are interested in a Chinese show, but they are scared they don't know enough about Chinese culture and arts to understand and appreciate things like Peking opera," he says.
Building bridges takes time
And change comes slowly. Vancouver city councillor George Chow recalls that the annual Chinese New Year parade in Chinatown was once an exclusively Chinese community event. Over the years, they've brought in groups from the Brazilian and Indo-Canadian communities. "Now people of all ethnicities come down to the event," Chow says.
Last year's Chinese Performing Arts Festival was promoted mainly in the Chinese media; this year Law's marketing efforts targeted the average theatre-goer. Yet Law says the audiences are still predominantly Chinese. "The best we can do is to make the shows accessible to every art lover in Vancouver who would be interested in coming to the theatre, but other than that, we can't really do anything," Law says.
"The Chinese people are really impressed with my way of presenting the history they are very familiar with," Law adds.
Yet not everyone agrees with that. Kathy Leung, a Vancouver-based filmmaker, saw Terracotta Warriors two years ago and admits she was put off by the number of blackouts between scenes and had a difficult time following the plot, despite her familiarity with some of the history.
As much as she admires Law for his courage and ambition, she thinks Law's productions need broader expertise. "If the audiences are not responding positively to his shows, he will eventually understand it," she says.
Law calls the harsh criticism "cultural insensitivity," but he also knows his shows need improvement -- the Terracotta Warriors remount is technically better than its 2004 debut. But it still lacks a focused story that will resonate for the audiences unfamiliar with China's first emperor.
Law is also looking beyond the North American market. China is a possibility. One of his productions, Senses, had three performances at Beijing's Poly Theatre. But he says he's not that interested in the Chinese market. "Chinese audiences like things more western, as they worship the West. That is contrary to my mission of introducing authentic Chinese arts to the world stage," he says. "Hong Kong is a market I'd like to explore. It's more metropolitan." In fact, Law has scheduled a show in Hong Kong next May.
In the meantime, Law underwrites his cultural adventure with profits from other family businesses, such as real estate. But it seems unlikely he'll give up soon. "I'll let you know when I am fed up with losing," Law says.
We could wish him good luck, or, as western performers say, "break a leg."
Jing Yang is a staff writer at The Tyee. For more background and ticket details on the Chinese Performing Arts Festival, visit the Centre for Performing Arts.