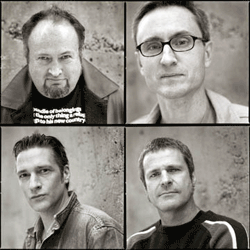 I WAS A TEENAGE PUNK ROCKER! SUBHUMANS RULE OK?!
No. Scratch that. It reads like a hyped-up nostalgia piece headline by a forty-something writer who's been reading too many hyped-up nostalgia pieces in the British music press. OK. Let's try this:
I was a teenage resident of Lynn Valley looking for downtown thrills in post-punk Vancouver!
That's more like it. Upper and lower case. And I never did understand those slogans that went "So-and-so rules OK?!" It seemed confused. Are they asking or declaiming? But the Subhumans did kind of rule, OK? And they may well again.
Let's back up. In 1980 Vancouver was still, barely, in the punk era. And to those of us in North Van whose idea of fun consisted of more than tearing around in a Camaro listening to April Wine, it was The Pointed Sticks, Young Canadians and the Modernettes who were the "A-list" groups to be into, the ones "most likely to succeed," for whom pop success was always just around the corner.
But for me the most consistently satisfying live treat was the Subhumans. They were the local equivalent to San Francisco's incendiary Dead Kennedys. Like the DKs, they were extremely handy with the blunt instrument of the punk song in addressing such societal ills as religious fundamentalism, imperialism, sexism, yobism and (most importantly for those attending high schools with, shall we say, strong shop programs) Loverboyism.
Though I generally preferred the "artier" music of the time, groups like Wire, Tuxedoomon, Throbbing Gristle and Gang of Four were imports in every sense, whereas the Subhumans were homegrown. I was game to see them as often as possible. What was it about their schlubby lead singer (and I mean that in the most affectionate way!) making relentless self-deprecating comments and insulting the audience between bouts of inspired slabs of punk rock? Well, it's simple. He's a great, oddly charming frontman leading a tight, professional, crack band with real chemistry. The kind of quality basics that never go out of fashion -- unlike Mike Reno's red leather pants. And Camaros.
So every month or so, from our respective corners in North Van, we'd make our way to the Arcadian Hall, Carnegie Centre, Smilin' Buddha or the Teamsters Hall to see the Subs. Lead singer "Wimpy Roy" (who was neither wimpy nor named Roy), bassist Gerry "Useless" Hannah, guitarist Mike "Normal" Graham and drummer Jimmy "I'm afraid I have no cute punk nickname" Imagawa (who replaced the late Ken "Dimwit" Montgomery, and who, in turn has been replaced by the shockingly handsome Jon Card) always put on a great show, emitted a positive vibe and left the room wanting one last crash around the room before heading for the bus stops.
Cut and bleeding
The last time I saw them in those days was at the Teamsters Hall on Broadway at a "Rock Against Reagan" concert. They shared a bill with noisemeisters Tunnel Canary (who, I recall, performed with an amplified blender) and The Scissors. After sharing some mysterious clear alcohol out of a jar in the bathroom with Wimpy et al, I found myself out on the floor being bounced into by a guy approximately twice my size. (I'm 6'3.") At this point things become hazy. All I know is that I consciously and extremely uncharacteristically decided to start a fight with the guy! Anyway, the next thing I know I'm on the ground on the street outside, cut and bleeding. Then sirens, people rushing around, scuffling and a voice saying "Hey! Cops and bikers! You better get outta here or you'll end up in the wagon!" Then across the street to clamour onboard a Brill trolley bus as it passed by and, somehow, back to Lynn Valley where I snuck past a late night bridge game in progress and into bed. All details beyond that have been erased. If you know anything else about this night I'd be curious to know! I even asked the band if anyone remembered that gig. "Mmmm, nope."
In the intervening years my musical tastes expanded. Punk was left on the personal history heap. Hey, I was a kid! Real adult "taste" beckoned! The Subhumans carried on for a few more years before splitting. Gerry Hannah became a member of what became known as "The Squamish Five," an actual urban guerrilla group that blew things up to draw attention to the fact that other people were blowing things up. Needless to say "The Five" got caught, did time, and, in Gerry's case, came back with a higher education and fresh determination, no longer "useless." But this aspect of their history (really just one member's history) has been much discussed (easy news hook: "Punk turns terrorist, reforms, rejoins society: order is restored!") and overlooks the fact that they were, and are, simply, a great rock band.
So now that the world's political landscape bears an appalling similarity to that of 1980 (worse, actually), the Subhumans are giving it another go. And, like the reinvigourated Gang of Four (who shredded the Commodore last May) the Subhumans are performing again and are in top, TOP form.
Mosh redux
When they played Vancouver's WISE Hall last October, I invited along my SO, who asked me what to expect.
"Oh, you know, floor-clearing brawls, that kind of thing!" I said this knowing full well that people in their forties just don't do that kind of thing once they've had their energies played out with mortgages and kids. Great. Off we go.
At the WISE Hall, many faces past and present offered nods of recognition and the odd smile of the "isn't this funny, our being here after all this time?" variety. Soon enough the Subhumans came on and managed to fire off three or four songs at full gallop. Before long, a fight broke out. Then another. Then the combatants started sweeping back and forth across the floor in the kind of brain-dead hockey brawl that sensible people yawn at while stepping out of the way, hoping they'll play it out, exhausted and embarrassed. But no. It got worse. Finally, there was a guy out cold on the floor and the police arrived. We stood around fully expecting this to be sorted and have the gig carry on. Nope. Everybody out!
Afterwards, outside the hall, we realized the place is fully surrounded by police cars, an ambulance and paddy wagons. In light of my earlier tongue-in-cheek prediction, the only thing to do was laugh. Everything after that was calm and orderly with a few cops (now a much more diverse mix than a quarter century ago) passively trying to play crowd-control enforcer. But people were mostly just disappointed at the stupidity of it all, hanging around then eventually wandering off. Plus ça change.
New album, same attitude
So I asked around to see if the Subhumans had taken the understandable position of "Fuck it. We're pushing 50 and this stuff clings like a bad smell. We're done. Reunion over." The answer? Hardly. The fighting spirit remains undiminished. Tonight (June 22), the Subhumans play the Red Room on Richards in Vancouver. There will be adequate security and they promise to deliver a full, raging set spiced with witty asides and unlikely scissor kicks from "Wimpy."
At the end of the day, it isn't about nostalgia. And it isn't about violence (I just needed a cheap news hook to flesh out this piece.) It's about chemistry, charm and a tight, professional wallop. The Subhumans are releasing a new album titled New Dark Age Parade which will be out September 15 on G7 Welcoming Committee Records in Canada and Alternative Tentacles Records everywhere else. There are further plans afoot to re-issue their first LP, 1980's Incorrect Thoughts.
So if you can't make it on the 22nd, keep your eyes on the city's lampposts for future dates. If you were one of the suburban brats who went all yuppie, leave the Jetta in front of the condo, hop on a bus and enjoy. And this time, let's make it a clean, fun time for all. After all, there are mortgages to pay, and the world still needs changing. Just stay away from the clear stuff.
Mark Mushet is a Vancouver-based photographer and writer, and the Creative Director of Vancouver Review. Find his previous contributions of words and pictures to The Tyee here.
Related Tyee stories: Mark Mushet cocked an ear to 'The New Quiet' from Vancouver musicians; Elaine Corden took notice of Vancouver's red hot indie music scene; and Jackie Wong edits The Tyee's weekly music picks.