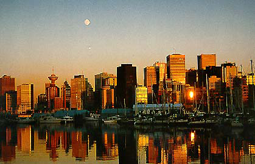 It's Halloween, so it seems like the perfect time to look back with a wink at what scared us this month in "Fast Rewind." Vancouver was once again named the best city in the world to live in by the Economist Intelligence Unit's Livability Survey. However, Vancouverites stopped gloating after discovering that the same study claims the most livable American city is Cleveland.
BC Ferries announced a contest to name three new German-built ferries that will arrive in BC in 2008. The Germans have their own suggestion in honour of the failed Fast Cats that landed them the contract -- "Spirit of Schadenfraude."
BC Premier Aloha Campbell banned teachers' strikes -- which immediately prompted a teachers' strike. The teachers announced that they weren't coming back until the Liberals dealt with wages, class size and "sucky cafeteria food." Campbell then announced he would never negotiate while the teachers were on strike and called in Vince Ready to negotiate. Although the government was unwilling to offer the teachers a wage hike they have compromised by offering them all free iPod Nanos.
Strikes, drugs and insanity
After the teachers walked out, Supreme Court Justice Brenda Brown found teachers in contempt of court, froze the BC Teacher's Federation's assets and demanded that they all write, "I will not participate in illegal strikes," one hundred times.
The "Bus Riders Union" -- or as it's called in most cities "People who Can't Afford Cars" -- held a sit-in at City Hall to protest bus fares. Transit officials said if the union's not happy with the fare they're welcome to walk the picket line. Or just walk. Told there was a "Bus Rider's Union," mediator Vince Ready apparently laughed his face off.
Vancouver mayoral candidate Sam Sullivan admitted he once gave an acquaintance money to buy crack cocaine. Apparently Sullivan is Vancouver's fifth pillar. Meanwhile, City Councilor Jim Green has denied allegations that he only ran for mayor in the hopes of confusing people planning to vote for independent candidate James Green.
Former MP Svend Robinson launched a political comeback explaining that he has a mental illness - which is about as good an explanation as anyone's ever had for going into federal politics. Vancouver Centre MP, Hedy Fry, wished her new challenger well and promptly burnt a cross on his lawn.
National noise
A group of seventeen coworkers in Canrose, Alberta have won 54 million dollars in a record 6/49 draw. Employees at the local A&W are already suing for their share.
The federal Liberals have continued to climb in the polls with a new survey showing the ReformaTories trailing by thirteen points and the NDP a distant third, backed by just 15 percent of decided voters. Meanwhile, NDP leader Jack Layton gave the Prime Minister his terms for supporting the government. The terms were apparently, "Please don't call an election yet. Pretty please."
The province of Ontario has announced plans to follow the US and extend daylight savings time in 2007. Ontario Premier Dalton McGuinty says this allows his province to accomplish two key objectives -- stay in synch with its largest trading partner and get even further out of touch with the rest of Canada.
Premier McGuinty -- or as he's now known -- Premier Frodo, has attracted some controversy over the decision to invest 2.5 million dollars of provincial money in the new Lord of the Rings musical. The provincial money did come with some strings attached though. In order to avoid violating Canadian content regulations, the Dark Tower is now located in Ottawa.
Wood and other resources
In a speech in London, Ontario, former US President Bill Clinton, says he agrees with Canada's position of softwood lumber, but refused to actually say the word, "softwood."
Bloc Quebecois leader Gilles Duceppe says that if Quebec separates it will have its own army. Explained Duceppe, "How else are we gonna build any new golf courses?"
Rumours persist that Justice John Gomery's report on the federal sponsorship scandal is going to blame loyalists to former Prime Minister Jean Chretien for the whole sordid affair, proving Paul Martin's claim that he knew nothing about what was going on in Ottawa…and still doesn't.
A new study ranks Canada as one of the worst polluters on the planet. Canadians are ranked 28th overall, 29th out of 30 in water consumption and dead last in terms of dealing with nuclear waste. The executive director of the Suzuki Foundation called Canada's behaviour, "lethargic, sluggish, asleep at the wheel, in the ditch, haywire" and, "incontinent." Asked to comment, Prime Minister Paul Martin replied, "Hey, Gomery says it's all Chrétien's fault."
And in another sign of the end times, next year the Alberta economy is expected to see less economic growth than the economy of Newfoundland and Labrador. The Newfoundland economy is apparently expected to boom next year, thanks to the shocking discovery of three live cod.
Entertainment news
The CBC lockout finally ended earlier this month when both sides agreed they had to see what Don Cherry planned to wear on the first episode of Coach's Corner. Meanwhile, the success of CBC's new movie about Pierre Trudeau's youth -- The Making of a Maverick -- has sparked plans for another sequel: The Little Prince Pierre: The Toilet Training Years."
Saturday Night magazine called it a night, again. The magazine is going on hiatus until they receive at least one letter to the editor from someone who notices it's gone.
The Parents Television Council named the Fox series, The Family Guy one of the worst family shows on television. Fox had no comment on the group that released the report, but Stewie has announced plans to kill them.
Barbie, Sox and IOC
Mattel is giving Ken another makeover to win back Barbie. In 2004, Mattel created a new dream doll for Barbie -- Blaine, an Australian boogie border. The toy maker has denied reports that Ken's only making a comeback because Blaine left Barbie for Angelina Jolie.
The Chicago White Sox won the World Series for the first time in nearly a century. The series featured a game that lasted nearly a century. By the time it was over, most viewers were already nursing their hangovers. In related news, Shoeless Joe Jackson vanished into an Iowa cornfield.
Fifty-nine year-old Sylvester Stallone has announced plans to write, direct and star in Rocky VI. George Foreman has formally apologized to the people of Earth for making this seem almost plausible.
Meanwhile, the International Olympic Committee has rejected women's boxing as an event in the 2008 Beijing Olympics. Explained an IOC spokesman, "we were all set to add it until we saw Million Dollar Baby."
International news
US President George Bush named his longtime advisor Harriet Miers as his choice for Supreme Court Justice even though she's never been a judge. After Miers withdrew her nomination, rumours began circulating among Washington insiders that Bush was actually delighted because former FEMA chair Michael "Brownie" Brown needs a new job and, "at least he's judged horse shows."
The US Vice-president's Chief of Staff Lewis "Scooter" Libby has been indicted for being a 55-year-old man who allows people to call him Scooter. Prosecutors said they could have looked the other way if he wore bib overalls and ball caps, "But this guy wears a suit and tie. That's just deeply wrong on so many levels."
Delegates from over 150 countries, including Canada, voted to create an international convention protecting indigenous culture - then went back to their hotel rooms to crack open Pepsis and watch reports of the story on CNN.
Michael Jackson was called for jury duty -- which is actually a lot less frightening than letting one of his jurors loose on another trial.
Iran's new president Mahmoud Ahmadinejad has called for Israel, "to be wiped off the map." A spokesman said not to worry, "He was just kickin' it old school," and the chants of "Death to Israel!" were taken entirely out of context.
And, finally, the bird flu has been found in some ducks in Sweden - which means there's a Swedish chicken with some 'splaining to do.
Trick or treat.
Mark Leiren - Young, a screenwriter, playwright and journalist, will be filing his 'Fast Rewinds' of the news in BC and beyond monthly for The Tyee.