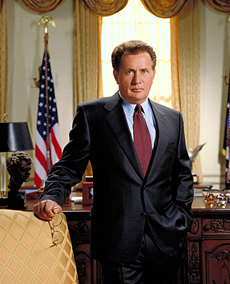 It's back.
Doubters who have abandoned the West Wing since the exodus of its genius originator should be tuning in again.
I have been alternately described as obsessed and a "Wing"-nut and in the interest of full disclosure I do encourage friends and family members to end all our conversations by saying, "Thank you, Mr. President."
But I have never purchased memorabilia from "Bartlet-4-America", it's been over a year since I've posted a message on the show's biggest online discussion forum, and I've largely come to accept that Martin Sheen will never run for Prime Minister of Canada. Thus I can be reasonably objective in my assertion that The West Wing is finally worth a second look.
It's the little things
To be sure, the show suffered what nearly became a body blow when series creator Aaron Sorkin left for greener pastures at the end of the show's fourth season. With John Wells of ER fame at the helm, the show took a decided departure from its storylines about the machinations and minutiae of government - which somehow had been made exciting - and became much more like, well, ER. Since Wells became boss the show has had kidnappings, drug abuse, car explosions and yes, even the threat of a meteor strike woven through the plotlines.
Worse was the disappearance of the snappy dialogue that made the show such a joy to watch in the first place. Even viewers who weren't generally enthralled with the finer points of senate floor filibusters - and apparently they're out there - could easily become enraptured by the fluidity, the very poetry of the conversations as West Wing staffers scurried from office to office, serving at the pleasure of the President.
Seasons five and six have put much heavier emphasis on big plots: from Middle Eastern negotiators being attacked by terrorists, hostage taking in Africa, and a cast member suffering a massive coronary; perhaps Wells saw an opportunity for some cross promotion for his other dramatic juggernaut.
Then suddenly last week, as though the Emmy-winning cast finally declared they had had enough, Bradley Whitford, who plays Josh Lyman, Deputy Chief of Staff, seized the I-Book and wrote an episode devoid of explosions or murder and imitated the dialogue his original boss gave him to work with in the show's early days.
Most importantly, Whitford, arguably one of the more politically vocal members of the cast anyway, introduced us to Matt Santos, played by Jimmy Smits (which has introduced my wife's interest in the show), a presidential candidate who really is about "the issues."
Stay in school
Last week, Santos hit New Hampshire where, to Josh's dismay, he demanded his campaign be about more than retail politics. In fact, as Sorkin tended to do, Santos introduces the viewer to a key policy plank: improving education by nationalizing the system and increasing the number of school days to 240 from the current 180.
You don't even have to like the solutions West Wing writers offer to social issues. Admittedly as a part-time teacher I shudder at the thought (besides B.C.'s already better than Sorkin's America: our system has 192 school days). But in the same way the West Wing could make patriotism poetic, when the show does what it once did best, it's nearly impossible not to find oneself engrossed in the issues when they are advocated for so passionately by eminently likeable characters.
The show works best when it engages the viewer with intelligent, important issues and the natural dramatic conflict inherent in finding the political will to address them. Coupled with dialogue that is entertaining and I daresay, occasionally inspiring, it's a formula that ought to have an indefinite shelf life.
It may be too soon to determine if the show has been truly rescued from Wells' clutch, but if the past two weeks are any indication, West Wing watchers may finally have reason to look forward to Wednesday nights. Hang in there, fellow Wing-nuts. The West Wing seems ready for takeoff again.
The West Wing airs Wednesday nights at 9:00 on NBC and CTV.
David Russell is a freelance writer and part-time educator in Coquitlam. He has written for Maclean's , The Sun and The Province and writes a Canadian politics column for Suite101.com.