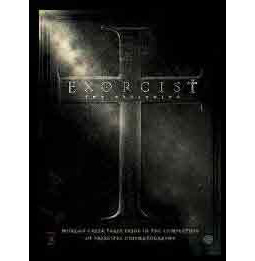 I have always been scared of the devil. And for that I blame my Grandmother, who faced down a demon and lived to tell about it. Namely, tell about it to us, her terrified grandchildren.
It had started fairly innocently, with noises in the upstairs of my grandparent's ancient green farmhouse, like someone moving furniture around, then progressed to bed shaking, and finally a full-on demonic encounter. "I woke up one night and the entire bed was jumping up and down and something was choking me." Grandma said. "I knew it was evil, I could feel it." She drew out the word eeeeeevil. It was at this point in the story that I usually began to feel faint.
"It wanted to get in me, to possess me, so I grabbed my bible that was beside the bed and I screamed I don't believe in you, I believe in Jesus Christ, our SAVIOUR!!" The last part was rendered in a shriek designed to raise the roof and beat the devil, which it apparently did. But by the time we went to bed, in the very room where the demon had lived, we were quite literally scared to death. In fact, I would have almost welcomed death, better to simply have it over with than this endless terrified waiting.
Easily possessed
I can watch any number of frightening films but the notion of demonic possession still reduces me to a state of being a terrified child. Which is probably the very thing that made The Exorcist, the book and the film, so immensely successful.
Published in 1971, William Peter Blatty's novel spent 55 weeks on the New York Times best-seller list. Inspired in part by a newspaper story about a possessed boy who had been exorcised, the story went onto become the film about Regan MacNeil and the two priests who attempt to save her from the clutches of the demon Pazuzu. William Friedkin's film version (produced and scripted by Blatty) grossed some $193 million and received 10 Oscar nominations. It is arguably one of the most successful horror films of all time. Hollywood has been trying to replicate it ever since and failing abysmally.
This latest version of the franchise, doesn't quite measure up the infamously awful Exorcist II: The Heretic. But it comes close. The greatest sin that any horror film can make is simply to not be scary. And this is the main problem with The Exorcist: The Beginning. I was more afraid when I realized I'd dropped my wallet on the floor of the theatre than when Father Merrin was attacked by the devil.
Unlike the first film, in which audience members fainted and threw up, the showdown between good and evil prompted more laughter amongst the audience than terror. When the demon waggles its tongue and taunts the good Father, you've probably heard worse obscenities in a rap song sung along to by your average 12 year old.
Out of Africa
Good and evil is a very tricky business lately, and many of the old tricks simply don't work any longer. This Exorcist is of course, a prequel and the story of the two different versions of the film are already legion (haha Legion!) Stellan Skarsgård plays Father Lancaster Merrin, with world weariness and care worn in every part of him. He is a man who believes in nothing. He has lost his faith and found the bottle. He is hired by a mysterious collector of antiquities to attend a dig in Kenya, at the site of a newly discovered Christian church.
The Church is in a place where no church should be, and it holds nasty surprises. The various victims are quickly assembled: Izabella Scorupco is Sarah, the beautiful doctor with a terrible secret. James D'Arcy, is the sacrificial Father Francis and little Joseph (Remy Sweeney), the requisite innocent child, who simply looks scared all the time. The person I really felt sorry for was Jesus. Poor Christ, hung upside down for the entire film, it must have given him a hell of a headache. The plot is pretty straightforward. Fallen Father shows up, spooky things happen, possessed kid shakes bed, struggle with evil devil, goodness triumphant. The end.
But this film has the unfortunate timing of being released when Africa is again in the throws of tragedy. I was well prepared for this newest Exorcist. Within the last little while, I'd read three books about the complexities of Africa (Peter Godwin's Mukiwa: A White Boy in Africa, Scribbling the Cat; Travels with an Africa Soldier by Alexandra Fuller; and and Last Days in Cloud Cuckooland: Dispatches from White Africa by Graham Boynton) and one book of theology (Michael Mayne's Learning to Dance). None of which I would normally read, but they were the only things available at my In-law's house. A few days later I saw the film and it all came together. The problem of evil has in essence become the problem of Africa.
Lasting curse?
Africa has always been a useful place to set fundamental evil, just ask Joseph Conrad. And this film pulls out all the shop worn cliches; from the superstitious tribesman who tell Merrin, "You must stop your work," to the British army and their need to "be on top of the bloody savages." Racism, colonialism, even the Nazis show up to illustrate just how evil humans can be. This has the unfortunate consequence of making anything that the demon does seem rather tame. This little devil doesn't do much more than turn out the lights, hang crosses upside down and run around giggling. But then Pazuzu, isn't Satan per se, just a close friend.
The story of the film itself, is a more interesting one. And well covered with all its various players in an article in LA Weekly Hell Hath No Fury Exorcist: The Beginning, a story of Hollywood possession by Scott Foundas. It seems the film was cursed pretty much from the beginning, when the original director John Frankenheimer died and the star Liam Neeson walked. The job of directing fell to Paul Schrader, who delivered a version of the film to the Morgan Creek Studios, and was subsequently fired. The film was rescripted, reshot, and Renny Harlin hired to replace Schrader. During filming, Harlin was hit by a car and had to have his leg wired back together with 14 metal pins. Given the quality of his film, this could be considered divine punishment. Foundas, unlike most of North America, has actually seen Schrader's original version and describes it thusly:
"Rather than worshipfully recalling the claustrophobic, kitchen-sink realism of the 1973 film, Schrader and Carr seemed actively engaged in subverting, as best they could, its iconography... Moreover, this Beginning views demonic possession less as a singular occurrence ‹ the terrors visited upon an innocent young victim ‹ than as a contagion born in the hearts of men, able to cross oceans of time and space, infecting entire communities in its wake. It is, by Schrader and Carr¹s own admission, an internalized piece of psychological (as opposed to visceral) horror. It¹s also, not incidentally, an epistemological study of faith, set against a world that gives even the righteous many reasons to question their beliefs."
How free is free will?
Author Caleb Carr (The Alienist) who scripted the original film, is the most vociferous in its defense. "You have to tap into what the horror is today, now that we've seen every possible kind of physical horror, not only in horror movies, but on the news. We haven¹t yet found a way to cope with the fact that, at their base, a lot of people are not good people. And that¹s a scary, scary thought -- that even that little bit of evil that¹s in every person can be drawn out and used . . ."
The problem of evil has occupied many great minds. What Theologian Michael Mayne talks about in his book Learning to Dance is the idea that evil is a matter of choice; part of the deal that God made in giving people free will. But the entire history of Africa strains this idea. Africa, like nowhere else, sometimes seems like hell on earth. In the film, it's deemed the place where Lucifer fell. The Nazis committed one holocaust but in Africa another genocide seems to happen every few years (Rwanda and now the Sudan come immediately to mind). Thus to set a film in a place that has already suffered so much seems at best, in very poor taste. And at worst, horribly exploitative. The movie attempts to whitewash this trait by making white and black cooperate to beat evil. In the end, the only two left standing are an old white guy and a little black kid.
But of course, whose side is God on? In Africa, the Boers assumed it must be them, since they were able to defeat vast outnumbering forces of Zulu warriors at the battle of Blood River. In 1885 the Congress of Berlin gave Leopold II of Belgium administrative powers over the Congo, which he used to turn the entire population into slave labour to strip the country of its natural resources. Atrocities were such that writer Algis Valiunas described the situation as "wickedness triumphant."
In 1960, the Belgians walked out of the Congo and left it to a nation of people who'd never even finished elementary school. The Catholic church, is of course, not free of sin, especially when it comes to Africa. In a continent where AIDS has infected some 25 million people according to the UN Joint Progamme on HIV/AIDS (UNAIDS), women and kids take it on the chin, which is also what happens in the film. It reserves its worst for little kids, which is the one thing that makes it beyond redemption for me.
Beat the Devil
The intent of the original Exorcist was to make a film about the mystery of faith. Mel Gibson's The Passion of the Christ renewed that sense that religious film wasn't entirely dead yet. Like Gibson's film in which Satan is personified as a beautiful lady, this film too, masks evil in loveliness. But the finer points of theology which makes quantum physics look straightforward are not to be found here. It's strictly showdown in the bowels of the earth. Oh, God, where are youuuuuu?
In the final confrontation, you wish that God would show up, at least put in an appearance like the divine choir at the end of Gounod's Faust when Mephistopheles is about to drag Marguerite down to hell. It's so stirring you can't help but feel YAY!! Go God, go, beat the devil. This need for divine justice to come leaping down from the heavens, may be a childish notion, and I recognize it as such. A remnant of my Grandmother's stories about the righteous wrath of God. But sometimes you can't help but wish for a little of that. Or can you? C.S. Lewis said "I wonder whether people who ask God to interfere openly and directly in our world quite realize what it will be like when He does....When the author walks on the stage the play is over."
Good and evil is the oldest problem around, but it's gained new attention, especially within the medium of film. Horror films have surged in popularity within the previous five years and religion also is undergoing something of a Renaissance. When Paris Hilton is joining the Kabbalists, you know something is in the air. Madonna, Demi Moore and all of the cool people for Christ always makes me think of John Prine's lyric "Jesus, was a good guy, he didn't need this shit." The same can be said of The Exorcist: The Beginning.
Dorothy Woodend reviews films for The Tyee every Friday.