The Decisive Moment, a collection of Ema Peter's architectural photographs curated by Alison Powell, is the subject of a new exhibition at the West Vancouver Art Museum. Part of the 2023 Capture Photography Festival, the show takes its title from Henri Cartier-Bresson's famous maxim about being in the right place at the right time and recognizing the moment in the instant it happens.
Peter's images of some of the most remarkable buildings in Vancouver and other urban centres are impeccably observed and rigorously elegant. It's impossible not to be charmed by the beauty of her work. But beneath the cool precision of glass, steel and stone, stickier issues exist.
To say that architecture in Vancouver is something of a fraught subject is perhaps putting it too mildly. Whether they live in a tiny basement apartment or palatial pad on the water, everyone has opinions and is all too happy to share them, in addition to invective, critique and fury.
Worlds away from the grittier sections of the city are properties like BlackCliff House, which looks upon vistas of ocean and sky with implacable calm.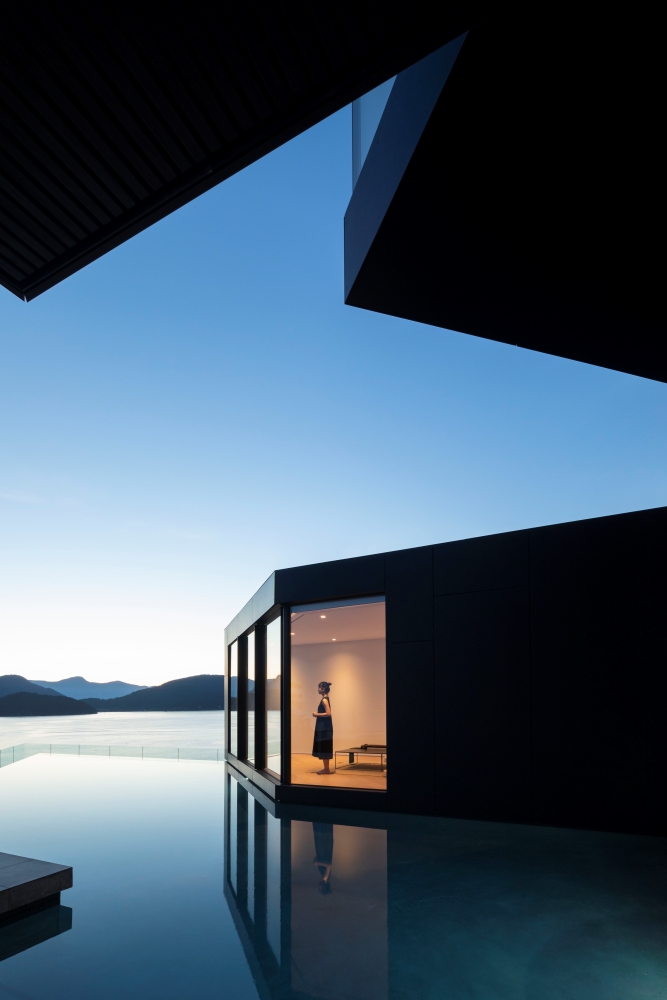 BlackCliff House is one of the most stunning photographs in the show. Delineated by graphic blocks of light and dark like a modernist painting, the house, designed by McLeod Bovell Modern Houses, soars up and out. The image is a testimony to engineering, architecture and the monumental beauty of the landscape itself.
The sole human element in the photograph is a young woman (the daughter of the home's owner) in a black dress gazing out to sea. It is easy to see why it was chosen as the cover image for the 2022 edition of Architizer: The World's Best Architecture.
It radiates both tranquility and seduction. So, why does its beauty make me feel slightly uneasy?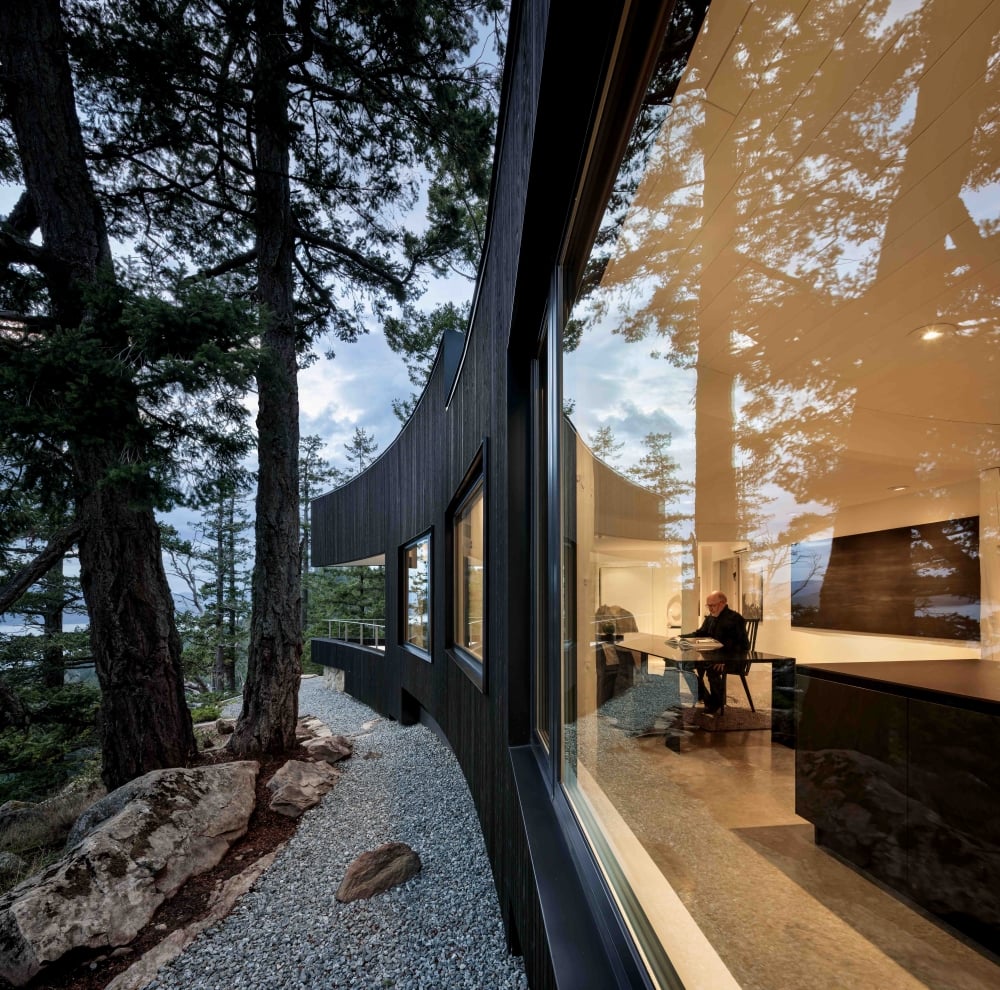 Effortful ease
Peter fell into architectural photography while studying in Paris. Although she had originally planned on pursuing a career in photojournalism, an encounter with the designs of landmark architect Le Corbusier took her down a different path.
Architectural photography is largely dominated by men, but Peter has been greatly in demand since launching her career. After finishing her studies at Bulgaria's National Academy of Theatre and Film Arts, she interned at the Paris office of the international photo co-operative Magnum Photos. At the time, Magnum was still home to some of the most celebrated photojournalists in the world. Peter admits she was occasionally starstruck by the famous photographers, who she spoke and drank with in Parisian bars.
After moving to Vancouver, Peter built her reputation working with architects like Tony Robins. As she explains her process, Peter notes that serendipity is one of her favourite words. But in order to allow for the perfect moment to arrive, she is often on site from dawn until sunset. It isn't all happenstance and good luck; the decisive moment comes from hard work and rigorousness that has shaped Peter's career. She explains to me that she worked through both her pregnancies. And she takes meticulous care to understand light, which can shift a photo from merely interesting to chin-dropping.
An image of Grandview Heights Aquatic Centre is a good example. Against the diffuse dappled light of windows, a young diver is caught, suspended in mid-leap. The arrangement of different elements is precise but also seemingly effortless.
But the reality behind the scenes belies the apparent ease of the moment. In her introduction to the exhibition's catalogue, the Gallery's curator Hilary Letwin lays it all out: "The administrators of the pool did not wish to close to the public while Ema documented the building for the architects. Instead, she had to shoot with a boisterous and substantial crowd of swimmers in the space. When it came time for her to catch a wide angle, the lifeguards blew their whistles and everyone vacated the pool temporarily while Ema shot like mad. One can imagine that there's nothing like a large audience of shivering swimmers to hasten such a task along! Needless to say, the grace of Ema's photography hides all of these external pressures, and instead we viewers are treated only to these incredible passages of elegance."
In an image of the Fondazione Prada Torre building in Milan, against the profound blue of a Mediterranean sky and the stark white of the structure, a woman in a red dress strides into view. As Peter explains, she wanted to include a woman in red. She managed to manifest her concept through sheer dint of will.
It's a charming anecdote but also speaks to the commitment necessary to create a photo that is more than simply a building in a plaza.
There is often a sense of implicit narrative in Peter's images, whether it's a group of school kids running past the OG House in Halifax, Nova Scotia or designer Gaile Guevara posed inside an interior garden seemingly in deep communion with plants in Full House.
The problem of prettiness
The challenges of making photos is something that Peter relishes, admitting that she would happily dangle from a helicopter if it resulted in a great image. This level of hustle demands respect. Creating a career when everyone with an Instagram account considers themselves a photographer takes more than commitment but also an unshakeable sense of self and arguably mission.
Despite the elegance and charm on display, it is difficult to fully give into these images of luxury. This is certainly not the fault of the artist, but it's part of the reality of living or at least trying to live in Vancouver, where extreme poverty and vast wealth are often nestled cheek by jowl.
Even as you're gazing on the meticulously composed images of private residences or commercial buildings like the Parq in downtown Vancouver, a certain reservation floats in the background.
Maybe it is just this chasmic divide that makes it difficult to fully enjoy the images in The Decisive Moment. Amidst the material beauty of the structures, I couldn't stop hearing a dark hiss like a serpent in the garden: that some folks deserve palatial digs and million-dollar views, while others get their tents torn out from underneath them.
The problem of prettiness might not sound like a problem at all. But the beauty of Vancouver can put a strange gloss on its darker aspects. This form of cognitive dissonance grows louder every day.
As much as I admired Peter's work, a part of me actively resisted the implicit perfection embodied in her images. I wish it were different, that the rigour and gracefulness of her work could surmount the issues that have riven the city.
But even beauty has its limits.
---
'The Decisive Moment' is on display at the West Vancouver Art Museum until June 3.