I started each shift by vacuuming the grey carpet, which had withstood years of spilled beer, crushed potato chips and creek mud. Next, I'd count the money in the till, turn on the coffee pot and fill the sink with warm water and a bit of bleach for washing glasses — in training, I'd learned that the slightest trace of soap could make the beer flat.
It was the first time I'd lived in a small town or worked as a bartender. When my husband Robin and I started dating in Toronto, I'd told him that I could never live in a place with fewer than 15,000 people. Back then, I worked as a management consultant, travelling most weeks to places like San Francisco, Chicago and Boston.
Yet, here I was just four years later, serving beer in a town of 500 — perhaps as many as 1,000 on long summer weekends when the Whitehorse cottagers arrived, towing their boats and ATVs.
Atlin is in the traditional territory of the Taku River Tlingit First Nation. It's the most northern settlement in British Columbia — but you have to drive through the Yukon to get there.
The name, Áa Tlein, is Tlingit for "big body of water." The town sits at the midpoint of a 100-kilometre-long lake, the largest natural lake in B.C., made all the more imposing by the surrounding bare-faced peaks, and a glacier that stretches south, all the way to Juneau, Alaska. Being on the lake feels like floating in a vacuum, the expansiveness and silence threatening to suck your insides out.
While the scenery was an undeniable draw, Robin and I were trialling small-town life, so it was necessary to focus on practical considerations: Could we find work, let alone meaningful careers? Would we make friends?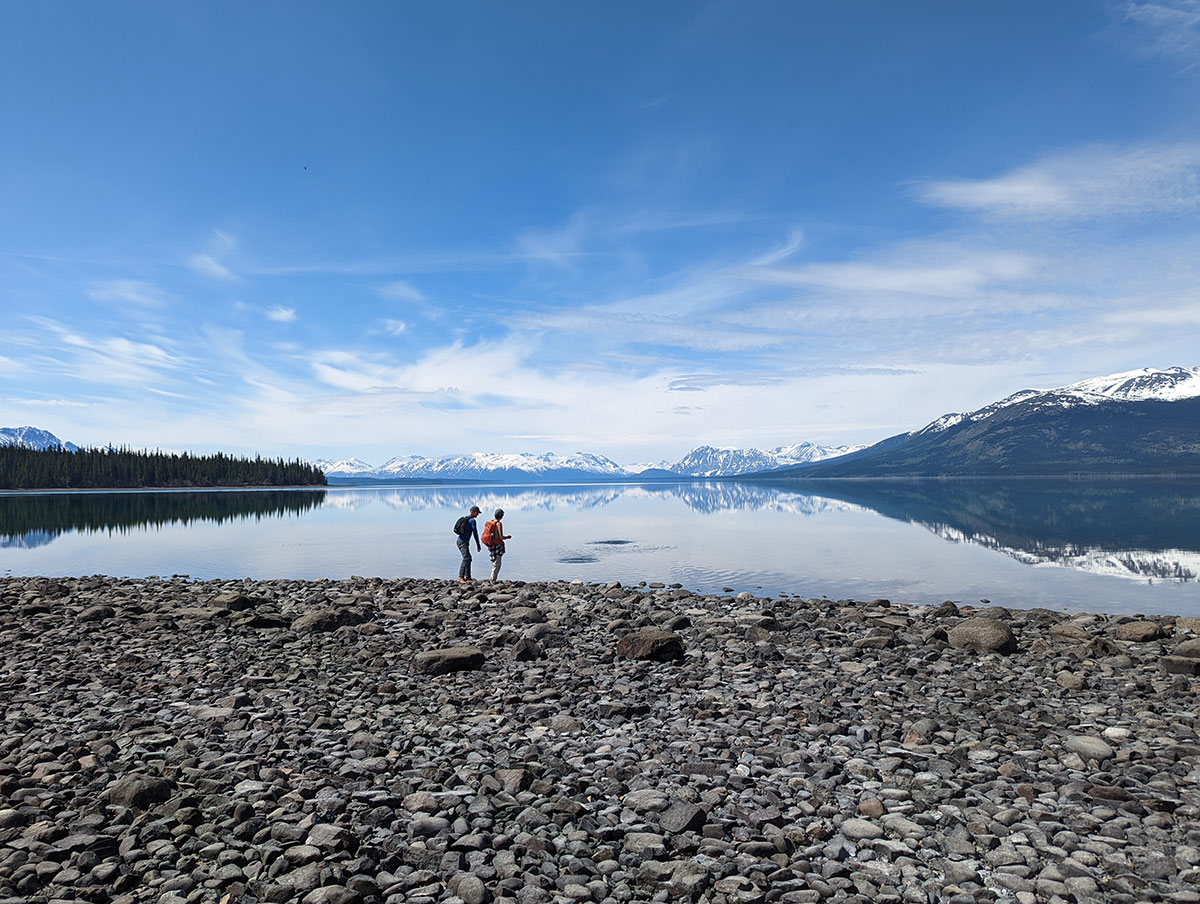 Jobs, it turned out, were plentiful, which was a good thing because we needed a few to make ends meet. Robin found work building saunas and decks for people in town. I cleaned houses, mowed lawns, stacked firewood and landed a job at the local bar, known as the Rec Centre.
A thin-skinned morning person who'd have been hard-pressed to mix a martini, I wasn't the ideal candidate. But I was willing to work, so I got the job.
Kate the ambulance driver, Garrett who lives at the old morgue
At 4 p.m., the Cranberry Crowd arrived — retired miners in their 70s and 80s who ordered cranberry juice or black coffee. They were my first patrons of the day, and my favourite customers. Mellow, polite and always with a good story about feats of heavy machinery, the mine manager who'd won the lotto in 2012, or, my personal favourite, tipping a bartender in gold dust. 
Next, younger men arrived wearing hi-vis safety jackets, hoodies and steel-toed boots caked in mud. Each new arrival was greeted at the bar by a round of salutations and back-slapping: "It's John," "Johnny!" I would simultaneously pull a Bud or Kokanee from the fridge — it helped to know what everyone drank.
The town's matriarchs, women who ran the historical society and cooked for the community on Taco Tuesdays, were regulars. They wore gold nuggets in rings, necklaces and earrings, and ordered red wine, which I ceremoniously poured, first into a flagon and then into a glass, from a cardboard box behind the bar. 
Nobody sat at the tables if there were seats available around the bar unless they were tourists or consultants from down South who'd been sent to fix a small northern town's problems. Out-of-towners might also ask for an IPA or a sour, neither of which we had.
I could tell a lot about a person by what they drink, where they sat and how people referred to them when they weren't there. Surnames were generally not used. Instead, the town named you, usually by one of several conventions. 
For instance, if your job involved providing an important service, you might be known as John the Nurse, Kate the Ambulance Driver or Joanna the Teacher.
Like landed gentry, you might be named for where you live, particularly if you lived in a historic building. Something like Garrett Who Lives at the Old Morgue, or Deborah Who Lives at the Old Teacherage. 
The exceptions were those that had lived in Atlin since birth, or whose families had been here for generations. They were referred to by both first and last name.
I earned my small-town name relatively quickly, on account of my job, but it wasn't without challenges. Improbably, there was another Fiona who worked at the bar. For a while, people called us Young Fiona and Old Fiona, but Fiona One objected, so I became Fiona Two. 
Never let them see you cry
Nine o'clock was a prescient hour. On a slow Sunday, I'd hear the satisfactory tap of empty bottles and the shuffle of change on the counter, mutters of farewell as I washed the dishes. On other nights, someone would steal the SiriusXM remote from next to the till and switch to an upbeat rock channel, admonishing me for playing slow country music, which I'd found worked a bit like a sedative for my patrons. On these nights my anticipation grew.
I began to count drinks. One, two, three… over how many minutes? "How about a bag of chips? I can heat you up a meat pie in the microwave." Four, five, six… red cheeks, glassy eyes. "How about some water." Then came the moment I dreaded. "I'm sorry, I can't serve you another," as I braced for a tirade of cursing, smashing their empty glass down, and if I was lucky, storming out. 
Some saw the cut-off as an opportunity to negotiate: "Just one more, and then we'll go to bed." One night, I acquiesced, then held firm, then served them another. I lost all authority, at which point, surprising even myself, I broke into tears. They chastised me, but it had spoiled the mood and they finally went home.
On my next shift, one of them leaned across the bar. "You can never let them see you cry," he whispered, "Never let them see you cry."
I got to know him as the months rolled on. On long slow shifts, he told me about his life and how he longed to find love. He taught me how to make a plaintive moose call. In the fall, he invited Robin and I over for moose bolognese and became one of our first new friends.
In Toronto and Vancouver, my friend groups consisted of ambitious young women with university degrees who went on leadership retreats in Palm Springs. Here my friend group ranged from eight-year-olds to 80-year-olds, university professors to people with prison records.  It was more like family than friendship. They weren't always the people I would have chosen, nor would they have chosen me, as our politics and beliefs sometimes differed quite a bit. Yet somewhere in the space between a thousand tiny interactions — lending tools, exchanging pleasantries, knowing glances at community meetings — a kinship formed. 
Like everything else in the North, friendships grow slowly. Newcomers are, understandably, only tentatively embraced because no one trusts they will stay.
The slow change from stranger to friend is maybe best exemplified by another one of my patrons, who I'll call Dennis, who was quiet and new to town. He showed up every night around 8 p.m., ordered water and sat at the bar in silence. I often wondered why he bothered if he wasn't going to talk to anyone, but this routine persisted until I left the job that winter.
A couple of years later, Robin pointed out a man enthusiastically twirling a baton in Atlin's Canada Day parade. It was Dennis. He was so ebullient I hadn't recognized him. When he died soon after, his many friends gathered around a bonfire for a reverential small-town send-off. He had melded himself to the heart of the community by continuously showing up.
A folding cot for anyone who needs it
After the last patrons left, I unlocked the staff-only backroom, where we kept the inventory so that I could restock the bar before counting our remaining cash and printing the day's totals from the till. Once, a patron I'll call Mike followed me to the backroom, though he knew he wasn't supposed to. He'd been banned from the bar, but recently had been allowed back. He'd come and go, stopping by a few times each evening to chat. Later that night, when I did my final tally, I discovered that two packs of cigarettes were missing. 
The Rec Centre did a good business. Above the basement bar was a community hall where the town gathered for markets, meetings, weddings, bingo nights and potlucks. It was also home to a beloved curling rink, known for having some of the best ice in the North. I was told there was food in the fridge and a folding cot for anyone who needed it. The profits from the bar helped pay for the space, and a hundred other little community needs.
Urbanites talk about finding a sense of community. In Atlin, community permeates day-to-day existence. It names you, knows you and catches you when life takes an unexpected turn. It's not perfect, of course. But it felt vital, for Mike, for me. Like drinking water and not realizing I'd been thirsty.
After locking the bar doors, I rode my bike home along the dark country roads. Thoughts and images from the day churned with the rotation of my tires. Dark hills and forms rose up out of the road in the beam of my headlamp.
I still had questions about making friends and a living, and I wasn't a great bartender, but the place was right. I could feel my way forward.