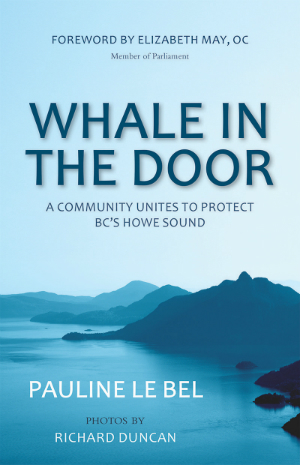 Whale in the Door: A Community Unites to Protect the Howe Sound
By Pauline Le Bel with photos by Richard Duncan
Caitlin Press (2017)
On March 27, 2015, the Howe Sound Science and Knowledge Workshop brought together 60 expert knowledge holders from diverse backgrounds to identify and share observations, information, data and stories related to the marine life in Howe Sound. The idea was to collect, not just statistics and numbers, but also people's experience on the water to share information and form relationships.
At the workshop, Chris Lewis, former policy advisor to the BC Assembly of First Nations and an elected councillor of the Squamish Nation, told a story as told to him by his Elders. "Mink, a trickster, and his sister, Skunk, gave a big potlatch on Gambier Island. All the animals from around the area came to his longhouse. Even the undersea creatures attended, being placed in large cedar bentwood boxes filled with water. In addition to all the other species, Mink invited Whale. After everyone else was already inside, Whale swam fast and launched himself onto the land in order to peek his head into the door of the longhouse. In doing so, his large head blocked the whole entrance and trapped the others inside. This was all part of Mink's plan to get everyone together and force them to talk to each other."
Lewis continued, "Now the whales have returned to Howe Sound after a long absence. They are doing the same thing — they have trapped all of us in one room and we are talking to one another."
And we are talking to one another. We've come together because of our love for this fjord. We're talking, we're listening, we're sharing and we're forming relationships. Through information sessions, forums, actions and festivals, we are seeking new ways of being together, of living respectfully on the land and the waters, finding a way forward, a creative way, an unexpected way.
I love this story. Sometimes you need a trickster to get the plot moving. As a writer of screenplays and novels, I was trained in the storytelling device of the hero's journey. It goes like this: the hero/heroine is given a challenge, leaves on a quest, learns from mentors, vanquishes the monster/bad guys, and returns to the community as a saviour. If this scenario sounds familiar, that's because it's the template for most movies, TV shows, novels and comics. Mythologist Joseph Campbell wrote that he observed variations of this narrative structure in almost every culture he studied. The hero's journey, he believed, served as a useful story to empower adolescents and to inspire them to take on their role in the community.
I suggest it's time to move on, to grow up, to leave the hero myth behind as a quaint and perhaps useful artifact of the past. The tasks that are facing us now demand grown-up narratives — narratives that empower communities of people to come together and transform their world. Communities are not out there to slay dragons; they're there to build something new. Together. No single person can imagine what this will look like, but a community of dedicated people can dream together and design a desirable future.
Fear as a political tool
I was curious to discover the role of fear that's generated in discussions around LNG, so I contacted Chris Erickson, who teaches political science at the University of British Columbia. Chris wrote a book called The Poetics of Fear, in which he traces the use of fear all the way back to Ancient Greece. In a lively conversation with Chris, I start to get a better handle on fear as a political tool.
"It's so widespread," Chris tells me, "because it works. Fear stops us from trying new stuff. Fear is used by all sides on all issues." Today, it's industry telling us, "If we don't build it, no jobs, everyone suffers. While environmentalists say if we build it, the environment is degraded, people suffer, everything's covered in oil. We build, it's a disaster. We don't build, it's a disaster. They use extreme cases to make their point. It tends to limit the imagination to find another way."
I ask Chris how one can respond to fear. His response is intriguing and unexpected. "With compassion, empathy and hospitality," he answers. As an example, there's the story he just read in the newspaper about a black man and a policeman switching places for a day. "That kind of hospitality," he says, "challenges the current attitude. If you're different, you must be hostile to me. There are examples of compassion all over, but they rarely get noticed. Compassion isn't real flashy, it doesn't shoot people on the street. We get bombarded by the non-compassion stories."
I'm reminded that I have wanted to write about the compassionate exchange between West Vancouver police and Squamish Nation youth. Fear on both sides has been transformed by hospitality as they paddle together in long-distance Pulling Together Canoe Journeys, getting to know each other outside their official and often oppositional roles and assumptions. Chris believes there is always a need behind these assumptions and opinions, "and always another way of meeting that need." In response to how we meet that need, he paraphrases The Apology of Socrates: the only thing I know is I don't know anything.
"We don't know everything," he says. "We're always missing something important." That seems accurate to me. I question how we refer to the latest scientific theory as if it were the absolute truth about how the world works. It would be more correct to say it is the absolute best guess we have, given the research and the available data we have today. New data tomorrow will bring a new hypothesis or best guess. Chris agrees. "One can firmly believe something but we need to stay open. I probably don't know everything. Maybe there's something we have in common."
When Chris starts talking about dreamers, we find true common ground. "What the world needs now," he says, "are dreamers. We need to start thinking more creatively. There is always more than one way. Old thinking keeps us locked in the same cycle. We are stuck in the logic of fear. Stuck with the way things are. Things could be different. Easily. We need to come up with new solutions to old problems. Are we going to create new problems? Absolutely. That keeps us humble about our solutions."
In Canada, the most egregious solution we created was the answer to the so-called "Indian Problem." The solution was to exterminate Indigenous people, kill the "Indian" in the child. "It's the logic of residential schools that's the problem," says Chris. "This is different so it must be eradicated. For the churches, the option was to convert them to Christianity. The government saw them as savages. The option was to kill them. The flawed logic of the colonialist is we know what is right. Our way is the correct way."
He calls it "the shield logic," after the terrifying shield of Achilles, which was responsible for his victories in battle. This logic has a three-stage pattern. "One: This is the way the world is. Two: You can't do anything about it. Three: It's not me, it's god, science, the market, the economy, whatever the unquestioned authority of our time. To question the statement makes you irrational."
Dreaming is dangerous
What about the idea that LNG will save the B.C. economy? "Think about that assumption," answers Chris. "It comes from a sense of lack. B.C. isn't great and we need to be great. We're not Toronto, not the financial capital of Canada. We don't have the heritage of Montreal. What makes us think there's something wrong with this place? You have to ask who benefits from that assumption." Chris is in favour of the tourism tagline, Super, Natural British Columbia, because it contains a cautionary note. "To keep that going you can't mess with the natural stuff." What about our role to defend, to protect the environment? Does compassion mean we just have to accept things? "We don't have to cave in," Chris replies. "We need to find creative solutions. Dreaming is dangerous. It goes against your own gut feeling about what's right. I might think it's right for me to stand up and defend, but I may be perpetuating the problem. Opposing, he says, builds in assumptions of hostility. We need to chip away at that and have compassion for all sides. The dreamer is doing something entirely different. Compassion has to be modelled. Someone has to start."
The word "compassion" is not regularly associated with meetings. Fatigue, boredom, restlessness, yes. But the Howe Sound Community forums are imbued with compassion, as well as hope, joy and a willingness to move forward together. Besides sharing important information, the goal is to enter into viable partnerships and engagements, to come to a holistic vision for Howe Sound. It is an honour to witness this coming together around the shared love for Howe Sound.
These conversations are taking place in many other gatherings in Howe Sound. They have included film nights, flotillas, marches, aquatic forums, knowledge-holder forums, rallies supporting salmon and rallies opposing LNG. Those who gather are seeking connection, they are seeking to restore wholeness, and they are seeking a biocentric view of Howe Sound. And as they gather, they are discovering how necessary they are to each other.
Getting there
Part of my workday world revolves around music. This has taught me a great deal about community. Individuals, whether notes or people, are not the main event; relationships are. The music is not made with notes. The music comes in between the notes, the relationships that are found in between the notes. Relationships between stars and galaxies, between Earth and Sun, between plants and people, between song and singer. Music also taught me that a song is not about getting to the final note, the final destination. It's about enjoying getting there.
Margaret Wheatley, who has written many books on community and leadership, believes the world doesn't change one person at a time, in spite of the ads and slogans. The world changes "as networks of relationships form among people who discover they share a common cause and vision of what's possible." Rather than worry about critical mass, she says, our work is to foster critical connections. "Through these relationships, we will develop the new knowledge, practices, courage and commitment that lead to broad-based change." She believes "determination, energy and courage appear spontaneously when we care deeply about something. We take risks that are unimaginable in any other context."
Those of us inside Mink's Longhouse together would do well to avoid focusing on worst-case scenarios. Instead we could bring our attention to what we deeply desire for Howe Sound and continue working toward that. We might ask ourselves a few questions. What risks are we willing to take to ensure the survival and flourishing of the Howe Sound bioregion? Are we willing to open our hearts and minds, to offer hospitality, to move beyond staying the course and business as usual? Are we capable of creating and maintaining meaningful, compassionate relationships with each other? Do we have the eagerness to work toward a deep reconciliation with the land?