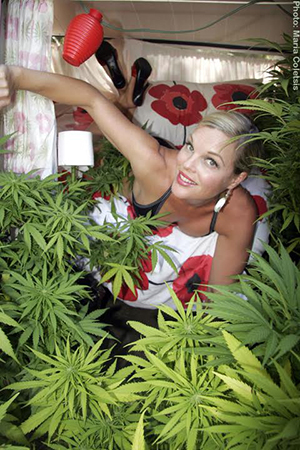 Times have certainly changed in the 22 years since Watermelon started working the sands of Wreck Beach.
"About two weeks ago, I was out front of my candy store [the Commercial Drive Liquorice Parlour on Commercial and Parker], and this guy and this woman are walking by, and I'm like: 'God, I know him,'" she recalls, chuckling. "And he's looking at me, and he finally comes over, and he's like: 'You don't recognize me, Watermelon?' And it was Officer Francoeur."
She's referring, of course, to the RCMP officer who famously dragged her off the beach back in September 2001, amidst a crowd of furious regulars for allegedly selling ginger cookies with extra "snap."
"And before I can stop what's happening, he's going in for the bear hug of the century," she laughs. "I thought that was really telling. I'm standing there, hugging it out with my first arresting officer. And this cop's staring at me all misty-eyed -- it was such an awkward scenario. And I mentioned I owned this candy store, and his wife's like: 'Yeah, we should come back with the kids!'"
In the years since she first began providing watermelon and other feel-good treats to the denizens of Wreck Beach, Watermelon (real name: Mary Jean Dunsdon) has come a long way herself, expanding her modest one-woman operation into something of a local empire -- including magazine covers, a storefront (the aforementioned licorice parlour), and a YouTube cooking show. She's even inspired a song. And now, after more than two decades, the tireless vendor, comedienne, and pot activist has decided to retire from Wreck, moving on from her roots to sow seeds for something new.
"I want to close this chapter," she says. "I'm no spring chicken anymore. After 22 years, I don't want to be the girl who's clinging. I created Watermelon, and it's been great, but I'm worried that if I cling on to that, then she may start to look tawdry. She doesn't need to be hanging on."
"It's not the watermelon, it's the woman," notes Judy Williams, head of the Wreck Beach Preservation Society, and a regular on the beach for more than 50 years. "Jeannie is a rare individual who has great compassion, and a great sense of irony. She's a compassionate, beautiful, gutsy lady. Whether she's selling watermelon, or just enjoying the beach, she will always be a member of our community. No matter what."
A Wreck-trospective
Dunsdon still remembers her first trip down those infamous stairs, on a cool sunny day back in September 1993. And while, as the name suggests, she started out selling fruit to parched beachgoers, she quickly moved on to more experimental edibles, when, on a lark, she baked a batch of marijuana cookies and sold them all in a single afternoon.
"I didn't get naked right away, to be honest," she recalls. "I wasn't naked my first day. And then I went topless for awhile. It takes a little bit of time. But nudity is kind of like losing your virginity: once you've done it, it's over and who cares? You realize it isn't a big deal -- it's just hang-ups in your mind."
In the beginning, she operated with relatively little police interference, and quickly became an integral part of Wreck's landscape, helping to organize the Preservation Society's annual Christmas parties, and serving as MC of the annual Bare Buns Run (which she has hosted every year since it began in 2006). But, she notes, after 2001, the atmosphere on the beach began to change, owing to both an increase in police presence (she's been arrested and acquitted three times since her first run-in with Officer Francouer), and a Coastal Health mandate that required licenses for all the area's food vendors.
"There are barely any vendors down there anymore," she notes. "Health Canada came by and wiped out some of the best parts. Now you can only get prefab hamburgers and hotdogs. There used to be a guy who sold truffles. There was Hot Coffee Dave, who sold hot coffee in the morning, and Cold Coffee Dave -- totally different guy -- who sold cold coffee with Baileys in the afternoon. There were Juice Bar Girls, there were Pina Coladas. Everybody's gotten upsettingly well-behaved."
And it isn't simply the food vendors who have begun to vanish over the past decade; like Watermelon, many of the beach's more exotic salespeople are moving on to other opportunities, or retiring, with less and less new blood to take their place.
"A lot of the vendors are aging out, and there aren't really young vendors to replace them," she explains. "For years, I wondered when the new Watermelon Girl would come along. I would have happily passed that baton."
Then again, Dunsdon notes, being a vendor isn't a job for just anybody.
"You've got to haul all of that stuff down to the beach and back. You spend all that time in the sun. Socially, you've got to keep going. At the start of every year, you'll see maybe ten new kids. And by the end of the year, there's one or two that have stayed. That's it. Very rarely is there staying power. It's mostly just these old-school vendors. They've been hiding from the cops forever, they've got their schtick down."
Even the demographics on the beach itself are changing; in 1989, an independent GVRD study noted that Wreck's daily beachgoing population was split nearly 50-50, between clothed and unclothed. Now -- according to Dunsdon and Williams -- that ratio is heavily skewed in favour of "textiles" (beach slang for the clothed).
"Nudists are a bit of an endangered species on their own beach," Watermelon sighs. "It's about 70/30, with 70 per cent being clothed. Some days on the beach, I'm like: 'Hey guys, don't forget to be naked.' I do have an agenda when I talk about this stuff, and it's to remind people that, if you're not getting naked, you're ruining it."
Last freedom frontier?
As for what she's going to do next, Dunsdon is tight-lipped. There's talk of continuing or expanding her cooking show (she regularly co-hosts with her mother), as well as discussion of a Pot Pin-Up Cookbook, which has been in the works for several years.
And while a new Watermelon Girl has yet to present herself, Dunsdon does have a set of rules for potential applicants.
"I have only two criteria," she says. "They have to be naked, or I can't support them. And they have to give kids free watermelon. Those are the only two rules I'd have. You can be a guy or a girl. It doesn't matter."
Although she'll be stepping back from her role as a vendor, Dunsdon is careful to note that she still intends to spend plenty of time down at the beach, a place -- despite the changes -- that still stands out as what she calls "the last frontier of freedom in this city."
"Maybe five years ago, I was with my photographer, and she suggested we walk down to Kits Beach and smoke a joint," she recalls. "And as we're walking, I was like: 'Oh, I've never been here before.' I'd been living in this town seventeen years by then, and I'd never been to Kits Beach. As soon as I found Wreck Beach, I was like: 'Why would anyone go anywhere else?'"
And while no beach could replace Wreck in Watermelon's eyes, Williams assures beach stalwarts aren't eager to replace her either. "She's a member of the Wreck Beach family," she says. "What more can I say? And those are high accolades. And sure, we squabble and fight, but what family doesn't? And when it comes down to the final analysis, we have each other's backs."