On an Easter weekend in the 1990s, artist Glen Andersen collaborated with friends to re-enact the crucifixion and resurrection of Jesus Christ in a play that featured an artist-martyr nicknamed the ''artyr.'' In the play, performed on a downtown Vancouver street, a female poet portrayed the ''artyr,'' while actors playing journalists hounded her.
Decades later, Andersen's life bears a similarity to the ostracized artist figure from that performance art piece.
He and his partner live in an off-the-grid riverside village in Richmond, B.C. called Finn Slough, which, more than 100 years after it was first founded by Finnish immigrants, still has a wild frontier feel to it.
And though he's not chased by mobs, he does, at times, feel misunderstood and hunted. Many people have the mistaken belief that Finn Slough residents are squatters who don't pay taxes and flush their toilets directly into the river.
"None of that is true,'' said Andersen, 52.
There's also a developer in the wings who, in the past, has said he wants to level the slough and build condos.
Like the 19th century Finnish founders of the village, Andersen could be also described as a pioneer, forging a new way of urban living in an era of rising housing prices.
A mosaic artist and sculptor, Andersen moved to Finn Slough seven years ago after his landlord sold the house that he and his partner rented in Vancouver's Strathcona neighbourhood.
Today, Andersen says it's ''hard to imagine living anywhere else.'' Nearly every morning, he takes his two Aussie Shepherd-Chihuahuas and two cats to the beach, a stone's throw from his house, to practise yoga. He also collects driftwood for making furniture and displays a woodblock chewed by beavers on his deck like a modernist artwork.
''We're kind of living outside of the river, outside of Richmond, outside of gridded society,'' he says. ''It's a different way of life from conventional suburban life, even though suburban life is just a mile away. We live outside of history in a way.''
Stilts and boardwalks
During an interview, Andersen wears a biker's jacket, a coloured T-shirt, and metal earrings. He sips Jasmine Earl Grey tea and pats his short-haired cat on the deck of his cabin, which he shares with his partner, a local artist.
The village has decorated numerous regional postcards, but remains shrouded in mystery. It is home to roughly 25 residents, many of them urbanites in search of alternative lifestyles. A narrow stream runs through the centre of the village, which sits on tiny Gilmour Island and at the end of Richmond's Number Four Road. The 30 or so buildings stand on stilts or float on water, joined by narrow boardwalks. Some buildings are abandoned, their wood rotting and caved in. Other houses are carefully preserved, protected by private gates and doorways.
At the village entrance, a slightly creaky wooden bridge stretches across the slough. Andersen's cottage stands beyond a false front doorway that displays a fictitious house number, ''33Z'' and the word ''private.'' By the door, a wooden signpost, which states ''Thank you for respecting our privacy beyond this point,'' has fallen into the undergrowth.
He calls his rented cabin ''a regular loft.'' It's roughly 800-square-feet, similar in size to an average two-bedroom Vancouver condo, and the largest of all the homes in Finn Slough. The exact age of his house is uncertain, but he heard from long-time residents that it once served as a community shed for fishing nets.
Andersen didn't want to share the monthly rental price of his cabin.
In the entrance hall, old photos cover the left wall: portraits of his ancestors and parents, his childhood in Squamish, he and his brothers in their teens. Portraits of his partner, who grew up in the English countryside, and an embroidered map of the United Kingdom also line the wall. The living room has everyday essentials like a sofa, an electric stove, and kitchen cabinets, as well as an automatic organ, stacks of records and CDs, painted antique tea cups, and shelves of art books. Another room, used as a studio and meditation room, contains his father's painting of 1950s Chinatown, a fishing net, dried medicinal herbs, and handmade baskets.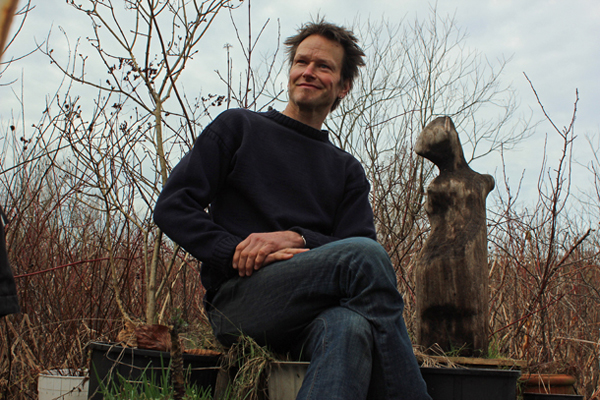 Andersen first visited Finn Slough about two decades ago, long before he settled there permanently. Even then, it appeared, developers had their eye on the community. He noticed on the bridge a petition by people trying to prevent Finn Slough from being taken over by a developer but never saw a single person during his trip. Like other visitors, he was curious about the area and the stories of the residents.
In the summer of 2008, after Andersen and his partner were evicted from their Vancouver house, he learned that a friend who lived in Finn Slough had died. The man's family needed someone to clear out the house for new renters. Andersen and his partner volunteered. Charmed once again by the riverside village, the couple decided to move in.
Andersen recalls his initial nervousness about the move. He was not sure about the wiring and plumbing conditions of the house. There was a wood stove, but no shower.
On Dec. 21, 2008, he and his partner moved their first load during a blizzard. They dragged three wardrobes on a sled through five inches of snow across the bridge and down a narrow boardwalk. Over the next three months, they continued moving their belongings and began renovating the house.
They had to adjust to the five-minute walk between their house and car, as well as learn how to walk on slippery boardwalks. They relied heavily on their car and bikes because the nearest bus stop is a 25-minute walk away. The closest ''corner store'' is the Save-on-Foods in the Ironwood Plaza three kilometres away, although they buy vegetables from a neighbouring farmer during the summer and fall. To heat their house in winter, they learned to collect river logs and use a chainsaw to cut them into firewood.
Land disputed
By March 2009, Andersen was starting to feel at home. He noticed the subtle shifts in weather, lengthening daylight hours, and the coming of spring. Foot-long yellow-flowered skunk cabbages, which looked like ''a large candle flame,'' bloomed first, followed by returning birds, sunshine, and berries.
There are challenges. Andersen faces the uncertainty that comes with living on disputed land.
While houses have been bought and sold for decades, the residents don't own the land. In fact, a developer who has said he wants to redevelop the area, claims ownership.
The land conflict dates back more than 100 years. In his article ''A Brief History of Finn Slough,'' resident and local historian David Dorrington writes that the village was founded in 1880s when Finnish immigrants bought land at the junction of Number Four Road and Finn Road, an area now called Woodward Slough. The slough provided access to the Fraser River and allowed residents to work as fishermen. Later, that river access was blocked by farmers who wanted to use it as an irrigation pump station and drain. As a result, the Finns moved to nearby Tiffin Slough and since then it has become known as Finn Slough.
According to a 2013 article in the Province newspaper, developer Steve Smith from the Smith Prestige Properties Ltd., of Aurora began attempting to evict residents in 1993 to build condos and a park.
Smith claims ownership of a part of Gilmour Island and in 1994 also signed a 30-year lease to rent a lot from former realtor Joe Wozny, who at the time lived across the street from Finn Slough.
But residents argue that they live on Crown land and have been trying to gain a Crown lease. A city of Richmond planning committee document from 2000 states that Finn Slough is owned by B.C. Assets and Land Corp. and the Fraser River Port Authority, while Smith Prestige Properties owns Gilmour Island.
There have been attempts to resolve the conflict, but no resolution has been reached and residents don't have official land tenure status.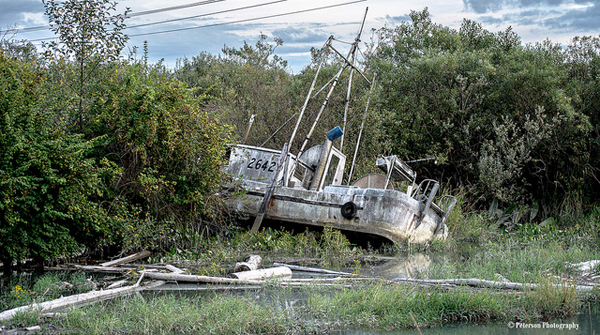 In Andersen's view, the Finnish settlers who moved to Finn Slough were homesteaders, not squatters. ''It was intertidal land that nobody wanted,'' he said.
''They didn't move onto land or into a house someone else owned, which is typically what squatters do. They built their own houses or moved them here from elsewhere. So I consider it homesteading, like moving to the Yukon and building a cabin and just living off the land. It's kind of the same except they were living off the river.''
He said he's tired of the squatting perception. Finn Slough residents are not formally assessed property taxes, but pay them voluntarily to the City of Richmond ''based on [their] housing footprint as a community.'' In return, they have access to billed city water services and garbage pick-up. They also have access to electricity and mail delivered to a mailbox near the village entrance. Andersen also receives high-speed Internet and cable.
Finn Slough has no sewage system so Andersen's bathroom has a composting toilet. He has to watch what goes down the drain and use only biodegradable organic soap. His only access to gas is through barbecue tanks.
''There are no hippies living here. Everyone's professional.'' He rambles off a list of job titles, including university instructor, building contractor, music teacher, child care worker, and farmer. ''We're just like a normal community.''
The village is also home to a lot of artists, he adds, and they're not afraid to be different. ''We don't really laugh when someone puts a giant egg made of willow at the front of their house, because that's Finn Slough.''
Andersen, who is also a filmmaker, has been working on a photo series to document Richmond's monster homes in each stage of their development. He said he cherishes the offbeat nature of his riverside community.
''As a society, we still have these kinds of embedded Social Darwinist ideas of a meritocracy where you have to work hard to deserve a nice big house,'' Andersen says. ''If you're very mainstream or conformist, you may be moralistic about people who live on the edge, who seem to be getting some kind of deal.''
He sighs. ''I don't think we get a deal, really. I think everyone else is getting ripped off.''