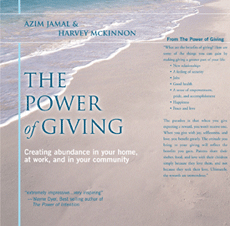 [Editor's note: This is the fourth installment in a five-part Tyee series, as part of Citizen Toolkit.]
Now we get down to the practicalities of how to give, when to give, where to give (which cause or organization), and how much to give.
First, we emphasize the importance of giving with respect, giving with humility, and giving unconditionally. Then we describe when to give. Surprisingly, you can give even in times of hardship.
Many people have trouble deciding where is the best place to give their time, money, skills, or other resources. We've included several exercises you can do to determine where your heart leads you.
Finally, we discuss how much to give, including a consideration of "tithing." We also suggest you will have more to give if you strive for balance and simplicity in your life. It is important to balance giving with receiving, giving to others with giving to your family and to yourself, and giving locally with giving to solve Big Picture problems.
How To Give
If your hand always remains in your pocket, you can never shake hands with others. You can't offer a hand of compassion. You can't give a tender touch of love. You can't grow as a human until you first learn to remove your hands from your pockets. When your hand offers a gift of money to help a child, to protect the environment, or to bring more justice to the world, you personally share the benefits of giving.
Giving in any way is usually better than not giving at all. However, when you give with your heart, it is very powerful. The receiver gets to feel that sincerity, depth, connection, and impact. Poet and philosopher Kahlil Gibran says, "To live in the hearts of others is not to die." This happens when you give with the heart. Let your heart be your beacon in the dark.
We give when we act in a positive and healthy manner. Each time we are upbeat, kind, and loving, we share positive energy. Each time we are negative, we send out negative energies. It takes less effort to be positive than to be negative.
Giving possessions is good. However, giving of yourself has more impact. When you give your possessions, the gifts may be temporary and short-lived. When you give of yourself to others, the benefits they reap are sustained. You reward those who gave of themselves to you for a long time, even after they have died.
We all have enormous capacity to give. By dreaming big for our giving, not only are we able to give more, but we also create a similar outlook in other facets of our life, including our work. Motivational author Robert Schuller asks, "What would you attempt to do if you knew you could not fail?" Our beliefs and imagination create our reality. The gift of thinking big in giving can be passed to our children and the younger generation, creating a better world for all.
Give with Respect
All human beings need to be respected. One of the ways of giving is to show respect to all people, regardless of their social status, gender, age, or religion. As Kahlil Gibran says, "The wind does not blow more sweetly to the giant oak than it does to the least blade of grass."
One way to show deep respect is to listen attentively. When you listen actively, you understand the person talking to you much better and so are able to communicate better. This lets the other person feel validated, understood, and perhaps even loved…
Another way to give with respect is to give in a manner that empowers the recipient. By empowering other people, you make them self-sufficient, which helps to preserve their dignity.
With so much strife and commotion in the world, people feel vulnerable and scared. Nations do not trust each other. People of one religion look down upon people of other religions. It would be a great gift if every person, in his or her own way, showed respect for people of different countries, cultures, and faiths. Believing that diversity is a strength, not a weakness, gives people an opportunity to expand their perspectives. They learn from each other and care for each other.
Indeed, one of the ways to bring harmony to the world is through enhanced pluralism. Pluralism means that you realize there are many paths to the truth. There is not just one right way. The tree has many branches and leaves, but the roots are the same: we come from the same source and we inhabit the same planet. We face the same challenges of being human. Pluralism means actively promoting tolerance, understanding, and respect.
While you may worship a different God than your neighbors do, or worship no God at all, there are lessons you can learn from every faith tradition. Every faith promotes giving of your heart, time, and wealth. What you give does not have to be an object or to have any tangible value. Our heartfelt giving is frequently in words — not words from our mouth, but words from our heart.
Give with Humility
One of the best ways to give is with utmost humility. Not everyone knows how to give, or even gets a chance to give. So when you get an opportunity to give, do not hesitate. Take it with both hands and give of yourself with respect, dignity, and compassion.
Compassion has been defined as "your pain in my heart." You can feel someone's pain in your heart when you have taken the time to listen carefully and attentively. Compassion starts with ourselves -- we need to listen to ourselves to be aware of our deep thoughts.
Compassion and humility come about when we practice another great giving habit: being non-judgmental. Rumi says, "Beyond right doing and wrong doing there is a field. Meet me there." If you are humble and respectful, you will refrain from judging other people. You will realize that the way you see the world is not how the world is, but how you are; how you see others is more a reflection of you than of them! Everyone you meet is trying their best in the only way they know how. Plato said, "Be kind, for everyone is fighting a hard battle." A goal for each of us could be to give people the benefit of the doubt and be non-judgmental. Instead, be there for people when they need you. When you lend your hand to others, the universe lends its hand to you. You invite abundance into your life.
The universe and nature, after all, do not judge -- they just provide lessons and consequences.
Give Unconditionally
If you give because you want credit for what you have done, it reduces the impact of giving. Remember, true giving is unconditional! Nature gives unconditionally. The flower gives its fragrance, and the sun its light, without seeking anything in return. True love is to love others not because they are lovable or because they love you, but simply because you love. When your giving is unconditional, you receive intangible benefits. The very act of unconditional giving is the reward because it is also a gift to yourself.
In the words of Ralph Waldo Emerson, "It is one of the beautiful compensations of this life that no one can sincerely try to help another without helping himself."
Harvey McKinnon is a leading fundraising expert, author of the fundraising bestseller Hidden Gold, and documentary filmmaker. He founded and runs the Vancouver –based fundraising consultancy, Harvey McKinnon Associates.
Azim Jamal is a international inspirational speaker and author of several books including The Corporate Sufi and the best selling 7 Steps to Lasting Happiness. He was a senior partner in an accounting firm for 15 years before making the transition to "accounting for life."
The Power of Giving is available for purchase online from both Chapters and Amazon. Or at Banyan Books 1-800-663-8442.
All profits from the sale of the book go to charities.
It's also available as free download from here.
Others in the series:
Building Heart Fiber in Kids