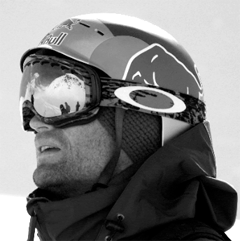 Shane McConkey was one crazy motherfucker.
That's what you might be tempted to say when you watch him ski or jump off the side of a mountain, flip a couple of times, and then pull the rip cord on his parachute.
That's what you might want to say when you watch him careen in wingsuit like a flying squirrel down a Norwegian canyon, trying to fly close to not away from the rocky cliff walls, -- a ride described as "pant-shatting gnarly."
That's what you might want to say when you watch him skiing down a slope so steep, you realize that the line between falling and skiing for him was only a scant few pillowy turns in soft powder.
But "crazy" is too easy.
Yes, the risks he took seemed massive to those of us who only saw him at his most extreme, at first, in the feature-length ski movies and, later, in YouTube video scraps sent desk to desk. But those massive risks must have been the accumulation of years of small daily pushes at his own personal envelope, each one building on the last. But that's not what we wanted to see. Like little kids at a magic show, we want to see the high points and be awed by what appeared to be something supernatural.
No, "crazy" diminishes the man and denies the years of work (in the guise of play) that went into his life. And it minimizes the courageous choices he made to not opt for a safe, conventional life.
Born in 1969 to a skiing family (his father ran a ski school in Whistler), it wouldn't have been long before McConkey was on skis, not much longer after that before he was ski racing, freestyling (yes, even ski ballet... it was the '80s after all), and finally freeskiing, the last a turning point triggered by the seminal movie, A Blizzard of Aahhs.
As McConkey explained in this interview with The Ski Channel, "I plugged into the VCR The Blizzard of Aahhs back in 1988... and that was it for me. I realized that... there's another way to become a successful professional skier, other than racing."
With that, he set out on the path that saw him, among other things, star in a number of feature ski films, get nominated as World Alternative Sportsman of the Year, regularly hit the top skier lists in all the big ski magazines, base jump off the Eiger, base jump off Whistler's peak-to-peak gondola, all while skiing lines no one else would touch.
But to not call him crazy is to rob him of something, too.
In his tribe, "crazy" and "sick," these are verbal honours that elevate a man or woman to the level of crazy-headed saint, to be revered, emulated, put on a pedestal above the average human -- one of those special ones who befriends rather than fights his demons and then rides them to worlds beyond ours.
Because for some acts of pure audacity, nothing can prepare you before for what comes after. Certain things -- like being the first person to ever ski off the side of a perfectly good mountain with a parachute -- well, that just requires a quantum leap of faith... and balls. Large ones.
McConkey died Thursday in Italy doing just that. According to JT Holmes, who was skiing with him at the time:
"Shane did a double back flip in perfect McConkey style. As planned, afterwards, he went to release his skis in order to fly away from the wall and safely deploy his parachute. This is where the jump went wrong. He was not able to release either of his skis. He remained focused on releasing them by reaching down towards his bindings. This put him into a spin/tumble/unstable falling style, that may have appeared out of his control, but in reality, Shane was not concerned about flying position or style; just concerned with reaching those skis so that he could get them off and fly or deploy his parachute. He succeeded in releasing both of skis and immediately transitioned into a perfect flying position; then he impacted the snow, and died at that moment."
It's too easy see his death and to moralize. For those of us outside his tribe, it's easy to call him crazy and dismiss him because, in some way, it affirms our safe choices. (If letting your body whither behind a desk, eating fast-food, driving in rush-hour, road-rage traffic every day a safe choice... or even living). And, yes, for those inside his tribe or on the fringe of it, it's probably too easy to put him on a pedestal.
But the fact is Shane McConkey was one crazy motherfucker who reminded us all that if we have the audacity follow our dreams, well, we just might be able to fly.
Related Tyee stories: