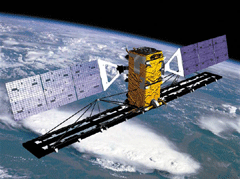 The news that Canada's largest space contractor is selling its space-related assets to an American corporation means far more than Canada losing the Canadarm, something that appears at first glance to be a plaything for astronauts and far away from everyday concerns here on Earth.
The sale involves a giveaway of a major high technology success story for Canada and could lead to another hemorrhage of jobs to the United States in spite of the many benefits claimed for the North American Free Trade Agreement of more prosperity for Canadians. The sale also involves an important national security asset for Canada that monitors our Arctic sovereignty.
The Richmond-based MacDonald Dettwiler and Associates Ltd. (MDA) announced on Jan. 8 that it was selling all of its space operations to Alliant Techsystems Inc. (ATK) of Minneapolis for $1.3 billion. MDA is the contractor that builds the shuttle Canadarm, the Mobile Servicing System, including Canadarm2, on the International Space Station, and a large share of Canada's communications satellite contracting business. MDA also operates the recently launched Radarsat-2 under an agreement with the Canadian government.
The gravity of MDA's decision was underlined the next day when the federal government announced that the president of the Canadian Space Agency, Laurier Boisvert, had resigned a few days earlier after just nine months on the job. Although the resignation was said to be related to personal reasons, others have suggested that it was sparked by the MDA sale.
Free trade is one-way
ATK has promised to maintain MDA's Canadian-based operations, but the American obsession with security and the fact that U.S. military space efforts are growing faster than civilian space programs means that the work -- and the high tech jobs in British Columbia, Ontario and Quebec -- will probably move to the United States.
Indeed, MDA's inability to break into the U.S. military space market because it is Canadian will provide further proof that free trade with the United States is a one-way street. "We both know that when it comes to advanced technology, free trade is a myth," MDA founder John MacDonald told The Globe and Mail.
While the MDA sale might be good for the company's shareholders, who are apparently enthusiastic about MDA's shift to the more mundane area of real estate registration, it throws into question billions of dollars Canadian taxpayers have invested in space programs going back to the early 1960s.
Half century of space work
Canada's space program got its start nearly 50 years ago when the Canadian government signed a scientific research agreement with the U.S. space agency NASA that resulted in the launch of Canada's first satellite, Alouette-1, by a NASA rocket in 1962.
While the first Alouette was built largely by Canadian government scientists, the second Alouette and subsequent Canadian satellites have been built by private industry, a policy encouraged by Dr. John H. Chapman, the founder of Canada's space program.
When the federal government decided in the late 1960s to build Anik domestic communications satellites, it reluctantly agreed to contract their fabrication to an American firm only because of concerns about the ability of Canadian-based contractors to build the satellites on time and within a reasonable budget.
The federal government saw to it that Canadian firms won significant subcontracting work on the first Anik satellites, and it began to spend large sums of money to strengthen Canada's space contractors. These efforts included building a satellite testing laboratory near Ottawa and underwriting a satellite launched in 1976 that pioneered several technologies, including direct-to-home broadcasting.
Canadarm's strong pull
The strongest Canadian-based space contractor in the late 1960s was a Montreal-based subsidiary of the American communications giant RCA, which was sold in the 1970s to a new Canadian firm, Spar Aerospace. When Canada decided to join the U.S. space shuttle program in 1974 by building the shuttle remote manipulator system or Canadarm, Spar won the contract. And in 1982, the first Canadian communications satellite with Spar as the prime contractor was launched.
Spar became a success story with the shuttle arm and a contract to build two Brazilian communications satellites in addition to Canadian Anik satellites. But as time went on, Spar faced problems in the cyclical and highly competitive satellite business. In 1998, Spar decided to get out of the space sector, selling its communications satellite operation in Montreal to EMS Technologies of Atlanta, which in turn sold it to MDA in 2005.
MDA, which had become Spar's major rival in Canada, purchased Spar's robotics business in 1999. Headlines proclaimed that the Canadarm had been sold to Americans because MDA's controlling shareholder at the time was Orbital Sciences Corp. of Dulles, V.A. The Liberal government of the time took no action, but Orbital divested itself of MDA in 2001, restoring MDA to Canadian control.
This history shows that American control of Canadian space assets is not new, something that may ease whatever concerns the Conservative government might have about allowing the MDA sale to pass regulatory hurdles. As well, Canada's space sector is much larger than MDA. More than 200 other companies in the Canadian space sector continue to operate, notably Com Dev International of Cambridge, Ontario.
Jobs at risk
Today the federal government spends about $300 million a year on space, most of it to support export-oriented businesses building components and receiving equipment for communications satellites, rather than on the much better-known Canadarm and astronaut programs. These investments have paid off because Canada's space exports -- $1.25 billion in 2005 -- are much greater than government spending.
But MDA's central position in Canada's space sector means that its sale puts these exports and the jobs they create at risk. Already, Liberal politicians have called for such a review, including Marc Garneau, Canada's first astronaut and a former CSA president who is now a Liberal candidate in the next federal election.
While their criticism has focused on the Harper government, the policy of neglect of space began under the former Liberal government, which ignored Garneau's calls while he headed the space agency for stronger links with European space exploration programs and his ideas for Canadian participation in the exploration of Mars.
The planned termination of the shuttle program in 2010 means major changes for Canada's high profile astronaut and space robotics programs. The MDA sale comes as the final component of the ISS Mobile Servicing System, the Dextre "Canada hand" manipulator, is nearing launch. Canada's involvement, if any, in the Constellation spacecraft program that will replace the shuttle has not been spelled out.
Control of Radarsat-2
The most serious question raised by the MDA sale involves Radarsat-2, which will not only generate imaging data for sale on the commercial market but will be used by the Canadian government to monitor Canada's Arctic shoreline.
Control of shipping lanes between Canadian Arctic islands is one of the few areas of clear difference between the Bush Administration and the Harper government. MDA is tasked with operating Radarsat-2 under a public-private partnership, so its role monitoring Canada's Arctic against unwelcome incursions from submarines and other shipping from the U.S. and elsewhere makes the possible loss of Canadian control a particularly sensitive matter.
The federal government spent $430 million in Radarsat-2, and pressed on with the satellite after NASA withdrew from an agreement under which the American agency launched Radarsat-1 in 1995 in exchange for data gathered by the satellite's synthetic aperture radar arrays. Radarsat-2 was launched atop a Russian rocket on Dec. 14.
Selling to land mine maker
Peace groups and trade unions are also objecting to the MDA sale on the grounds that the Canadian firm's buyer, ATK, makes land mines and similar weapons. They contend that the sale of Canadian technology to ATK constitutes a violation of the Ottawa protocol banning land mines.
The sale of Canada's top space contractor should compel the federal government to take a hard look at whether it is such a good deal for Canadian taxpayers, and take steps to protect that public investment in one of Canada's high-tech successes.
The government should also examine the future direction of Canada's space program, a program that so far has been more successful than many other Canadian technological initiatives in generating business for Canadians. The national security implications of the sale make such a review a matter of immediate concern.
Related Tyee stories: