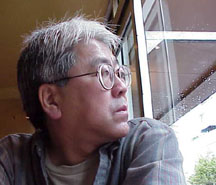 When Roy Miki hears today's alarms about "the forces of terrorism," he's reminded of the hysterical fear of the "yellow peril" in the last century.
The connection, for Miki, is extremely personal.
Ripped from their farm in the Fraser Valley, Miki's family felt the full force of the War Measures Act a few months after Japan attacked Pearl Harbour on Dec. 7, 1941. Using the act's provisions, the government effectively stripped Japanese Canadians of their homes, their possessions, and such limited citizenship rights as "Asiatics" enjoyed at that time.
Miki has written a book, Redress, recounting the long march from internment to reparations – how our government trampled on the rights of Japanese Canadians during World War II, and then took half a century to acknowledge its wrongdoing.
Although it focuses on a specific historical moment, Redress also charts the political uses of language. Miki argues that the federal and provincial authorities exploited language to subvert human rights, and then shuffle off responsibility for doing so.
And he says officials are at it again, whenever they engage in "racial profiling" or conjure a vague enemy called "terrorists."
'A specter out there'
"Language can work to erase identities for one purpose and remake them for another purpose, and we're seeing that now," Miki said late one recent afternoon in his pin-neat study in his Kitsilano home. "Terms like terrorism—which really doesn't identify anybody—is a specter that is simply out there. And that allows the government at this point to institute all kinds of actions that strip you of your rights. As long as that thing is out there you can have laws—the Patriot Act, for instance is very similar to what we had which was called the War Measures Act."
Until 1949, Canadian citizens of Japanese ancestry were denied full citizenship rights. They were barred from medicine and law. They couldn't vote. They were subject to capricious changes in laws to protect white economic interests, as when the fishing licenses of hundreds of Japanese were pulled in the 1920s.
Racism was hardly confined to the wing nuts of the Asiatic Exclusion League. In 1937, for instance, a Liberal MP from New Westminster, Thomas Reid, wrote, "This dominion is primarily a white man's country, and the interests of the white man should be paramount."
The B.C. Security Commission was set up to seize Japanese Canadians' property and to 'safeguard' their possessions. But its most pressing concern was to implement a new government policy of forcibly expelling the 23,000 Japanese Canadians settled along the coast of B.C. "It is the government's plan to get these people out of B.C. as fast as possible," explained Ian Mackenzie, a cabinet minister. "It is my personal intention, as long as I remain in public life, to see that they never come back here. Let our slogan be for British Columbia, 'No Japs from the Rockies to the seas.'"
'The power of language'
The Miki family was uprooted from their farm in May, 1942, and sent work the bleak sugar beet fields of Manitoba. There, six months into his family's exile from the coast, Roy Miki was born.
"My mother tended to look back upon the life in B.C. in a very idyllic way," Miki told The Tyee. His parents lost not only a comfortable lifestyle, but also cherished notions about democracy and the nature of Canadian society. They felt "regret and also that sense of betrayal," Miki says. They asked themselves, "'How could they do this to us? And then after the war do nothing about it?'"
Now an English professor at SFU, Miki is best known for poetry crammed with vivid images and political intensity. As he was growing up, he wanted to "tell the story of internment from the perspective of Japanese Canadians," Miki said.

"If I learned anything from the redress movement, it's to respect the power of language," he said. Using the sweeping powers of the War Measures Act, the government reclassified Japanese Canadians as "persons of the Japanese race," transforming them, both legally and politically, into persons who could be treated as if they were 'enemy aliens.'
Maher Arar case
"Had they said 'a Canadian citizen of Japanese ancestry' is being uprooted, they would have had a much more difficult time justifying it," Miki says. "Japanese were Canadians by birth, but publicly that Canadian-ness was erased and they were remade as enemy aliens. And it was the enemy alien that was interned, not the Canadian citizen."
Governments continue to practice this kind of sleight of hand, Miki says, with terms like "racial profiling," which is "a kind of benign way of talking about racializing people. In other words, treating people on the basis of some assumed racial type." Miki argues that racially profiling Arabs as potential terrorists is analogous to the transformation of Japanese Canadians into 'enemy aliens' half a century ago.
As he wrote Redress, Miki kept the Maher Arar case in mind. Arar is the Canadian engineer whom American authorities detained between flights in New York City. Claiming he was an al-Qaeda suspect, Americans ignored his Canadian passport, and deported him to his birthplace, Syria. A public hearing is currently investigating the situation.
Miki laments the lack of public outrage over the Arar case. Fear of terrorism has helped normalize racial profiling, so that when someone like Arar is arrested, "people are saying, 'of course he must have done something wrong.'"
Likewise, he said, during the Second Word War, white Canadians treated Japanese Canadians "very suspiciously--because they felt they must have done something wrong for them to be uprooted and lose their property, because the government wouldn't just do this to innocent people. So the violation of Japanese Canadians' rights was just normalized."
'We have to redress you'
It took over forty years for Japanese Canadians to win an apology and compensation from the federal government for its many wartime losses. In 1988 the federal government agreed to give $21,000 to each person who had been interned, relocated, or deported solely on the basis of Japanese ancestry. A further $36 million was allocated for an array of cultural, educational, and social programs meant to promote human rights and foster racial harmony.
In Miki's view, redress allows a wronged community to accept the past, and face the future with dignity and hope. A democracy is not foolproof, he said, and when things inevitably do go wrong, redress can lead to reconciliation. "We often abandon the most vulnerable people in a time of crisis, because we say 'we can't be bothered with you, somebody's got to be sacrificed.' But the strength of a democracy is when the crisis subsides to a certain point, and you examine it, if somebody is wrong, then the collective has to say, 'for the good of all we have to redress you.'"
Judith Ince is a staff writer for The Tyee.