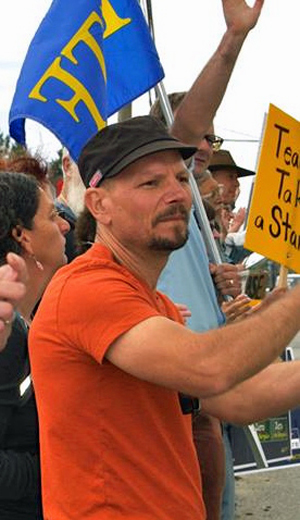 The strike captain is heading down to the school board office when I roll up to the picket line for the day's first shift. As I lean my bike against a retaining wall outside of our school, she yells over that there's something for me under the sign-in book. There, I find my high school class lists stapled together with a note informing me of the June 20 Labour Relations Board ruling. It directs me to put a final mark in the final column for each student in each of my classes who has completed the course -- even though I haven't begun to finish marking. There is no mention of work habits or comments, which would usually be required.
Also weighing on me is news from the previous evening, that the English 10 provincial exam will have the general essay excised and that the Social Studies 11 exam will be reduced to multiple choice. I've been helping my son study for the Socials exam for the past few days. My assurance that writing several practice essays from previous exams was important to hone his composition and analytical thinking skills has been undermined.
In my 20 years of teaching, I have never felt so despondent about the state of education in this province.
I put a picket sign around my neck, but my thoughts are with the paperwork that I've slid into my backpack. Due to the nature of my teaching position in an online learning centre, I get a lot of assignments at year's end. This year, many of those assignments sit unmarked because of the lockout and strike. Normally, I'd be going over those assignments with my students to make sure they've covered everything before I sign off on the course. After all, most schoolwork is of little use without corrective feedback, as all teachers know.
B.C.'s Ministry of Education requires grades for student records. This is why the reporting of grades has been deemed an essential service. From the government's point of view, all that matters is that I put down a number that's in line with previous term reports -- not that the grade reflects actual student learning, as it normally would. Like many other teachers, I haven't been able to finish my marking and don't have access to all of my records. I don't even have enough information to determine whether or not my students have finished their courses, never mind assess their learning.
Fudging marks
I can see the logic of asking teachers to submit Grade 12 marks last week, as some of those students are headed off to other places. But the class lists sitting in my backpack are for Grades 10 and 11. We could wait until the dispute is resolved to report their final marks, which at this point means waiting until the fall. I believe we would be better off writing useful reports later than false ones now.
Some people might think that in the scope of this whole crisis, fudging some marks is the least of our worries. It is a low-priority bone to pick. Yet proper assessment and feedback is essential to effective learning. Our students worked hard for a reason, and their teachers made efforts to accurately assess their progress and where they need to go next.
Some provincial exams were modified at the last minute this week. Some students this year wrote the complete exams, while others didn't. Because of this, we're now missing a chunk of information about our students' performance.
Stand up
Peter Fassbender and his Ministry of Education expect my students to be satisfied with fudged numbers. They assume that no one cares where they have improved and where they need to focus their efforts. Fassbender might feel like he has succeeded by forcing teachers to spit out numbers, but he has failed our students, each and every one.
I have always told my students to stand up for their rights as they can't expect others to do it for them, and I stand by that now. Teachers have been standing up for our own rights while demanding our students' right to an education, but we are withering.
Students and their families need to demand that all work submitted for marking this past term be kept until this dispute is resolved, when it can be returned with useful feedback. They need to rewrite the modified exams administered this week and insist that they be awarded the grade for the complete exam, even if it is lower. They should insist that schools provide study sessions in the fall when the full exams are available. 
Of course, they will say that none of this is possible, though it looks a lot simpler than some of the efforts to deny students and teachers their rights. The ministry is counting on students trading their rights for an easy grade. Here's hoping that they got us wrong.