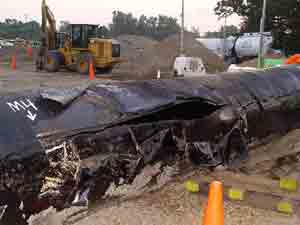 The Energy Resources Conservation Board (ERCB), which regulates oil and gas activity in Alberta and is 63 per cent funded by industry, put a very oily foot in its mouth last week.
In so doing, the highly dysfunctional regulator merely reminded the world how extremely complex, leaky and vulnerable the bitumen industry has become.
Despite the regulator's lamest obfuscations, the province's asphalt-like crude is probably hell on pipelines, most definitely hell on refineries and real trouble for North American free trade.
Now, the Natural Resources Defense Council (NRDC), one of North America's most powerful environmental groups, created a real uproar with a brief report on the pipeline safety risks associated with ferrying bitumen to the U.S. markets in the Midwest.
Raw bitumen, which does not float on top of sand, is a heavy and viscous crude, rich in sulfur, heavy metals and acids. It can't move through a pipeline without being heated and diluted with a variety of light hydrocarbons.
The best bitumen thinners include condensate, pentane plus, gasoline or naphtha, a byproduct of oil refining. Diluted bitumen or DilBit (not to be confused with the comic strip hero, Dilbert) contains about 70 per cent bitumen and 30 per cent diluent. About half of all Canadian oil sands exports come in the form of DilBit.
DilBit disaster
Steve Wouri, president of Liquid Pipelines at Enbridge, Canada's premier bitumen shipper, says "DilBit is... the most cost-effective means of extracting and shipping bitumen from the oil sands using condensate as the diluent."
He should know. Enbridge spilled a good whack of DilBit (more than a million gallons) in Illinois and Michigan last year, prompting a half billion dollar clean-up job. The dramatic leaks on aging piplines also illustrated the brittleness of the entire bitumen pipeline system.
As a consequence of the spills, oil prices shot up by nearly $10, Midwest refiners imported Louisiana crude by barge up the Mississippi River and oil sand exporters lost millions of dollars.
Given this troubling history and the proposal to build TransCanada's Keystone XL pipeline to the Gulf Coast, the NRDC wanted to know if piping diluted bitumen posed more safety risks than conventional crude.
It first asked Alberta's ERCB for some pipeline corrosion information. Alberta, after all, has been moving DilBit since the 1980s. In fact more than two-thirds of all crude produced in Alberta must be transported as DilBit.
The regulator told the conservation group that a company called Visible Data Inc. ("The Energy Data Specialists") managed its pipeline data.
So, the NRDC promptly hired the company "to help understand the data," explains Susan Casey Lefkowitz, director of the groups tar sands campaign. "Visible Data did the analysis and gave us the numbers."
The data specialists found that Alberta's hazardous liquid system experienced "218 spills greater than 26 gallons per 10,000 miles of pipeline caused by internal corrosion from 2002 to 2010." That's a spill rate several times greater than that recorded by a much older U.S. pipeline system.
However, the NRDC noted that differences in pipeline sizes and regulations made it difficult to make a clear comparison. The data, however, clearly begged a significant question: does DilBit cause more corrosion problems in pipelines due to higher pressures, higher temperatures and bitumen's many contaminants (sulfur, acid and heavy metals)?
Slandering bitumen?
The ERCB, which has a remarkable 100 per cent approval rate for oil sands projects, tends not to favor such inquiries.
In the middle of the NRDC press briefing on Wednesday, the board abruptly issued a press release written by one of it many spin doctors, Davis Sheremata. (The board only speaks to citizens via its professional communicators and not via its political appointees or God forbid, its pipeline experts.)
The board accused the U.S. conservationists of making "misleading statements" on pipeline safety as well as defaming "the characteristics of diluted bitumen."
Then the board had an "oops" or Dilbert moment. The very next day, it issued another press release. It sheepishly admitted that it hadn't read the NRDC report and based their comments on an earlier version. The board then offered this convoluted sentence:
"However, in reviewing the final version the ERCB determined that all of the key data and allegations that the ERCB expressed its concerns over are present in the final NRDC report and remain incorrect."
Sheremata, no pipeline expert, also claimed that, "DilBit is no more corrosive than conventional crude."
Billions to adapt refineries for bitumen
Now, no petroleum engineer could afford to be so woefully inaccurate. Or misleading.
Consider this truthful assessment from an industry insider: "Bitumen is often corrosive, requiring significant metallurgy upgrades in refinery crude, vacuum, and other downstream processing units."
He goes on: "It can cost billions of dollars to upgrade a refinery to process heavy bitumen. There are concerns that the costs of converting refineries to process heavy bitumen will be hard to recoup. Long term, the ability to use heavy bitumen is an issue that's expected to confront the refining industry for an extended period of time."
The National Centre for Upgrading Technology, a federal research group, supports this frank analysis. It says that bitumen contains more than 50 per cent pitch and contaminants such as "salt, solids, metals and asphaltenes," which "may lead to downstream processing problems." Adds one 2006 NCUT memo: "Hence the perspective that 'as crude prices increase, crude quality decreases' becomes well founded."
'Several processing problems for refiners'
Baker Hughes, a global oilfield service company, also has issues with bitumen's lousy quality. A 2010 white paper on Canadian crude noted that "Athabasca bitumen" was high in sulfur, nitrogen, metals and acid, and that this sort of junk crude "will present several processing problems for refiners." Moreover, "the composition and contaminant levels of bitumen-derived crudes does not make them an easy replacement for conventional crudes, especially since most existing refineries have limited capacity to accept poorer quality feedstocks."
The Canadian Crude Quality Technical Association, an industry group with 56 members, now wrestles with bitumen's difficult character every day. The group is currently investigating waste issues at several refineries, possibly due to low quality feedstock caused by bitumen. It's also researching product shrinkage as well as fouling studies involving three different kinds of DilBits, in addition to naphthenic acid corrosion.
Like the NRDC, the association also wants to quantify "the impact of instability/incompatibility on crude transportation, desalting and refinery processing," caused by bitumen exports.
Given bitumen's well-documented impact on refineries, the stuff probably kicks the stuffing out of Alberta's pipelines too. Yet three inquiries to members of the Canadian Crude Quality Technical Association and the Alberta Oil and Gas Pipeline Operators Safety Council went unanswered. In other words, the NRDC asked an inconvenient question.
Rising leaks on oil sands pipelines
Pipeline safety statistics kept by the National Energy Board (NEB), Canada's national energy regulator, also confirm that the NRDC is on the right track.
The NEB, which is 90 per cent funded by industry, regulates bitumen export lines to the U.S. Since 2006, as DilBit shipments escalated to 500,000 barrels a day, the number of spills, leaks and other incidents on NEB pipelines have nearly doubled.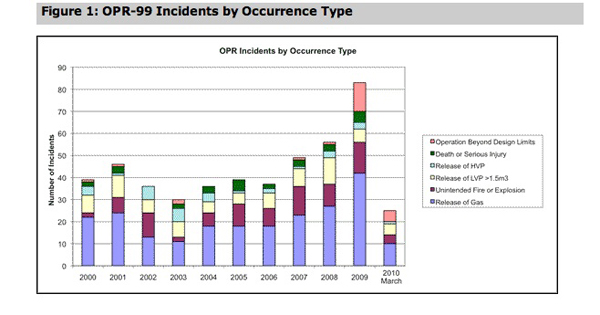 The ERCB would probably never admit it, but DilBit also appears to be highly corrosive for foreign trade and the North American Free Trade Agreement (NAFTA).
Just last year the Canadian Association of Petroleum Producers (CAPP) dedicated an entire meeting to the use of imported condensate to move Canadian bitumen to U.S. markets. Yes, Canada now imports foreign oil in order to export its bitumen to the United States.
Corroding the free trade agreement?
Until 2005, Canada produced enough of its own condensate to export the tarry product. But as raw bitumen exports grew by leaps and bounds, industry experienced a widespread diluent shortage.
At first industry imported condensate from the U.S. When that didn't satisfy demand, a hefty volume of "non-NAFTA diluent began entering the western Canadian diluent pool," or more than 78,000 barrels a day. Much of it poured through the port of Kitimat, B.C. There it was loaded on train cars and shipped to Fort McMurray. A lot of this condensate came from Asia, the Middle East, Venezuela, Peru, Bolivia and even Pakistan.*
But diluting Canadian bitumen with foreign oil has created a big problem for free trade. Or as CAPP simply put it: "DilBit made with non-NAFTA originating diluent is not a NAFTA-originating good."
That means that certain diluents, when "sourced from certain non-NAFTA countries," could attract U.S. duty charges. U.S. Customs and Border Protection have already asked for diluent origin documentation from oil sands exporters such as Cenovous (EnCana).
As the CAPP presentation coolly noted: "The country of origin issue could be expensive if it is not managed properly." Try $30 million a year. In fact, duty could be charged on DilBit made with foreign oil going south and then charged again as the diluent heads back north to be used for another bitumen shipment.
Mixing oil, 'unethical' and not
Given that diluent sourced from Asia and the Middle East will only grow as Canada exports more raw bitumen to U.S. refineries, "the issue will only become larger," says CAPP. By 2025, for example Canada could be importing more than two million barrels of foreign or so-called "unethical" oil a day, just to transport bitumen to U.S. refineries.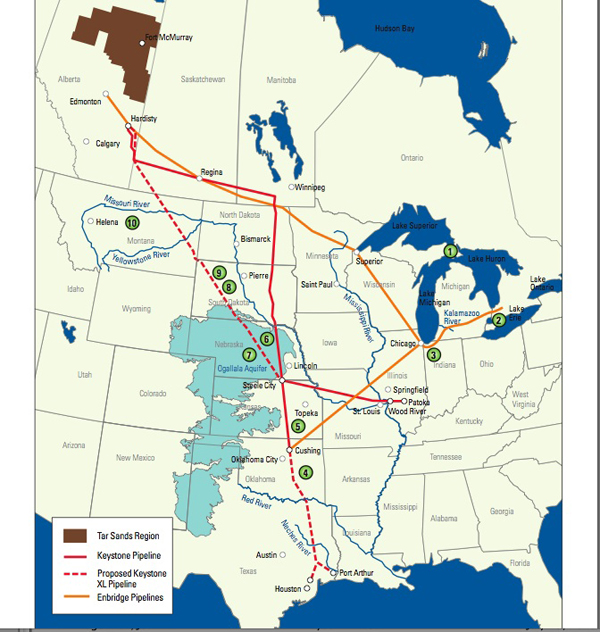 So, the NRDC has opened a volatile can of wiggling hydrocarbons. Bitumen is an extreme and difficult product that puts more wear and tear on crude infrastructure. The NRDC has asked a good question about pipeline safety based on good industry data.
Although the ERBC doesn't want to answer the question about bitumen's corrosive properties, new safety regulations are probably in order.
Despite what sheepish regulators might say, petroleum engineers recognize that bitumen is one nasty feedstock and hell on wheels for refineries as well as upgraders. (Pipeline transportation of DilBit is also two times more GHG intensive than shipping fully upgraded synthetic crude.)
Last but not least, diluting bitumen with foreign oil has now created a massive headache for free trade that no one really wants to talk about.
Dilbert, who should not be confused with DilBit, once said: "Engineers like to solve problems. If there are no problems handily available, they will create their own problems."
Given bitumen's impressive ability to foul up petroleum infrastructure, engineers have found a miraculous resource capable of creating more problems than the profession can ever solve.
But you didn't hear that from Alberta's regulator.
*Story updated at 4:16 p.m., Feb. 21, 2011.