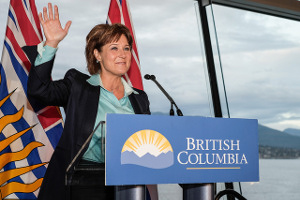 Premier Christy Clark's last-minute decision to take a family vacation in Kenya months after a terrorist attack sparked a flurry of emails between federal and provincial staff before the trip was cancelled.
In a 2013 year-end interview, Clark told reporters about plans for a Christmas holiday trip with son Hamish to help build a school in Africa.
But behind the scenes staff in the premier's office were struggling to make the holiday happen.
The premier's office was reluctant to release information about the cancelled trip. Its first response to a Freedom of Information request withheld 31 pages entirely, disclosing only two emails. One was critical of Clark for attempting to travel halfway around the world for charity ("let's fix the problems here first") and the other, apparently from Kenya, disappointed with the cancellation.
It took a complaint to the Office of the Information and Privacy Commissioner and another 17 months to get information showing the amount of work done by staff to try and arrange Clark's personal travel.
The newly released information shows Clark's executive assistant Jordan McPhee and chief of protocol Marc-Andre Ouellette were communicating with each other and federal officials, including RCMP and staff at the Canadian High Commission in Nairobi, for several days on logistics and security.
But, as quickly as plans came together, they collapsed.
'Trickier than expected'
In a Dec. 13 email to McPhee, Ouellette signalled problems with the subject line "Oh! Oh!"
"This may be a bit trickier than expected," he wrote. "See what they say about visas." The Canadian High Commission in Kenya website recommended applying for visas before Dec. 12 because of holiday closures. Any later visas applications wouldn't be processed until Jan. 2, too late for Clark's trip.
That hurdle may have been overcome relatively quickly, but it's hard to know -- a Dec. 13 letter to Clark from High Commissioner David Angell was redacted in full.
The next day, Ouellette emailed Angela Bogdan, chief of protocol of Canada, with the subject line "Traveling abroad at Christmas."
"Canadian High Commissioner is in the loop," Ouellette wrote. "He will be in Nairobi only towards the end of the journey. The primary concern at this point is security. If one of you can put me on touch with the liaison RCMP officer in your office it would be fantastic..." He was referred to RCMP Staff Sgt. Steve Birch.
Ouellette sent a draft itinerary for the Premier's visit to deputy protocol director Andrea Hudson on Dec. 16.
That communication also said Angell had been notified of Clark's visit by Roxanne Joyal, CEO of Me to We and founding member of Free the Children.
Me to We is the business partner of the nearly $50-million Free the Children charity. Both are involved in the annual We Day music and motivational speaking festivals for school children and received $300,000 from the provincial government in the last two years.
Joyal established Me to We's Bogani Cottages and Tented Camp in Kenya and "is now heading up the expansion of this niche product and experience at Araveli Cottages and tented Camp in the Rajasthani province of India," according to her bio. Me to We offers trips to Kenya, where travellers volunteer at school-building projects and stay at the camp, with prices starting at $5,800 per person, not including airfare.
Abrupt cancellation
After all the back-and-forth, however, Hudson emailed Ouellette on Dec. 18: "Bonjour -- heard from RCMP that trip is cancelled."
When the trip's cancellation became public, Clark's office said the reasons were private.
The RCMP's involvement may offer a clue. The trip was to happen just three months after two Canadians were among the dozens killed in a terrorist attack at a Nairobi mall on Sept. 21, 2013.
Clark also went to India at the end of 2014 on what the Kelowna Daily Courier described as "a personal charity project for her and her son."
The B.C. government granted Me to We $200,000 in April 2013, half for an anti-bullying program and the other half for the October 2013 We Day rally at Rogers Arena. In October 2014, another $100,000 was granted to production of the Rogers Arena event.