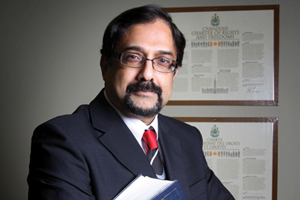 A prominent law professor says he considers a Conservative plan to allow political parties to expropriate news footage for advertising to be such an abuse of power, he's willing to offer his services to media pro bono to fight any attempts to pass such legislation.
Earlier this month, documents leaked to the media showed the Conservative party is considering adding legislation to an omnibus bill that would enable political parties -- and only political parties -- to use news footage in partisan ads without permission or financial compensation to the producers.
As well, election advertising legislation prevents media from being able to refuse to run the ads after an election writ is dropped, unless there are legal concerns.
Errol Mendes is a professor and expert on constitutional law at the University of Ottawa and editor of the National Journal of Constitutional Law.
He said that if tabled and passed, such legislation would be an "abuse of power" by the federal government and an attack on press freedom, and that he hopes media organizations fight it in court if it is ever introduced. "If they do, I'll be willing to offer my service pro-bono," he said.
It can be argued that forcing a news outlet to run ads using its own footage violates freedom of association and expression, he added.
Parties are powerless: Mendes
According to Mendes, political parties in Canada have no more legal standing than any business or association, and giving them the privilege to expropriate material has no basis in the constitution.
"[They're] just like any other organization, but here's the problem; [politicians] are the only entity which can pass laws and can say, 'We're protected by the law,'" he said. "It's an abuse of their democratic power."
Mendes also argues the use of such material in attacks would not fall in line with "fair dealing" rules, which determine the legal use of copyrighted material for education or satire.
Media organizations spoke out against the plans detailed in the leaked documents this week, insisting such legislation would be an attack on their integrity. CTV news host Don Martin went so far as to say the government is "flirting with fascism."
Bell Media and Shaw, owners of CTV and Global, did not respond to interview requests and CBC would only reiterate its previous statement that such legislation could compromise the integrity of news programs.
Politically, Liberal Ralph Goodale pointed out in the House last week that artists and musicians must wait until 2017 for copyright changes they've been seeking, but the government is giving itself what it wants now.
Goodale called it expropriation without compensation.
Use is fair dealing, says copyright lawyer
The Conservatives have argued the ability to use such material already exists, and that what the documents revealed would only add certainty to existing copyright laws.
Copyright lawyer Howard Knopf agreed the matter isn't a copyright issue, because taking small bits of news footage for political ads is nothing new. But he said there are limits to how it can be used.
He said the use of news material does fall under fair dealing, provided it meets the conditions to qualify.
"If it's distorted or mutilated to any significant degree so that the meaning is changed or it's taken violently out of context, there may well be relief under other doctrines of the law, such as defamation or what's called 'moral rights' under the Copyright Act," Knopf said.
He said attack ads that hit below the belt can cost votes, pointing to a famous Progressive Conservative ad that made fun of Jean Chretien's face in 1993 before the Tories were wiped out in the election.
Though it's hard to tell for certain because no formal legislation has been tabled, Knopf said it appears as though the Conservatives want clarification of existing copyright laws.
But Mendes said the Conservatives only wish to suit their own needs as an election approaches, not the needs of the public overall.
"It's one of the worst examples of abuse of democratic power that this country has seen in a long, long time," he said.