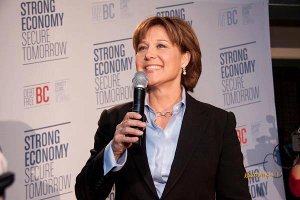 All candidates in British Columbia provincial elections are required by law to disclose their finances, but there are no penalties if they choose to file a blank form or to lie.
"It is pretty crazy," said John Heaney, a lawyer who was deputy minister to two B.C. premiers when the New Democratic Party was in power and who in private practice specializes in public and administrative law. "To have no penalties for failure to comply makes the act kind of ludicrous. It almost invites people not to comply."
Last week The Tyee reported that Premier Christy Clark, who earned $177,000 last year, declared no assets on the Financial Disclosure Act form she submitted with her nomination papers to run in Vancouver-Point Grey in the recent election. She lost her seat, but remains head of the re-elected BC Liberal government.
The lack of assets was a shift from eight months earlier, when under a separate process for sitting MLAs Clark declared holding stocks in public corporations.
"It is a result of different requests for each form," said Shane Mills, a spokesperson for Clark in a May 30 email. "As [an] example, Elections BC says not to include primary residence. As well, the rules around investments in trust are different. Hope that clarifies."
The section Clark left blank on the disclosure form for candidates is clear in what it requires: "List the name of each corporation in which you hold one or more shares, including shares held by a trustee on your behalf."
Mills is yet to respond to a follow up email asking if Clark still holds the investments she held last year.
'There is no penalty': Justice ministry
Clark wasn't the only provincial politician to submit an apparently incomplete form, The Tyee found. Senior cabinet minister Rich Coleman left his blank other than a date and signature, not even noting his income from the government or the investment portfolio he'd previously declared.
And cabinet ministers Ben Stewart and Moira Stilwell said they could not declare their investments since they are held in blind trusts -- even though the form expressly says shares held in trust are to be included.
Heaney said what Stilwell and Stewart did seems to contravene the act, saying "it doesn't matter if it's in a blind trust," and that there'd be nothing wrong with them seeing a snapshot of their finances.
According to a Justice Ministry spokesperson, however, failure by candidates for MLA who file an incomplete or inaccurate form are not subject to enforcement.
"When it comes to enforcement, an individual can't become a candidate unless they submit a statement," the spokesperson said. "However, the chief electoral officer does not enforce whether the content of the disclosure statements are correct and complete. Candidates who are elected to the Legislative Assembly are subsequently required to complete disclosure statements under the Members' Conflict of Interest Act, which does have enforcement provisions."
Under that separate piece of legislation, the conflict of interest commissioner can conduct inquiries and recommend penalties up to declaring a member's seat vacant. "The commissioner also can impose a fine on or commit the person for contempt if he or she fails or refuses to attend before the commissioner, to take an oath or make an affirmation, or to answer questions or produce records."
Keep in mind, however, that Clark lost her own seat in the recent election, while remaining as premier since her party won. That is, the Members' Conflict of Interest Act does not now apply to her and will not until she can find a way to get herself elected back to the legislature.
And while the Financial Disclosure Act does apply to Clark since she was a candidate, it can only be enforced for local government officials, like mayors and councillors, and municipal employees. Breaking the law carries up to a $10,000 fine for them. Enforcing it is a matter for the police, the spokesperson said.
"For provincial elections ... there is no penalty if a candidate's form is incorrect," the Justice spokesperson said.
Silly change, says lawyer
The law includes candidates for MLA among those who need to file a disclosure statement, but it leaves them out of the section on offences and penalties, listing only "a municipal official, public employee or municipal employee."
The discrepancy goes back to 1990, according to research by a legislative librarian. When the Social Credit government of the day introduced the Members' Conflict of Interest Act they struck out "provincial official" from that section of the original financial disclosure law.
The change does not appear to have received any debate in the legislature.
"What they did to deal with the intersection of it with the Members' Conflict of Interest Act was silly," said Heaney. "It's not a good law that comes with no penalties for breaking it."
Nor does the Financial Disclosure Act appear to achieve its aim of allowing voters to see candidates' financial positions before an election, he said. "There are no strict timelines in place to ensure this legislation facilitates a window onto the finances of candidates," he said. "It should really say it becomes public immediately."
It would now be easy to post the details immediately on the Internet, Heaney said.
The act currently allows for public inspection of the documents at the legislative clerk's office during normal business hours. Elections BC is to forward the disclosure forms to the clerk "promptly," but in practice they have not been available from the clerk's office until after the election, at least for the last two.
"It's pretty useless as a disclosure tool," Heaney said. "MLAs wrote it. It's very odd."
The Financial Disclosure Act should either be strengthened by adding timelines and penalties, or rescinded, he said. "I can't think of another provision regarding aspiring or elected politicians in regard to disclosure and transparency where there's no penalty not to comply."
As things stand, the only penalty for not complying is public disapproval, he said.