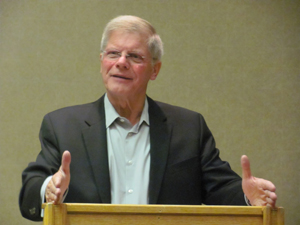 B.C. Conservative Party leader John Cummins joined the 51st annual Langley Walk last Sunday, starting the mass event dead last, holding his one-year-old granddaughter Marley in his arms.
Cummins, 71, was joined by his wife Sue and a young public relations staffer who has known the Cummins family since she was in grade four.
The media handler's Twitter hashtag is PRrookieBC.
She sometimes starts out Cummins' daily media itinerary like this: "If you woke up this morning and asked yourself 'Gee, I wonder what Mr. John Cummin's (Sic) is doing today' I humbly invite you to read below.
"John Cummins will wake-up early at home in Langley today. After breakfast he'll point his old Ford truck north and drive into Burnaby for a televised discussion on transportation. He is looking forward to this interview."
The Cummins campaign is not flush with money or expertise -- and why he would look forward to interviews at this stage of the game is unclear.
The Conservative leader, a hot political commodity two years ago, is no longer a serious player.
Only 10 per cent of British Columbians, according to an Angus Reid Public Opinion poll, support the Conservatives. Only five per cent think Cummins would make the best premier.
Unlike Premier Christy Clark or NDP leader Adrian Dix, Cummins is rarely followed by an entourage of reporters and political aides. He tours the province mostly in his 12-year-old pickup truck, not in a big campaign bus.
Martyn Brown, who directed former premier Gordon Campbell's three campaigns, said that Cummins' ineptitude as party leader was responsible for the Conservative Party's "amateur hour" campaign.
"Its fundamental problem was in choosing a leader who alienated money, membership growth and moderates who might have presented a more urbane and youthful alternative to the BC Liberals."
Brown added that the provincial Conservatives were largely spurned by the federal Conservative Party and could never move its base beyond the far-right fringe.
"Cummins' own reputation salted that dynamic and try as he did to present a more centrist, reasonable version of himself, his range of candidates told the story," said Brown. "Almost all white, aging men, with no organizational support and obviously terrible candidate screening."
'Really pleased with way it's going': Cummins
As Cummins joined the Langley Walk last weekend, there was little to suggest that he was a political leader rather than just another senior citizen joining a mass fitness event with his family.
Suddenly two reporters appeared and Cummins grimly smiled. "We're really pleased with the way it's going," said Cummins, a polite and friendly man. "Getting a great response here today. So we're quite pleased."
About his dubious chances of election in the riding of Langley where he is up against Liberal Mary Polak and New Democrat Andrew Mercier, Cummins provided a platitude as wan as his poll numbers: "A campaign isn't a 100-yard dash; it's a marathon of hurdles."
A marathon in which Cummins has never been in the race. Polls suggest that much of the support for the Conservatives over the past two years has drifted back to the BC Liberals, helping Clark narrow the gap with the NDP.
The Conservative surge in 2011 was a "mirage," said pollster Mario Canseco, vice-president of Angus Reid.
"We had them as high as 23 per cent at one point. But there was never a connection with the leader. And when you don't have that, third parties tend to do worse in the election than they were doing six or seven months before."
Days before the campaign, two senior party officials, a key political advisor and the party's communications director, left the party. Three candidates were dropped by Cummins in one week in the campaign for inappropriate statements, otherwise known as "bozo eruptions."
Mischa Popoff was perhaps the zaniest of the defrocked candidates, posting a YouTube video entitled "Mischa Popoff Will Not Be Bullied," in which the he rails against his former leader while being head-butted by a bull.
Said former BC Liberal strategist Brown: "In many ways, the Mischa Popoff YouTube video was a metaphor for their whole campaign. A party up against a fence, getting reamed by its own uncontrollable members who became a joke because it took itself so seriously."
'Full Gran Torino'
Cummins' performance in the televised leaders' debate was considered by most observers to be the worst of the four participants. His Angry Old White Guy persona prompted one TV reporter to tweet that Cummins "went full Gran Torino," a reference to the movie in which the aging Clint Eastwood character takes on some Detroit area bad guys.
"Cummins' horrible performance, coupled with the complete lack of any provincial campaign, confirmed that it was not a real alternative," said Brown, adding that the Conservatives could still take enough votes in some Interior ridings to allow the NDP to slip up the middle.
It wasn't supposed to turn out like this when a group of about 20 small-c conservatives, mostly disaffected BC Liberal supporters, met in a downtown Vancouver hotel in early 2011 and agreed to come up with about $40,000 to back a bid by Cummins to take over the BC Conservatives.
Soon the adjective "resurgent" was regularly attached to Cummins' Conservative Party in media reports. His once moribund party was tied with the BC Liberals with over 20 per cent support in the polls. The party's progress gained momentum when MLA John van Dongen left the BC Liberals and joined the Conservatives. A nervous business community feared that Cummins would fatally split the "free-enterprise" coalition behind the BC Liberals, which targeted him with attack ads.
But the Conservative Party balloon burst in 2012. The party finished poorly in third place in two byelections. Then an internal civil war shattered Cummins' leadership and all but destroyed the Conservatives' chance of becoming a viable third party on the right, the B.C. equivalent of the Wildrose Party in Alberta. Cummins narrowly survived a leadership review.
The party's two key figures, leader Cummins and sole MLA van Dongen, were stubborn mavericks, notorious in their previous parties for not being team players. It shouldn't have been a surprise that they couldn't get along in the new Conservative Party, or, at least, put aside their grievances for the greater cause. Van Dongen left to sit in the legislature as an independent.
"From van Dongen's ostensible rebellion to its mid-campaign implosion from candidate firings, it lived up to its reputation as a dysfunctional group that simply wasn't credible," said Brown.
Or, as Canseco put it: "Even with the little resources they had, they spent most of their time fighting amongst themselves. Voters don't react too well for that."
To make matters worse, Cummins often seemed tone-deaf when it came to the media. One day last August, when the news should have been dominated by the exit of several prominent BC Liberal cabinet ministers, the main front-page headline in the Vancouver Sun was about the Conservatives' revolt against their leader. Cummins added fuel to the fire by saying that "I hate to use a Biblical reference, but Christ had 12 apostles and one turned him in. We share the same initials but I can't rise from the dead and I can't get unanimity on the board. I wouldn't expect to be able to. He couldn't. I can't."
Ian Pyper, a Victoria lawyer who donated $10,000 two years ago to the Conservatives, was among those who fell out with the Cummins. A few days ago Pyper wistfully said that Cummins' leadership "seems like an opportunity lost."
Cummins, after a promising start, became a drag on the Conservatives.
"He was never seen as someone who could become premier," said Canseco. "I wouldn't be surprised to see them fall to single digits. Cummins is not connecting well during this election and he was the worst performer in the televised debate by far."
Canseco said Cummins' low provincial approval numbers indicate that he probably lacks the appeal required to topple BC Liberal heavyweight Polak in Langley. "I thought it was a fundamental mistake to run in a riding like that one. Campaigning against a cabinet minister is not always a good idea."
Langley's changing profile
Polak said Cummins can't win and that her main threat is young New Democrat Mercier -- but she is worried that many Langley residents who vote Conservative federally will vote for Cummins mistakingly after seeing the provincial Conservative brand on the ballot.
"There are many people who could arrive at a polling booth and not realize that they are not voting for a party that is affiliated with the federal Conservative party. That is a concern for us because then you have the potential for a vote split and the NDP being elected."
Polak said that Mercier could win if Cummins takes enough of the centre-right vote.
In the previous election Polak easily won with 56 per cent of the vote, with the NDP at 35 per cent, about 4,800 votes behind. But there was no Conservative candidate last time. Observers say Polak could be in danger if Cummins takes over 15 per cent of the vote.
The Langley riding is not as conservative as adjacent Fort Langley-Aldergrove where Rich Coleman is expected to win easily. Many neighbourhoods in Langley have demographics more akin to Surrey, where the NDP does well, than to the Fraser Valley, where the BC Liberals rule.
New Democrat Mercier said there over 4,000 new voters in the riding, making the outcome unpredictable. "The people I'm talking to are young families who have moved here from Surrey or Burnaby or Vancouver, and they are people who want to see a change."
Mercier said that transit is the key local issue. "We have the sitting transportation minister here and people can't understand why Langley is so underserved by TransLink."
Cummins, defiantly upbeat during the Langley Walk, dismissed the suggestion that he can only be a spoiler in Langley. "I don't buy into that word." But Cummins did agree that his prospects had been seriously harmed by the party's internal strife last year.
"I'm not going to deny that. That was not helpful. The reality is that I still don't know what the issues were. But we're a new party and these things will happen."