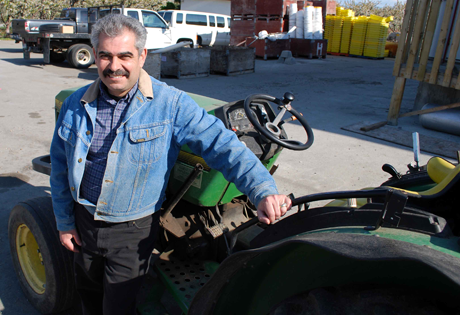 A lot of farmers and ranchers around the Okanagan Valley towns of Oliver and Osoyoos are angry with the B.C. Liberals. And here, in the newly created constituency of Boundary-Similkameen, some of that anger is going to translate into votes for B.C. Conservative Joe Cardoso.
That prospect has the constituency's B.C. Liberal candidate, former Osoyoos mayor John Slater, so nervous that he showed up at a feed lot last weekend to witness Cardoso and B.C. Conservative leader Wilf Hanni unveil their party's agriculture platform at a rally with about 60 farmers and ranchers.
"He's a worthy candidate, no question," Slater said when I asked him if he was afraid of Cardoso taking away votes. "I think he's a viable opponent and I'm working to make sure that he doesn't take them away."
Slater knows all about Cardoso's potential to get votes. Cardoso already beat Slater once, in last November's Liberal nomination race. But Cardoso, who had been a member of the B.C. Liberal Party since 1993, was infamously stripped of the nomination after a letter to the editor he wrote in 2005 came to light.
The letter blasts Premier Gordon Campbell's handling of that year's teacher's strike and suggests it's time for him to go.
"To borrow the words of a popular TV billionaire," Cardoso wrote. "Gordon Campbell, you're fired!"
Where farming is the issue
Boundary-Similkameen is a large constituency, made up from slices of the old Yale-Lillooett constituency to the west, Penticton-Okanagan Valley in the centre and West Kootenay-Boundary to the east.
However, it has a small population of only about 38,000 people. The constituency of Penticton next door is much smaller geographically but has 15,000 more people.
And while only six per cent of Boundary-Similkameen's inhabitants are members of a visible minority, Indo-Canadians make up a large part of that six per cent and Indo-Canadian owned farms are a prominent feature of the landscape around Oliver and Osoyoos.
With 4,752 people, according to the 2006 census, Osoyoos is Boundary-Simikameen's biggest town. Oliver, 21 km away, has 4,370. This constituency is decidedly rural and agriculture is one of its most important industries.
And that means that in this neck of the woods, farming is a big-time election issue.
At the B.C. Conservative rally, resentment hangs in the air and Hanni is only too happy to savour it.
"If you come from Vancouver, you think there is nothing beyond [the town of] Hope," he says as he warms up the crowd for Cardoso. "Well, I've got news for the people from Vancouver.
"Without us, without the Okanagan and the Kootenays, there'd be no Vancouver."
Hanni even takes a moment to acknowledge -- and revel in -- Slater's presence.
"I'm sure he's a good man. But you know, the Liberals gave up an even better man," he says to raucous applause.
When Cardoso, a former rural director with the Regional District of Okanagan-Similkameen, takes his turn at the microphone, his message is blunt and in tune with his audience.
"Rural British Columbia is under siege," he says. "Agriculture no longer has a strong voice in Victoria and family farms are becoming a red-listed species. And I want to tell you that Gordon Campbell has abandoned you."
Cardoso says farmers are struggling to cope with ever increasing amounts of regulations, and he calls the carbon tax a wealth transfer from rural to urban B.C.
"And it's not fair that [carbon-tax revenue generated in rural B.C.] goes down to the Lower Mainland so that the people can have transit systems and alternatives that we will never have and maybe never want," he tells the appreciative crowd.
Slater gets a turn
After a couple of other speakers, Slater is surprisingly invited up to say a few words. He tries to tell the anti-Liberal crowd that he's a farmer too and can relate to their plight.
"I can assure you when I get to Victoria, I will still represent the agriculture community, and I know how frustrating it is for you guys because I have to go through it too," he says.
After the speeches, a rancher presses Slater, asking him if the Liberals will rescind the carbon tax.
Slater tries to empathize, pointing out how his greenhouse operation also has to bear the added cost of the carbon tax. But he admits supporting the tax, saying we need it to protect the environment.
But then he deviates from his party's platform and says the tax needs to be adjusted, that it needs to be made revenue neutral for ranchers.
"I think it will be," he says. "When, I don't know."
'Something else behind the scenes'
Among Cardoso's supporters at the rally is Loraine Kolodychuk, who used to be a director with the B.C. Liberal constituency association in Boundary-Similkameen but quit after Cardoso was stripped of the nomination.
"We were never, ever, to my knowledge, approached as to what we felt as a board of directors," she said of the decision by B.C. Liberal officials that Cardoso's sin was too great to allow him to run.
And when Cardoso took out a B.C. Conservative membership, Kolodychuk did too.
She called Cardoso's letter "a very poor excuse" for turfing him. "Obviously there was something else going on behind the scenes," she said.
Cherry farmer Jarnail Singh Gill, who moved to Oliver from India 30 years ago, was fed up with the representation this area was getting from Liberal MLA Bill Barisoff. (Barisoff chose to run in Penticton this election, leaving Boundary-Similkameen open for a newcomer.)
"Since the last two terms, our Liberal MLA has done nothing for us," said Gill.
He added that farming costs and regulations keep increasing, but the Liberals "just keep cutting the [agricultural support] programs."
Despite Gill's dissatisfaction, he bought a Liberal membership so he could support Cardoso. "We believe he would have made some kind of noise in there, just to do something," said Gill about why he wanted Cardoso to be a Liberal MLA.
So when the Liberals turned on Cardoso, Gill turned in his Liberal membership and signed up with the Conservatives. Gill says Cardoso can still do a good job representing his constituents from outside government.
"Right now we believe we cannot count on any party. If the Liberals are going to have their government, then they're going to do something for this area? I don't think so," he said. "We're just trying to put a good candidate in."
Jhaj of the NDP
The NDP is also chasing votes from discontented farmers in Boundary-Similkameen. The party's candidate, Lakhvinder Jhaj, opened her Oliver campaign office the same day as Cardoso and Hanni's rally.
A reception with former NDP cabinet minister Moe Sihota was packed with about 35 people, most of them Indo-Canadian farmers.
When the Liberals took power in 2001, they cut the Ministry of Agriculture budget by close to 40 per cent. Swaran Chahal, a fruit and vegetable farmer, told me that as a result of the cuts, specialist staff at the local ministry office, who used to help farmers get the most from their land, were let go.
"If we need any kind of horticultural help, we don't have that," he said.
But when the NDP was last in power, "we used to have very good support... so that's our biggest issue around here right now," he added.
Sihota tells the gathered supporters that he is expecting the NDP to score upsets in the Interior.
"What I detect when I travel is there's some residual anger that people feel towards the administration in Victoria as having lost touch with their communities," he says.
He goes on to say that the presence of B.C. Conservative candidates in constituencies like Boundary-Similkameen can only help the NDP's cause.
"I think it will be a variable in this campaign, in this constituency... because it will divide some of that [right-wing] vote," he says. "Because some of that anger will not vote the NDP, it has to have another outlet and one of those outlets is the Conservatives."
Cardoso as spoiler?
The numbers seem to bear Sihota out. According to a Tyee analysis of voting results from the 2005 election, re-jigged to account for the new constituency boundaries, the Liberals would have taken Boundary-Similkameen with 46 per cent of the vote, to the NDP's 41 per cent.
So in theory, if Cardoso gets over five per cent, Lakhvinder stands a good chance of winning the seat.
But the NDP would be wise to not just cast Cardoso in the role of spoiler and see its fight in Boundary-Similkameen as solely against Slater.
As Slater pointed out, Cardoso is a viable candidate, one who is well liked in his community and one who has shown an ability to mobilize supporters and get them out to vote.
Of the 1,440 Liberal members in the constituency association at the time of Cardoso's nomination, he says he signed up 538 of them.
In many ways, Cardoso would have been the perfect Liberal candidate. When I asked people about him, "honest" and "hard working," were the most common descriptions I heard, traits I suspect the Liberals would like to be associated with. His reputation after six years as a regional director is of someone who goes to bat for the people he represents.
His current job is with Regal Ridge, a development company with a project on nearby Anarchist Mountain.
His values mesh well with those the B.C. Liberal party professes to hold.
And Cardoso even admits he might be singing a different tune about the carbon tax had the Liberals kept him on.
"I would have had some difficulty with that for sure," he told me. "But I probably would have been educated a bit differently on it and perhaps, you know, perhaps maybe I would have taken a different view."
Though he quickly added, "I don't think so."
'I never got a phone call'
Cardoso says he was a member of the Liberal party even before Gordon Campbell was, and that he campaigned for Campbell to be leader.
The 1993 leadership convention was decided on a one-member, one-vote system with Liberals voting by telephone.
"We worked very, very hard here to have people signed up as members," and vote for Campbell, said Cardoso.
He said that after the Liberals took power in 2001, he slowly became disconnected from his party and disillusioned by Campbell's controlling style. However, Cardoso still maintained his Liberal membership and attended constituency-association events.
"Bit by bit, I became less and less involved," he said.
That disillusionment came to a head with his 2005 letter, which Cardoso called "a knee-jerk" reaction, one that he quickly forgot about after the letter was published in the Oliver Chronicle.
"One of the things that's telltale about that letter is that I never got a phone call," said Cardoso.
"Because we all know that they [the B.C. Liberal party] do clipping services, they know everything that is put into the paper. I didn't have them come to me and say, 'What the hell are you doing?'"
It was as if, said Cardoso, the letter had never been written.
"But of course, it had been written."
And now that letter could end up playing a huge role in this election. The Liberal Party's official position is that Cardoso was booted for failing to disclose the existence of the letter on his candidate vetting form, not for the content of the letter itself.
Whatever the party's reasoning, it has handed the B.C. Conservatives a gift in the form of a candidate who even his Liberal opponent admits is credible. And a Cardoso victory would inject the B.C. Conservatives with an incredible dose of legitimacy.
Could it happen?
As another former mayor of Osoyoos, Tom Shields, put it, "He was a great candidate here and things happened and [the Liberals] made a real mess of everything. So here we've got a riding that can really flip a coin up in the air and anybody can win it now."
Related Tyee stories: