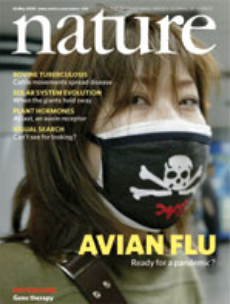 Just a couple of months ago, in mid-August, I felt very hesitant about mentioning my worries about avian flu. My friends and colleagues would look uncomfortable and change the subject. True, I first shared the growing buzz about avian flu with Tyee readers in June of this year, and by then, had been posting to my own avian flu blog for three months. But outside the world of the flu blogs, and especially in the mass media, pandemics were the stuff of sci fi, not of daily concern.
Since then, however, the prospect of avian flu has suddenly gained both legitimacy and urgency. For this we can thank the Bush administration.
First, that administration totally botched the preparation and response to Katrina. Flu bloggers saw the impending hurricane as a useful demonstration of American ability to cope with a disaster. When we watched the storm turn into a man-made disaster, we realized the US government wouldn't deal with H5N1 any better than it could deal with tens of thousands of poor blacks.
Someone else's problem
The destruction of New Orleans was the chronicle of a flood foretold-and ignored. Meanwhile public health experts around the world had been warning about a pandemic and had been equally ignored by the mass media and the politicians. Sure, scary articles were appearing in magazines like Foreign Affairs, and scientific journals like Nature. But in the mass media, avian flu was like train wrecks in Peru and coal-mine deaths in China: awful, but someone else's problem.
Staggered by the public fury over Katrina, Bush and his government seemed to pause and think: What could hit us next, and how can we avoid another beating like this? The answers, obviously, were avian flu and going public with it.
Bush used five minutes in a rare press conference to discuss the prospect of using troops to enforce quarantines if H5N1 were to break out in the US. He sent his Secretary for Health and Human Services, Mike Leavitt, on a tour of Southeast Asia flu hot zones. When experts had earlier warned about a pandemic, the mass media treated the story like a possible asteroid collision in the 22nd century. But when the president of the US started talking about pandemics, the mass media suddenly took the story seriously.
Everyone gets into the act
Once Bush made H5N1 a domestic political issue, everyone else got into the act as well. Senator Ted Kennedy, along with three other Democrats, introduced a bill to create a kind of pandemic czar-guaranteeing that both mass media and the political blogs will cover avian flu still more.
Lending added force was the recent appearance of H5N1 in Romania and Turkey. Not many North Americans could find Jakarta on a map, or tell you how long it takes to fly from there to San Francisco. Fewer still have ever been to Indonesia. But plenty of us have flown from Vancouver or New York to London or Frankfurt, and spent weeks, or even years bumming around Europe. Asia is remote and strange. Europe is close and familiar.
So three dead ducks in the Danube marshes, and 1,800 dead Turkish turkeys, brought avian flu closer to all of us.
Is Canada the best prepared?
The pandemic stories moved from the health page to the front page, and into the TV newscasts. CBC Radio has been leading its hourly news breaks with sound bites from Health Minister Ujjal Dosanjh, saying, "It's a matter of when, not if" and bragging that we're better prepared than anyone else. (Faint self-praise, in my opinion. But more evidence that H5N1 has gained political weight.)
Meanwhile, the blogosphere has been reminded of the power of the mainstream media-not only here, but around the world. TV news stories and front-page articles have indeed got the public's attention.
But the mainstream media seem unable to give the public enough real information. So people have been turning off their TVs, turning on their computers, and doing Google searches to learn more. Type "H5N1" into Google, and my blog turns up in the #2 spot out of over 2 million hits. Do the same thing in other countries, and for some reason I'm #1.
As a result, the traffic on my site has increased like cases in an actual pandemic. The H5N1 blog is over 30 weeks old, but a fifth of all its page views (almost 25,000) have happened in the past week. Daily page views are running between 3,000 and 5,000 a day.
Surf's up in the Danube Delta
When I monitor where my visitors are coming from, I see a dramatic transformation in the last week or so. Plenty of googlers are still coming in from Canada, the US, and the UK. But now they're also surfing in from Romania, Turkey, Vietnam, Singapore, Sweden, Hungary, Australia and New Zealand - from countries that feel increasingly menaced by pandemic. Sometimes they have Google translate my site, so I can read my own words in Spanish or Portuguese or Chinese.
At the same time, I'm now spending time on websites like Indonesia's Jakarta Post and Bulgaria's Sofia News Agency. They carry news we can't easily get here in our own media, and yet, oddly, their local readers are going to the flu blogs to put their own news into a larger context.
The burst of coverage in the mass media hasn't been just a North American phenomenon, and as a result I'm putting as many as 15 posts on the site in a single day-in an attempt to try to keep up with the accelerating story.
Online parasites
As the phrase "Don't panic" increasingly pops into the headlines, people do become at least uncomfortable. Predictably, some online entrepreneurs are trying to cash in on the new anxiety. They post comments on my site, mentioning good places to buy N95 masks or offering to sell Tamiflu. I delete these posts like pulling ticks off a dog, but I can see it will be a persistent problem.
And what will happen when we have sustained, human-to-human infections? By then, I hope the professionals who interact between the blogs and the media will have built enough public understanding to keep people calm. The remarkable news stories by Helen Branswell of Canadian Press are the best flu coverage in the mass media, and public health experts like the Reveres of the Effect Measure site provide priceless context for unfolding events. Like anxious Romanians and Kiwis, the mass media is turning to the flu blogs for the chronicle of a pandemic foretold. To a remarkable extent, the bloggers are keeping their cool, reporting the story as factually and thoughtfully as possible. If the mass media do the same, we may actually get through the pandemic without the extra suffering and waste that panic would surely bring.
Crawford Kilian, a frequent Tyee contributor, covers avian-flu news at H5N1.
FOR DETAILS ON AVIAN FLU: