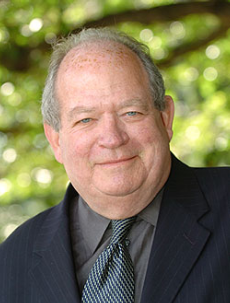 The sunlight was icy blue in its clarity last Thursday afternoon, one of those days in Vancouver when the wet curtain pulls back and if you've chosen the right spot to be, you will be vastly rewarded. Jim Green's voice on the telephone described the panorama before him. "I have these beautiful views of our beautiful, beautiful city. My apartment overlooks right down Cordova Street. I can see the Lions. It's just glorious." All of this was visible to Green because he lived on the 12th floor of the Woodward's Building. Jim Green, of course, was the reason there was a Woodward's building. For 10 years, the Downtown Eastside's iconic department store sat boarded up until Green led the city's effort to purchase it from the provincial government for $5 million, hold community consultations and design competitions, and get built the eccentric amalgam of social housing, higher education, arts spaces, retail, and swish digs that Woodward's is today.
On the phone last Thursday, as I and two other journalists listened, Green said that of all his projects over the years, probably the one that made him most proud was Woodward's. Soon, though, he was describing the latest twist to a source of equal pride, a program he started 20 years ago to help youth in the Downtown Eastside gain job skills. Called BladeRunners, the program has matched young people with union tradespeople working on local construction projects, including building what is now Rogers Arena. It seemed a solid idea, but it has sputtered. "We got great kids, but we couldn't get there. They just failed over and over again." What Green and his colleagues came to realize is that giving youth on the margins job skills is not enough. Many needed life skills, and protection from predators seeking their freshly earned money. And now they will have what they need, said Green, because at 211 Gore Street, a former jail is becoming 95 rental housing units, to be administered by the Saint James Community Service Society. "Finally after all these years, we have brought these elements together so they have a place with mentors, elders, all they need to make this a really functioning society within a larger society." A United Nations expert has chosen 211 Gore Street, said Green with obvious relish, "a top model for youth housing."
Take that story of BladeRunners' evolution, lay it next to the saga of Woodward's, and of Jim Green's social housing advocacy for the Downtown Eastside Residents Association, and of his founding of a bank to serve low income people, and his founding of United We Can, and his role in founding the Portland Hotel Society, and the many examples of Green's support of the arts, including, for example, his helping to bring opera singing to Blood Alley. You really do have to marvel at the breadth of Green's initiatives. Other than Woodward's, none are the sort that grasp for attention along the city's skyline. Rather, they attend to the finer grained textures of Vancouver -- textures social and cultural, textures felt and inhabited at street level. On the phone, Green remembered another project he was particularly happy about -- his effort to have manhole covers in the city crafted by artists. Thousands of cast iron disks textured with bubbles, tadpoles and frogs are being produced. Cities lacking texture, Green understood, are barren of serendipitous delight.
Whenever I happened to run into Jim over the years, that's what we tended to talk about. How to preserve the fragile funk of Main Street. Whether the Olympic Village would be a high-rise forest or a low-rise village. Where he'd caught some good blues lately. How to bring beauty to the hardest edges, the hardest lives, in the city. For a while we were both on the Vancouver Planning Commission, he as a city councillor and I as an unpaid appointee. The Planning Commission sounds fairly important, but actually it's just a discussion club with sandwiches provided, and the assigned topic, basically, is how to make Vancouver a better city 10 or 20 years out. That is just what Green loved to discuss and he brought a keener's zeal to our sessions when I'm sure he had a stack of official business he was supposed to be conducting somewhere else.
'The common good'
One day, a few years before Green was elected to city council, I was working at the Vancouver Sun editing a story involving Green. A big shot from the publisher's office came close and bellowed, "Jim Green is the devil incarnate!" I took that to mean that Green scared the city's elite by being very good at getting and using power on behalf of the city's disenfranchised. One man's devil is another's angel. Green also was damn human. Given a barrel shape and the face of a journeyman boxer, he finessed those liabilities with dark suits and a pork pie hat. He was cast as the bully by his wheelchair bound opponent Sam Sullivan when the two ran for mayor in 2005, but it was Sullivan who boasted on camera he would "keep my boot" on Green's "goddamned neck." And it was Green who had to contend, that election, with the fact that an out-of-the-blue rival candidate named James Green seemed in the game only to play spoiler. Jim Green lost by 3,747 votes. James Green got 4,273. Jim Green cried.
Some labeled Green gruff, but he never was when we conversed. Patiently precise, he would take time to pull facts and anecdotes from his considerable intellect, not to dominate but just to make himself better understood. He was highly clever and relentlessly goal oriented, no doubt. The politics of Canada's poorest neighbourhood do not favour the sweetly diplomatic. But, no, I never saw a bully. I go back to the kind of change Green took risks to try to achieve, and how little of it was likely to result in wealth or glory. Bullies want to freeze everyone into their cowering place. Green's theme, endlessly, was about empowering those with the least power, getting them up and moving towards their own better destinies. Bullies, I don't think, are much interested in the texture of places, or people.
"One of the things I've realized is that you need a lot of partners and partnerships to make things work," said Green on the phone as his partner Heather Redfern helped him stay comfortable and monitored his strength. "That is the most difficult part, coordinating so many different efforts to make one particular thing take place. Having said it's the most challenging, it's also the most fun, the most rewarding, when you can get a lot of people who really agree, and we can put aside all these other differences we might have, and be able to work for the common good on something."
That is a pretty remarkable statement from a man who, growing up in America's Deep South, felt by his own admission lonely, isolated and afraid. He was the son of a military sergeant who moved the family around a lot and drank away his pay. His mother was creative, hard working, controlling. His awareness of class politics was shaped by certain assumptions made of everyone in his world. "What are you gonna have for lunch? I'll tell you what you're gonna have for lunch. You're gonna have fried chicken and mashed potatoes and gravy, you're gonna listen to Otis Redding on the radio and you're gonna go out and get in a red Ram truck." He never did understand the pervasive racism against blacks. "Black people and white people were so similar back then, in every way." Jim Crow laws and segregation "were just a project to divide people who were really the same people. You know, what is a poor white guy in the south compared to a poor black guy? I can tell you. The white guy just gets to stand in line first. We were the same people."
In search of home
Green had said that throughout his childhood he never really felt like he had a home. He graduated from the University of South Carolina, got accepted to graduate school at the University of Colorado and at the same time started working to improve conditions in migrant labour camps. He thought he had his Viet Nam war draft deferment nailed down, but he was wrong and "had no choice" but to cross the border to Canada, winding up in Vancouver in 1968. He didn't intend to stay in this city. Montreal beckoned and he tried a university stint there.
But when circumstances brought him back to Vancouver, he appreciated a civic feistiness that people don't always associate with Lotusland. Where else in North America did citizens face down a concrete monster with multiple tentacles? They saved Strathcona, Chinatown and more of the city's highly textured neighborhoods from being torn down for freeways. "If it hadn't been for the historical struggle of the people of Vancouver, we couldn't even come close to saying we were trying to be greenest today. We were beginning to be an American freeway city. Doomsday was knocking on the door," recalled Green on Thursday.
Clearly, for him, that narrative wasn't finished. On the phone he waxed enthusiastic about the prospect of demolishing the viaduct remnants of those planned freeways of decades ago. Last year Green led an investigation of how other cities have benefitted from similar clearances of overbuilt infrastructure. He was thrilled when his team won a recent ideas contest sponsored by the city to envision how the freed up land might be used.
"The viaduct project without a doubt has caught the imagination of everyone in Vancouver," said Green, crediting Vision councillor Geoff Meggs with making it an issue. "We just don't need them. They divide our town." Green said he was eager to get a chance to help "build a new downtown" that knitted together what the viaducts had split, including a tribute to the citizen freeway fighters who he said were heroes of "ecological and democratic warfare."
When, just five days later, Jim Green was dead, the tributes poured forth.
Mayor Gregor Robertson said, "Jim's record was one of consistent and tireless activism for social justice, democracy, the arts and the shaping of a fair, inclusive and sustainable city.
"His work on the Downtown Eastside in particular has left a remarkable legacy of new opportunity and hope for many of Vancouver's most marginalized and vulnerable citizens. He taught communities and citizens across Vancouver how to mobilize for positive change both for their neighbourhoods and in their own lives, and devoted his life to the idea that a city is strongest when it empowers its citizens. Many of the policies we take for granted today were championed by Jim long before they were common practice in Vancouver."
The union movement, through a statement put out by the B.C. Federation of Labour, said:
"Tireless is far from enough to describe the tenacity and vigor with which Green challenged the injustice he saw in his community. As a Longshoreman and Union Shop Steward, Green defended the rights of working people. As a housing activist, he shone the light on Canada's poorest neighbourhood and was able to unify people in common cause... At every turn, Green recognized the dignity in our shared humanity and was determined to ensure others recognized it as well. His presence in our lives has left our province a better place, our communities more equal and our people more hopeful."
In the legislature, NDP MLA Jenny Kwan, choking up, said:
"Two decades ago I was a timid young university graduate, and I met a fellow named Jim Green for the first time. ... He dared to dream the impossible and worked relentlessly to bring life to those dreams... He developed housing for the homeless. He gave voice to the voiceless. He engaged the disenfranchised. He brought educational opportunities to the poorest neighbourhood in Canada. He drank and played pool with old-timers. He opened countless doors for young people. He inspired and challenged us to step up and dare to make a difference.
"He offered advice and provided guidance and encouragement. He did all of that and so much more in the typical Jim Green fashion -- rough and tough, but always with heart and love. In so doing, he nurtured and directly influenced countless people's lives, mine included."
"The sun has set for this brilliant star in our midst. When you visit Vancouver, please take a look around the city and beyond. When you see a touch of Jim Green's heart and soul, say a small thank-you to this visionary and his family, and renew your commitment to realize the dream of making Vancouver the caring capital of Canada."
Last Thursday on the phone I asked Green what he made of the fact that at least one powerful person in this city could refer to him in an open office setting as "the devil incarnate." He invited me to join him for beer sometime soon, on which occasion, he said, we'd take that statement and various others and place them "in a pile of bullshit." I said I looked forward to that.
He said, "You can actually change the world for the better and enjoy it at the same time. You don't have to be bitter, you don't have to be mad."
Green acknowledged wistfully that he was not going to survive much longer. "Yes," he said, "it's pretty sad news, I think." He spoke of his love of music. He expressed his intense admiration for the activists who push for housing and social justice in Vancouver. He spoke of the joy he took from "my fabulous family." He was "so, so happy to be Canadian." He said he was looking forward to "working from home" with one of his daughters to build a "family business" named Jim Green and Associates, which would do things "I would have liked to have seen done during my lifetime."
The man who as a boy never felt like he had a home looked out his window, savouring what lay before his eyes. "I believe I've helped the city be a better city. What really matters, is that I tried."