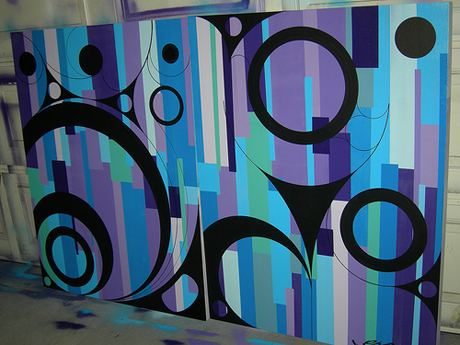 Hip hop, including dance, clothing, music and graffiti, has long been an influence on First Nations youth, starting with the breakdancing Tania Willard used to see at powwows 17 years ago.
But some First Nations people see street culture as a threat to the traditional art and rituals they are striving to preserve.
Willard has tried to bridge the divide by co-curating an art show in Vancouver titled "Beat Nation: Hip Hop as Indigenous Culture."
At Friday night's opening at Grunt Gallery, Willard explained the purpose of the show for young aboriginals: "One, it's about getting in touch with their culture and two, it's about making hip hop their own."
'Most of us are in the city'
Leena Minifie, whose dance film "Geeka" is part of the exhibit, says that hip hop is only a part of the phenomenon.
"It's really about urbanization," said Minifie, adding that of the 196,075 aboriginal people in B.C., "70 to 80 per cent of us are in the city."
The artwork is up at the gallery and online. Willard and her co-curator Skeena Reece created the website so they could reach out to all native youth in B.C.
Some of the older generations criticize the fusing of cultures and see it as a break from tradition, writes Glenn Alteen, the show's producer.
They are not the only ones. Video of "pow wow hip hop" on You Tube has hundreds of comments that argue about dancing hip hop in regalia.
JezabellePMS wrote "I can't believe they would do this to our culture," while others like xkillJoex responded, "I disagree with Jez, our pow wow dances have evolved since the beginning of the century."
'New tools to rediscover'
Alteen sees hip hop as a way to explore traditions.
"These artists are not turning away from the traditions as much as searching for new ways into them," he wrote. "Hip hop is giving youth new tools to rediscover First Nations culture."
Alteen pointed out that celebrated Haida carver Bill Reid also fused traditional and contemporary methods in his sculptures.
Visual artist Andrew Dexel first connected with his traditions by making art -- starting with graffiti at the age of 13.
"Graffiti and Northwest Coast art are very similar, to me, because it's somewhat of a symbolism thing going on," said Dexel.
"[With] graffiti you take this identity, this name, this word -- mine was Fuse -- and I'd add my own characteristics to it," said Dexel. "In Northwest Coast artwork, there's the spirit of the bear, the eagle, then you add your own interpretation and what that means to you, just like that word," Dexel said.
Graffiti and ovoids
His paintings "Thunderbeans" and "Rebirthing the heyoka", on display at Grunt, are more contemporary canvas pieces, made with acrylic and spray paint. He uses the bright colours of graffiti under the circles and ovoids of the Northwest Coast style.
He signs his work with his spiritual name Enpaauk. On the website beatnation.org he writes:
"My work relates my spiritual path; my journey. I express the inspiration lovingly given to me through teachings and stories from my elders and mentors. My work embodies the powerful visions that I have been given through these teachings. I am grateful."
At Friday night's opening Dexel said, "By no means would I call my work traditional." Yet he relies on ceremonies like fasting and the sweat lodge -- which he does two to three times a week -- to inspire his art.
Willard explained that culture and tradition are in constant transformation.
"There's no such thing as static tradition. What we call tradition today was once innovation," she said.
The exhibit runs until August 1, 2009 and indefinitely online at beatnation.org.
Related Tyee stories: