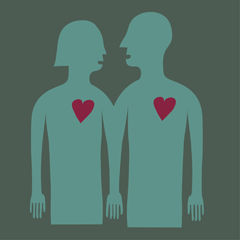 Famous and ordinary, fictional and real, lovers are fleeing from big, fat, traditional weddings right now. Credit the bridezilla-backlash, the new postnuptial depression phenomena, or the global financial meltdown's arrival on Main Street.
Which leaves a lot of today's newlyweds with more in their bank accounts and less mental wear and tear. Some will swear eloping is just more romantic.
In last summer's Sex and the City movie, Carrie Bradshaw planned a giant, fairy tale wedding for her and her Mr. Big, only to have its ideological and social weight collapse their relationship. They reconciled, after realizing the true cause of their misery -- the wedding itself -- then spontaneously eloped to city hall one afternoon. "I don't want a wedding, I just want you," said the groom, coining a phrase for the new movement and making small the new big.
More recently, though arguably a giant PR stunt, two of the world's least favourite celebrities, Heidi Montag and Spencer Pratt, eloped to Mexico (then released their private, intimate vows and photos to the media).
Back in reality world, last month, two friends of mine got married in a "hybrid-elopement," which meant immediate family only, in a Vancouver coffee shop, followed a month later by a Facebook-invite, cocktail party in their apartment.
Run away!
The New York Times reports a big increase in elopements in over the last six to 12 months. In fact, one Humanist chaplain says she's performed twice as many as usual this year.
Elopement used to be scandalous, according to Rebecca Mead in her book, One Perfect Day: The Selling of the American Wedding. But with the average cost of U.S. weddings approaching $30,000 (yes, the average), and the stigma of elopement now gone, many people are now using that money for a down payment, or just saving it for other things that actually provide more happiness than One Insane Day, unless that one day really happens to float your meringue.
This echoes a New York Times report about one couple that had originally planned to have what is erroneously known as a traditional (i.e. big, expensive) event, but found themselves resenting the money and effort required. They didn't want the financial or organizational stress to ruin the ceremony, so got married on a mountaintop with only a photographer and a marriage commissioner, and found it "a more intimate experience" in the end.
'Postnuptial depression'
Then there's a new phenomenon known as postnuptial depression, which seems to be putting people off, too. The BBC reports that bridal magazines promote fantasies that rival any fairy tale. So, with so much time and money invested into The Biggest and Happiest Day Of Your Life, "people experience a comedown" or big anticlimax.
Time reports that one in 10 newlyweds now seeks counselling for the syndrome. "The problem may be that after months consumed by wedding preparations and feeling like the center of attention, the sudden shift back to everyday life can be a shock."
Common law for common folk
The interesting thing about the traditional wedding is that the tradition is a myth. In her book, Mead writes that even as late as the 1930s, it was common to have only a ceremony, without a reception.
"Our laws all go back to England where only the rich could officially marry in a ceremony, which was conducted by a church person," says Fred C. Lowther, a Vancouver family lawyer who's been practicing for 28 years. "Most people couldn't afford anything like that. They would just announce 'Me and Matilda are getting joined,' then everyone would get together in the square for a party, then they were considered married."
He says the term "common law" arose as a synonym for "shacking up" because religious law applied to the people who got married in the church, and common law applied to those who got married in the square.
There are still some legal and financial advantages to being married by the state. Now, in B.C., if you aren't officially married, if you're "common law," you don't have as many automatic rights when it comes to property and asset distribution. If you shack up, then split up, and the other person takes off with more than their fair share, you have to take legal action to make them behave; whereas, with legal marriage, you automatically get half unless you go to court to argue for a different allocation. Plus, many private pensions automatically recognize legally married spouses, but differ in their recognition and treatment of common law spouses -- meaning some don't recognize you at all.
But in the end, with both common law and state marriage, if you're not happy with the asset distribution, you can sue. And according to Lowther, the seldom-discussed truth is that "a lot of family law is about how the government can save itself from paying more welfare and support." So laws exist to ensure that when there's a breakup, "the women and children, who are largely the ones who end up on the poor end of the stick, aren't left destitute and now dependent on society."
'Merry' Me?
I asked about a dozen people who'd eschewed a white wedding, but still said vows in front of a legal witness, why they did it.
Most said they just wanted to. A few said despite marriage's historical role as an anti-feminist force, or its lack of conclusive legal advantages, it still seems celebratory and romantic. One friend said he'd just had it in mind as a rite of adulthood from the time he'd been young and it seemed like a nice idea. The word "marry" sounds like "merry" to him.
And as for the how, one said, the less you do, the more romantic it seems. "Getting married in city hall is the most romantic," said another.
That's how my parents did it. They just took off from work one afternoon, went down to their local city hall, and after a few signatures and an official stamp, were married.
Romance, aisle four
The problem is, in B.C., that's not possible. Since 1952, the Vancouver Charter and municipal charters around the province haven't allowed anyone to perform marriages at city hall. The closest was when two men were married on the steps, according to Jennifer Young, a communications officer with the city.
There also aren't any provincial registry offices. There's nowhere you can go to get hitched simply. Ironically, Vancouver's no-fun reputation doesn't extend to weddings: the city literally forces you to make it complicated.
What you have to do is first get a marriage license. It's $100 plus taxes and you can get it from a few notary publics or from London Drugs. Then you have to search through the list of government-sanctioned marriage commissioners and hire one privately to perform the ceremony. It's $75 plus $3.75 tax. You have to pick a location, and you have to calculate the mileage between the commissioner's house and that location, then pay them $0.49 per kilometre for gas and vehicle wear and tear.
A cheerful Vital Statistics clerk told me you can get married in an office. You just have to contact each of the marriage commissioners individually (there are 25 or so in Vancouver alone), and ask if they can provide an office.
Yeah, that's just as simple and romantic as skiving off work and heading to city hall one afternoon.
It's not really a big deal, I know. There are far more pressing social, economic and political problems. But without the ability to celebrate meaningful social rites simply and economically, many people will either choose options that cause psychological or financial hardship, or stop celebrating at all, and that really is a shame, especially with all of the pressing social, economic and political problems.
My dad always told me (I thought this was normal) that if I got engaged, he'd give me a hundred bucks and a ride to the airport. To a few non-bridezilla but pro-marriage people I know in Vancouver, this seems like the simplest and best option right now.
Related Tyee stories: