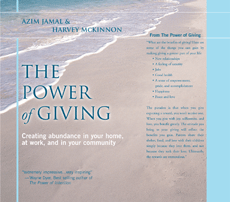 [Editor's note: This is the third in a five-part series excerpted from The Power of Giving by Harvey McKinnon and Azim Jamal.]
In his wonderful book Soul of a Citizen, Paul Loeb writes that children who teach younger children, write letters to people in the hospital, or make toys for poor kids are much more open to helping people in need when they grow up than those who don't share such experiences. It's no surprise. Children who are taught to care become caring adults. We believe adults must make a special commitment to teach children compassion through stories, actions, and mentoring.
Every day, in many ways, you have the ability to develop a culture of giving in your home, one that can be a lifelong gift to your children. Giving your children an allowance is a good way to foster giving. Consider getting them to break their allowance into three portions, say 80 percent for spending, 10 percent for saving, and 10 percent for giving. The percentages can vary, but allocating their allowance to these three areas will help teach money-management skills to your children. This is an incredibly valuable gift.
We recommend that you allow your children to decide where they want to give their "giving" money, even if you disagree with their choice. Giving them the decision empowers them, and it gives them a strong emotional connection to their philanthropic gift.
You can reinforce their giving by telling them how much it means to you, as well as to those who were helped. Telling children about your own giving and how you feel about sharing what you have is great role-modeling. You will pass on your tradition of giving to them, and as they grow, they'll see that the gift of giving also gives back. They will likely pass it on to their children, too.
By encouraging your children to give, you help them engage in civic life. That strengthens democracy and fights the cynicism so pervasive in our society - especially in the media. You will also teach children to care for other people, even people they may never meet, or to care for animals and nature.
Giving, in its many forms, helps develop understanding and compassion in children and encourages their desire to learn much more about an issue that touches them emotionally. This might lead to their developing many useful skills, such as research, writing, and an understanding of their values and motivations…
We never know how our childhood experiences will affect our lives. When we help our children have positive experiences of generosity, we may be setting them on a path where they blossom as compassionate and fulfilled individuals. Some other ways to teach your children giving include the following actions:
Model generosity to friends and strangers.
Participate in community organizations and tell your children why you think this is important.
Discuss responsibility and the golden rule with your children.
Ask them to set aside 10 percent of their allowance for giving. Then match their gift so it is doubled.
" Make your children aware of their position in a global context. The chances are pretty good that if you can read this book, your children have way more resources than at least 70 percent of the children in the world.
" Find out what your children care about, and volunteer your time in this area as well as the areas you are interested in.
A US organization called Learning to Give is developing curriculum materials to teach children how to give in order to encourage giving in society. The organization's goal is to deliver these resources to children and teachers. You can download the materials for free from their website (see the resource list at the back of the book).
Going to the CORE
Parents and other adults have a great opportunity to give a special gift to children, something that we call "heart fiber." When you give a child heart fiber, you are giving him or her the values and virtues that build a strong character.
Just as you need fiber in your body to maintain your health, you need fiber in your heart to maintain your strength in a world where you are buffeted each day by problems and injustices. When you help children build strong hearts, full of empathy, they are better able to survive the many challenges they will undoubtedly encounter. When children confront a difficult choice, one that might involve harm to themselves or others, heart fiber will get them through safely.
The CORE parts of heart fiber are: Compassion Order (Self-control) Respect Empathy
When children develop these qualities, they become giving citizens who are both happier and healthier than those who lack heart fiber. Strong heart fiber will unleash their generosity, kindness, and community involvement.
How do children develop heart fiber? They learn it from their environment, their peers, and their community, but the most important factor is their parents. It doesn't matter if children grow up in poverty or in difficult circumstances. As long as they have at least one adult in their lives who loves them unconditionally, who supports them and helps them build on their strengths, these children will grow up with heart fiber.
As any parent knows, raising a child is one of the most difficult jobs you will ever have. The hours are long, there's no financial reimbursement, and the pain can be significant. On the other hand, no reward is greater than seeing the child that you love and who loves you go out into the world full of courage and compassion.
Michele Borba, in Building Moral Intelligence: The Seven Essential Virtues that Teach Kids to Do the Right Thing, says that "moral intelligence is learned and you can start building it when your children are toddlers." In her book she offers many practical ideas that parents can implement to help protect their children from the toxic forces in our culture. In addition, she helps parents realize the important role they play in shaping their children and developing their heart fiber.
The Power of Giving is available for purchase online from both Chapters and Amazon. Or at Banyan Books 1-800-663-8442.
All profits from the sale of the book go to charities.
It's also available as free download from here
Harvey McKinnon is a leading fundraising expert, author of the fundraising bestseller Hidden Gold, and documentary filmmaker. He founded and runs the Vancouver -based fundraising consultancy, Harvey McKinnon Associates.
Azim Jamal is a international inspirational speaker and author of several books including The Corporate Sufi and the best selling 7 Steps to Lasting Happiness. He was a senior partner in an accounting firm for 15 years before making the transition to "accounting for life."
Previously in this series:
True Leadership