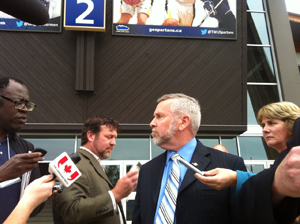 "It's been quite a day, I think it's been a good day for us," declares outgoing president Reed Elley at the podium as BC Conservative Party members rush to clean up from Saturday's annual general meeting at the Langley Events Centre.
Arena staff are busy preparing for a junior hockey game and the Tories are going overtime. They already cancelled afternoon seminars to focus on executive elections. Baptist preacher Elley, who was elected to Parliament as a Reformer in 1997 and 2000, made his sunny statement as only one reporter remained the room. To an observer, it was not really a good day for a party whose leader thinks it is a contender to form government next May. But it could have been worse.
Leader John Cummins got a less-than-impressive vote of confidence and the party's only member in the legislature, John van Dongen, subsequently quit. This, the day after failed Chilliwack Conservative candidate John Martin appeared at a press conference to join the BC Liberal Party. The same party Martin bashed last March for its "legacy of deceit, incompetence and financial mismanagement."
Now, the Conservatives, who were accused by the ruling Liberals of splitting the free enterprise coalition, were claiming unity but couldn't hide the fissure among their own ranks.
The fellowship of fisherman Cummins and farmer van Dongen was already fragile. But outside Gate 2 under early afternoon's cloudy skies, van Dongen confirmed it was a fabulous failure.
High-profile catch
Almost six months earlier, only six days into spring, Cummins paraded Liberal defector van Dongen before cameras at a March 26 Victoria news conference. The veteran ex-cabinet minister spectacularly quit the ruling party in Question Period that day over Premier Christy Clark's leadership, her unresolved ties to the BC Rail scandal and government decisions like the cancelled $40-million B.C. Place Stadium naming rights agreement with Telus.
"John van Dongen is a man of principle and integrity, and I am delighted that he has joined B.C.'s fastest growing party," said Cummins on March 26. "I am excited to work with John as we reach out to British Columbians and share our message of fiscal responsibility, ending the catch-and-release justice system, and reducing the influence of special interests in the political process. John's experience in the legislature will be invaluable in holding the government to account."
In the legislature, Abbotsford South's van Dongen was officially considered independent, but he had taken out a Conservative membership. Van Dongen was unhappy with the outcome of the BC Rail privatization trial and pledged to spend his own money on a lawyer to support Auditor General John Doyle's quest to see the $6-million deal that absolved guilty Liberal aides Dave Basi and Bob Virk from their legal bills.
With van Dongen, the Conservatives had instant credibility among growing opposition to the tired Liberal party. Cummins and company welcomed the prospect of having three members in the legislature within the next month. But Conservative candidates in the April 19, NDP-won Port Moody and Chilliwack byelections finished third. So began finger-pointing at Cummins and, eventually, a public airing of dirty laundry via oodles of leaked party emails from disgruntled members.
It was revealed that the 70 year-old, who is already enjoying a pension for his 17-and-a-half years as a Reform, Canadian Alliance and Conservative MP in Delta and Richmond, was taking a $4,000 a month paycheque from the BC Conservatives.
Promises of change
Now, on the day that summer turned to fall, and with major B.C. media outlets represented in Langley, the party was coming apart at the seams.
"I cannot carry on with a leader who probably really doesn't care if I stay or if I go," declared van Dongen.
The fissure in the party was evident the night before, at a meet-and-greet gathering attended by 150 in the same room. Van Dongen was seated among a cluster of four tables to the right of the podium; Cummins on the other side, among another four tables. A wide aisle separated the two sides of the room, as they listened to featured speaker Jordan Bateman of the Canadian Taxpayers' Federation.
They loudly applauded Bateman for criticizing the Clark Liberals, the $51-billion provincial debt and the Pacific Carbon Trust. "Corporate welfare in the guise of greenwashing," declared Bateman, formerly a Langley newspaper reporter, township councillor and president of the local BC Liberal riding association.
Bateman was briefly interrupted by a Conservative member who insisted on standing as O Canada was played outside the room, before the start of a Cops for Cancer fundraising hockey game between police and border guards.
Director John Crocock, leader of a faction seeking to force a leadership convention, distributed pamphlets around the room. In an awkward moment, he handed a Friends of the BC Conservative Party pamphlet to Cummins. Cummins kept his steely stare toward the stage, quickly folded the piece of glossy paper and shoved it in his pocket.
Cummins made a brief welcome speech between the night's entertainment, four members of the Langley Ukelele Ensemble and a women's barbershop quartet, Four Real. After Cummins left the stage, the BC Conservatives' sign fell askew. It took several minutes for a member to notice and affix it properly to the podium.
In the morning, Cummins got a new lease on leadership. Elley reads the results, when the doors were opened for media, shortly after noon: 316 voted yes for a leadership review, but 788 voted no. A cheer goes through the room. Most join a standing ovation. There are pockets of disappointment. Some stand, but don't clap.
Cummins reads a prepared speech, titled Change versus the Status Quo. He'll lead the Conservatives to victory and make change, to prevent the Liberals and NDP keeping the status quo. The Conservatives will spend smartly and bring higher-paying jobs without raising or cutting taxes, but the elusive formula is not revealed. Cummins will get the committee system working again and breathe new life into fall sittings of the legislature. He gets five standing ovations.
'It was all rhetoric'
"It was all rhetoric," charged Brad Boyes, a Fraser Valley lifetime membership holder who wanted a leadership review, but didn't get to vote for it because his ballot never arrived. Almost two-thirds of the 3,000 active party members didn't register votes for some reason. Boyes sat among reporters in Cummins' news conference and became the focus of a scrum afterward.
The highlight of the exercise was the fall from the wall of the BC Conservative banner behind Cummins, who was peppered with questions about his party finances. He claimed not to know how much the party had in the bank, despite the treasurer's report being tabled in the closed-door morning session (where members debated policies and voted to call aboriginals "aboriginals" instead of "Indians.")
A copy of the financial statements, posted on Twitter by meeting observer Bateman, showed the party received $199,879.46 in donations through Aug. 31, just below the entire 2011 figure of $210,397.35. It's running a $20,194.93 deficit and, the bad news is, the party needs a big push to meet its $413,000 budget goal by year-end. Elley claims it'll come from corporate donors. Last year the party reported a $111,071.41 surplus.
Neither Burnaby member Wayne Marklund* nor Darrel Stinson, an ex-Reform MP from Armstrong, wanted to talk party finances with a reporter as they stood outside the rink on a break. Stinson, from under the brim of his cowboy hat, took a drag from a cigarette when asked about van Dongen.
"He can go join the NDP," Stinson said. "There's a place for him there."
Back inside, Crocock, ex-vice-president Ben Besler and Milan Kljajic, all dressed in black, left the meeting room and weren't coming back. Besler lost his presidential bid and Crocock didn't get enough votes to stay on the ballot for vice-president. Kljajic was told he wasn't welcome anymore to run for the party against NDP leader Adrian Dix in Vancouver-Kingsway. Their Pitt Meadows ally, Robbie Armstrong, stuck around but lost his bid for a seat among the at-large directors.*
The "A-Team," a group of Cummins loyalists who copped the name of the 1980s action TV show, took control of the board. It wasn't clear if they swayed votes with their free roses given away at the door. There were still a few buckets remaining of wilted flowers with A-Team cards attached.
A perky optimism remained in the room. Newly elected secretary Linda Bellamy, decked out in a blue dress, proclaimed it is her "womandate" to see the party get more female candidates in preparation for winning a majority next May.
After Elley and new president Al Siebring vacated the head table and the clean-up intensified, the music in the room was turned loud. It was the Beatles' "Help," followed by "Get Back."
A party now not so self-assured. Will it just vanish in the haze? Or get back to where it once belonged?
*Spelling of name corrected Sept. 23 at 5:40 p.m.