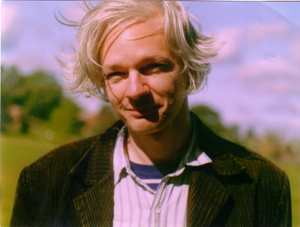 WikiLeaks founder and darling of the left Julian Assange has become a controversial figure in more than one way. The question of whether he will be extradited to the U.S. if he goes to Sweden to face questioning over sexual assault allegations is central to the question of how and if justice will be served.
As a result of the allegations, many feminists and many of Assange's supporters have been forced into opposing camps and we are left to wonder whether justice can be served both for Assange as well as for the women who've claimed they were raped.
In 2010, two women came forward with sexual assault allegations; one claiming that Assange tried to have sex with her while she was asleep, the other saying he penetrated her without a condom against her will. These allegations have been viewed by many on the left, including Assange himself, as being a red herring, while feminists see this framing as representative of something much bigger -- that is the way that we as a culture view rape.
The controversy was stoked further by Ecuador's statement that they would offer him political asylum. Some believe the simple solution would be for Assange to just go to Sweden to face questioning. Others are concerned that, once in Sweden, he will be extradited to the U.S. where he would face prosecution for releasing thousands of secret U.S. cables via his WikiLeaks whistleblowing site. Many, including an organization called Women Against Rape, don't believe it's worth the risk.
Extradition threat is real
Gary Botting, a Canadian lawyer and expert in extradition law, says, "If Assange were to be extradited to the United States he would be tried and would face, upon conviction, a sentence of about 30 years," adding that "he could never hope to get a fair trial in the United States."
"It would be argued by the United States that his activities led directly to hundreds if not thousands of American lives being put in jeopardy. Since trust in the United States was arguably undermined by the revelations, it could be argued that the Arab Spring was partially precipitated by the revelations," Botting told me.While some suggest Assange could simply be questioned in the Ecuadorian embassy, where he has been living for two months in order to avoid extradition, Botting points out that were Sweden to interview Assange about the allegations in the U.K., he has the right not to answer those questions. In order for Assange to face the charges he must go to Sweden, as pointed out by Owen Jones in The Independent: "[In Sweden] defendants are not charged until very late into proceedings, and just before prosecution. He cannot be charged until he is arrested, which can only take place in Sweden."
Another question is why the U.S. would wait until he arrived in Sweden to extradite him to the U.S. For example, legal expert David Allen Green wrote in the New Statesman that it was more likely that Assange would simply be extradited from the U.K. than from Sweden. Green is not alone in claiming that the U.S. "could have sought Assange's extradition from Britain rather than waiting for him to arrive in Sweden."
Botting believes "the concern that Sweden would extradite Assange to the U.S. were Assange to be extradited to Sweden to face sexual assault charges is a very real one." Botting explained to me that the U.S. has already prepared and effected by grand jury a sealed indictment against Assange that can be used by the U.S. at its convenience in order to initiate an extradition request with any country with which the U.S. has an extradition treaty -- this includes the U.K., Sweden and, in fact, Ecuador. 
Ecuador has requested assurances from Sweden that Assange won't be extradited to the U.S. but has been provided no such guarantee.
Women's allegations are serious
The reaction from the progressive left was almost universally gleeful at the suggestion that Assange could hide out and be protected in Ecuador. On Democracy Now Daniel Ellsberg, whose release of the Pentagon Papers made him one of America's most famous whistleblowers, congratulated Ecuador "for standing up to the British Empire here, for insisting that they are not a British colony, and acting as a sovereign state ought to act."
It is certainly reasonable to question the intentions of the U.S. under these circumstances; after all, Assange publicly humiliated the country by making public a number of misdeeds and criminal behaviour on the part of the U.S, including widespread torture and the deaths of thousands of civilians during the Iraq war. The trouble with the left's love affair with Assange is not that there is any question about whether freedom of speech should be protected and that powerful nations like the U.S. should be held to account, but rather that the whole ordeal has created a disturbing conversation around the sexual assault allegations, the credibility of the women who've made these claims, and more generally, the seriousness of rape.
Assange is accused of penetrating one woman while she slept and having held down another in order to penetrate her without a condom though she repeatedly tried to reach for one (which he also is said to have prevented by holding her arms). If we accept that non-consensual sex constitutes rape, it stands to reason that, if these allegations prove to be true, what happened to those two women constitutes rape.
Yet the women's allegations have been viewed by many as either inconsequential or as a "honey trap" -- a term that describes the use of women by intelligence agencies to lure in male targets.
Feminist author and activist Jaclyn Friedman finds the reaction from many progressives infuriating. "They are so eager [to support Assange] that they will throw aside women's rights to our bodily autonomy if it means defending someone who is supposed to be a lefty hero," she said.
Efforts to discredit women's stories
The significance of these allegations stems from a context wherein women who claim they have been raped have historically been blamed, disbelieved, or ignored. As a result, rape is one of the most underreported crimes.
There should be a line between assuming Assange's guilt and actively seeking to publicly discredit the women. It is irresponsible and dangerous to create a narrative that says that a rape isn't possible because a woman threw a party for, was "friendly with," or at one point admired her rapist.
So while Assange's supporters cheer at Ecuador's offer of asylum many are simultaneously looking for "holes" in the women's stories. They talk about justice as though it's a one-way street -- being sure to remind us over and over again that Assange has only been accused and that we therefore cannot assume his guilt. And this is true. No one but Assange and the women know, at this point, the truth. But must we work so hard to assume the worst of the women who've made the claims?
While it is men who are accused of sexual assault who should be put on trial given evidence, we often do the opposite, treating women as though they are the guilty parties. Feminist Noami Wolf debated Jaclyn Friedman about the allegations when they came out last year, commenting: "Ms. A kept Assange in her home for four days and then threw a party for him."
John Pilger wrote in the New Statesman: "Swedish case documents, including the text messages of the women involved, demonstrate to any fair-minded person the absurdity of the sex allegations."
'How we allow rape culture to flourish'
MP George Galloway said that even if the allegations against Assange are true they do not constitute rape, commenting, "Woman A met Julian Assange, invited him back to her flat, gave him dinner, went to bed with him, had consensual sex with him, claims that she woke up to him having sex with her again. This is something which can happen, you know. I mean, not everybody needs to be asked prior to each insertion."
Reminiscent of Whoopi Goldberg's response to allegations that Roman Polanski raped a 13-year-old-girl, saying, "It wasn't rape-rape," many others have said that what Assange is accused of is not really sexual assault. His only indiscretion, they say, lies in an "unused condom."
These comments create an understanding of rape that is extremely limited and is not representative of many women's experiences with nonconsensual sex. Consent is not permanent. Common reactions to date rape involve questions around whether or not the victim went home with, had a crush on, flirted with, or engaged in other sexual activities with her rapist. Yet none of these factors equal consent. Nor do they nullify a rape.
"This is a perfect example of how we allow rape culture to flourish," says Friedman. "This isn't just about the Assange case. When rape myths are perpetuated in the popular media it makes women less likely to report." So when we publicly accuse women of lying or when we question whether or not what happened was actually rape, we ensure that women who do experience sexual assault will continue to be fearful about coming forward.
While certainly the timing and circumstances of the allegations can be viewed as dubious, it isn't necessary to deem the descriptions of the alleged assaults to be absurd, insignificant, or not "real rape."
"Minimizing violence against women is part of rape culture," says Friedman. "When it gets repeated in the media and by officials, everyone is taught to take it less seriously and victims are left with no justice."
Make it safe to find the truth
Rapes and assaults happen in myriad of ways. Women may have a consensual encounter with a man one day only to have a nonconsensual one the following evening. Women very often still "love" their abusers despite their abhorrent treatment. The majority of sexual assaults are perpetrated by someone the victim already knows, meaning that the perpetrators are very often invited into the homes of the women they rape.
On the British news show Four Corners, Per E. Samuelson, a Swedish defense lawyer for Assange referenced one of the women's tweets: "Sitting outdoors at 02:00 and hardly freezing with the world's coolest, smartest people! It's amazing!"
Samuelson commented: "Well, if you send text messages like that, [saying] 'I've just spent some time with the coolest people in the world,' the night after you then say you were raped -- I mean you shouldn't write such text messages if you had been raped by that person the night before."
This particular statement shines a light some of the strategies often used to discredit women in court. It also shows how little understanding many people have around the dynamics of abuse and sexual assault. Rape is not as simple as many would like it to be. The images we see in movies, wherein a stranger breaks into a woman's apartment and she is left battered, in tears, traumatized and "ruined for life" are not representative of many women's experiences (though this is the experience of some women). Whether or not a woman displays appropriate "traumatized" behaviour is irrelevant. It is up to no one to decide how a woman should respond to assault.
We don't yet know whether or not Assange is guilty, but we certainly should find out. At the same time, we mustn't underestimate the intention and power of the U.S. under these circumstances. There must be a way for justice to be served by protecting Assange from extradition to the U.S. without perpetuating myths about rape. Assange doesn't need to be turned into some kind of infallible god in order for us to appreciate the brave work he did with Wikileaks.