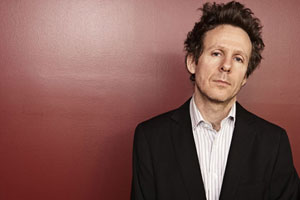 As a young fellow in the early to mid 1970s, I used to play road hockey on the back streets of Scarborough with my friend Marty Cash, who would sometimes bring along his little brother Andrew. As I recall, Andrew was a small but passionate player who was quick to set up his teammates rather than try to score himself.
Visiting Toronto many years later in the summer of 1981, Marty suggested that we go see Andrew's punk band, L'Etranger, play the Cabana Room. I hadn't seen Andrew since those road hockey games. Entering the Cabana with the band already in full force, I was immediately struck by the raw energy and passion of the three young musicians: Andrew on vocals and guitar, Charlie Angus on bass, and drummer Pete Duffin. Their lyrics had a radical political consciousness to them. I was very impressed. Here is a little taste of their act from that period.
As the 1980s moved along, I followed Andrew's music career as it evolved from punk rocker to distorted heavy rock guitarist to alt-country troubador. Charlie Angus, meanwhile, left L'Etranger to move to his roots in northern Ontario. He became a political activist and a founding member of the band Grievous Angels. I then heard that, in 2004, Charlie Angus became the Member of Parliament for Timmins-James Bay. He is currently one of 37 MPs in the federal NDP caucus and has staked out his party's position on, among other issues, copyright reform. When this politician says he feels the pain of independent musicians, he's got cred.
And now Andrew Cash is running as the NDP candidate in the Toronto-Davenport riding for the next federal election. In fact, he's in Vancouver this Sunday, Dec. 13, playing with others at the Railway Club from 4 until 7:00 to raise funds for his campaign.
Two members of one of Toronto's seminal punk bands from the 1980s now are willing to spend their days putting up with all the droning and terrible style sense endemic to the House of Commons. "What gives?" I wondered. So I phoned Andrew and Charlie to ask. I found both of them to be as passionate about promoting social democracy as they once were playing punk tunes a quarter century ago, and learned that their Catholic roots had a role, as well, in pointing them toward the NDP. In our conversations, here is what Andrew and Charlie had to say...
On why punk doesn't always equal anarchist:
Andrew Cash (AC): "Well, punk rock has often been associated with anarchism, but it was really only partially about that. For us, the spirit of punk rock inspired us to become engaged in the community, to get involved in important issues, things that were important to us and the people who lived around us. We saw punk music as a voice for social justice, kind of like The Clash and so many other bands from that era."
Charlie Angus (CA): "In those times, we were suspicious of political labels. All we knew was that it was important to have our voice heard. Punk rock was an obvious vehicle for that. Politics should be authentic! It should speak directly to the people. Back then, I noticed people like [federal NDP leader] Ed Broadbent and Jack Layton, who was a Toronto city councilor at the time, fighting for social justice on many, many issues. It did not take very long before I self-identified as a social democrat."
On becoming politically conscious citizens:
AC: "It was actually my involvement with the Catholic Church that politicized me. This may surprise some people, but back then Charlie and I and Jason Collett, too, all belonged to a Catholic Youth group. And we were all excited about what was going on in Latin America and the Liberation Theology movement in those countries. I think growing up in Toronto at the time that we did, we got lucky because Vatican II really reformed the Church. It made it easier to be politically progressive while still being a Catholic. It is not so easy today to reconcile these things."
CA: "I first became politicized and an advocate for social justice when I learned about Cesar Chavez and the campaign to boycott California grapes back in the 1970s. And it was the Catholic Church that first brought this to my attention. Liberation theology made us aware of what was going on the Third World, especially in Latin America. I was impressed that the Catholic workers there were so connected to their communities. This connection made sense to me because politics should be based in the community. Faith and social justice are not mutually exclusive at all.
"In Canada, we have Tommy Douglas, a Baptist minister who led the fight for universal public healthcare and pension plans. So for me, it is not a very big leap at all to move from a liberation-based Catholicism to political activism."
AC: "It is not true that people of the various mainstream religions are all right wingers, despite what Fox News would like everybody to believe."
CA: "Evangelical Christians, for example, are de facto right wingers. But if you look at Ontario, 27 per cent of them vote for the NDP."
On 'a social democratic vision for Canada':
AC: "The NDP, and social democrats in general, want a civil society. Canada, as well as many other western nations, went quite far toward developing a civil society after the Second World War right up until the 1980s, when Reagan, Mulroney and Thatcher and their backers decided it had gone far enough. Social democrats seem to be the only ones fighting to conserve what remains of this civil society."
CA: "Many people today are feeling alienated from politics and the political system. They get upset that so many decisions are made behind closed doors. Under the neoliberal economic agenda, the rich get richer and everyone else gets screwed. So it is no wonder that so many people feel alienated from politics.
"In a social democratic vision, major corporations would feel a responsibility to improve the lives of the people in the surrounding communities. For example, as a member of parliament for a northern riding, I have to meet with large mining companies. We talk about a community plan, an environmental plan, those kinds of things. I believe that a healthy community arises from development, not from welfare. I am often impressed that the mining company representatives say, 'Hey, make the laws and we will comply.' So maybe it is possible to create a system where the large corporations feel an obligation to support the social good. This fits in with a social democratic vision."
AC: "A social democratic vision for Canada has space for everyone to be heard, all communities have a vehicle to voice their concerns. The government has a role to pass laws to help those groups who are getting crushed under capitalism and the power of the corporations, single parents, striking workers, First Nations, and others. In fact, Quebec has actually put into practice many aspects of a social democratic vision. They have had to fight for it, and they will have to fight to keep it, but it seems to be mostly still there."
On why non-unionized young people might want to vote NDP:
AC: "Many people today, no matter how old they are, do not see union victories as victories for everybody. This is the case even though people not in unions may see their own wages rise. And I am always amazed that so many Canadians do not know that it was the trade union movement that led to the eight-hour day and the 40-hour week, paid vacations, all those things. But part of the problem lies with the unions. They often only look inward and do not reach out very much anymore. For example, this past summer Toronto experienced a public sector strike. And most members of the public simply could not relate to what the union was trying to protect for its members like sick days and whatever."
AC: "The federal NDP, as I see it, wants to get the part-time workers, the contract workers, and the self-employed to receive some benefits, too. Most people do not work at one job for their entire life anymore. But some of the policies in our society seem to be based on this archaic idea. It is not so much a choice between the left and the right, although it clearly is to some degree, but it is also about assessing the past and what should be kept in the present. So today's NDP is about including all of these other people, who are not union members, as recipients of these very progressive ideas like pension plans, strong and well-funded public healthcare and public education systems. In fact, it is these issues, especially in an era of precarious employment for so many, that became a major impetus for me to run for the NDP in the next election. These are also some of the reasons why people should consider supporting the NDP."
CA: "I have never been a member of a union. In fact, most of my paid work has been on a contract basis. But the NDP is not just the party of union members. It is also the party of small business, of the common people and their concerns. The NDP calls for the economy to belong to the people."
On cuts to funding of the arts:
CA: "I am the NDP's Heritage and Culture critic. It has been clear to me since Harper's party first formed government in 2006 that they do not understand the arts community at all. This really came to light during the last federal election when they announced funding cuts to the arts just before the election. Major resistance to these cuts came out of Quebec. In that province, the people understand that the arts are extremely important for their cultural identity. They are used to the idea of the 'artist as political activist' in Quebec. It is not the same in English-speaking Canada, but the public should understand that artists have an important role to play in any society. Funding the arts is not to be seen as a hand-out, as it was recently seen with bailing out the auto industry. These are two very different situations."
AC: "Both the Harper Conservatives and B.C.'s Liberal government have been indicating that there will be more funding cuts to arts and culture. When cuts need to be made, both Conservatives and Liberals are quick to consider cuts to the arts. Artists need to claim their space in the debate. They are an economic backbone of urban communities. There are economic benefits in supporting the arts. I think that artists in English-speaking Canada have much to learn from the artists in Quebec. As well, the general public should see how the Quebec public supports its artists."
On whether there should be free votes in the House of Commons:
CA: "Every MP has to walk some sort of balance between representing their constituents and representing their party. Each free vote brings this duality to the surface. I was not very happy with how the Conservatives recently used the gun registry issue to drive a deeper wedge into the urban/rural divide. People in the larger cities want the gun registry in order to feel safe on their streets. There is still an increase in gun violence in Canadian cities. So what does Harper do? He plays the rural/urban divide to solidify some support for his party. And Canadians do not have the opportunity to discuss this very important issue! This free vote needed to have a much larger discussion before we had to vote on it."
AC: "I would actually like to see more free votes in the House than we presently have. Why? Because I see free votes as a communication line between Ottawa and the local ridings, and the local ridings back to Ottawa. I have no problem with free votes because MPs would have an opportunity to vote with their conscience. That said, I'll wager that my conscience and the NDP's position on most issues will be identical or pretty close to it."
On how life will change for Charlie Angus if Andrew Cash wins:
CA: "Hey, if Andrew wins his riding then I will no longer be able to claim that I am the only member of parliament to ever open for The Dead Kennedys."
Andrew Cash is playing a campaign fundraiser at The Railway Club this Sunday, Dec. 13th from 4 until 7:00 He will be joined by his friends Jason Collett, Wyckham Porteous, and Pony. Tickets can be obtained through ac@andrewcash.net. There may be some tickets at the door.