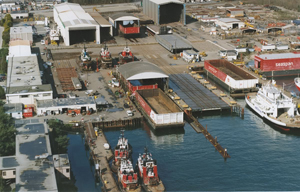 The man RCMP accuse of trying to leak secrets about Canada's $36.6-billion federal shipbuilding program to China had no official access to information about the project, the president of Lloyd's Register Canada told The Tyee.
The RCMP-led Integrated National Security Enforcement Team announced Security of Information Act charges Dec. 1 against 53-year-old Quentin Qing Huang, a Chinese-educated surveyor with Lloyd's Register's Toronto Technical Support Office. Huang was arrested and placed in custody a day earlier.
An RCMP news release said it was informed Nov. 28 that Huang "was taking steps to pass sensitive information to authorities from the People's Republic of China" about "certain elements" of the National Shipbuilding Procurement Strategy. The so-called Project Seascape involved RCMP, Canadian Security Intelligence Service, Canada Border Services Agency, Toronto Police and Ontario Provincial Police.
Lloyd's Register, a global maritime certification and quality assurance company, is a subcontractor for Vancouver Shipyards and Halifax's Irving Shipyard. Lloyd's Register vice-president and marine manager Bud Streeter said in an interview that his company is working with the Seaspan-owned North Vancouver company to review the design of the planned offshore fisheries science vessel, but he said Huang is not involved with the NSPS.
"Mr. Huang did not have any security clearance and therefore he did not have any duties under the NSPS, he was not assigned to any cases, so he had no authorized access to that type of information," Halifax-based Streeter said. "I cannot speculate on what information the RCMP have, what evidence they have. First I don't know, second I don't want to speculate."
Seaspan project topped $7 billion
Seaspan was hired to build non-combat vessels worth $7.5 billion. A representative of Seaspan said the company could not comment until it knows more. Seaspan is, coincidentally, part of Premier Christy Clark's 120-company, Nov. 21-Dec. 3 trade mission to China, South Korea and Japan.
Streeter said Huang is suspended without pay.
"Any time that we feel we have inadvertently or advertently disappointed our clients, we're very concerned," Streeter said. "Obviously we're a very well established and old company, we've been in business over 250 years globally and we pride ourselves on the confidentiality of the information that our clients provide us. Yes, this is traumatic for us and we certainly will be fully investigating and learning any lesson we can."
The Professional Engineers of Ontario database shows Huang has a Bachelor of Engineering degree from Huazhong (Central China) University of Science and Technology in Wuhan from 1982. Three years later, he received a Masters of Engineering in Marine Hydrodynamics from the same institution. He is a specialist in naval architectural engineering and mechanical engineering.
Founded in 1760, Lloyd's Register is owned by a United Kingdom-based charitable foundation. The company expanded to Canada in 1852. Its Western Canadian operations are based near Lonsdale Quay in North Vancouver and its clients include BC Ferries.
The RCMP news conference in Toronto came, coincidentally, four days after CBC reported on Edward Snowden-leaked documents that showed the U.S. National Security Establishment spied in Canada during the June 2010 G20 summit in Toronto, with the blessing of Canada's government.