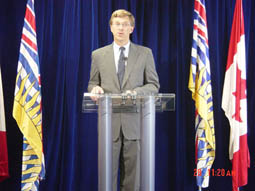 Legal aid in British Columbia has suffered severe cuts under the stewardship of Geoff Plant, Attorney General and Minister Responsible for Treaty Negotiations. Tyee writer Chris Tenove spoke with Mr. Plant on February 9, 2004, and asked about the reasoning behind the cuts and their impact on access to justice in B.C.
Was there any reason to cut legal aid aside from budgetary restrictions? Had it exceeded its mandate, or was it considered inefficient?
I had concerns with the way in which the Legal Services Society was creating priorities and continuing a service delivery model that I thought was a bit outdated. There would have been some reform in any event. But the budget reduction was part of the overall government commitment to eliminating the deficit and balancing the budget.
Were there any particular parts of service delivery you wanted to change?
Yes, one particular area of service delivery that I had become concerned with in my five years as justice critic was the traditional family law tariff. It essentially paid lawyers to fight with other lawyers rather than to find solutions for their clients. And the parties to a family law matter almost always have to find a way to get along with each other after they've resolved the dispute. That necessitates a different approach than you need in other types of litigation, although increasingly those approaches that work for family law are being used in other kinds of cases, such as using mediation and things like that.
What about the area of poverty law, which has been cut out of the LSS budget. Was there any issue with that aside from budgetary restrictions?
When looking at the prospect that we were going to have to reduce the budget of the Legal Services Society, we had to come up with some priorities. There is an established constitutional right to legal aid in criminal cases, where there is the risk of the loss of liberty. There is perhaps a less strong argument around representation for children in need of protection cases. By the time we had dealt with funding for criminal law, for child apprehension, for family disputes with an issue of domestic violence, we really had almost no money left over. So that became a reason why there was implemented in pretty short order a virtually complete elimination of the traditional family law tariff and most poverty law.
Has there been any research by your office or someone else on how the cuts are playing out?
We haven't sponsored any research by the ministry, and I don't know if LSS has.
[Note: The Legal Services Society has done research on several of their pilot projects, including the provision of family court duty counsel, but it has not assessed the overall impact of the legal aid cuts, particularly with respect to people left without representation.]
Is there any chance we're going to see an increase in legal aid funding in the next budget?
It's unlikely. As to what will be happening in the next two or three years, I'm not optimistic there will be any additional revenue for legal aid. It's a big challenge to find additional revenue for things at a time when the economy is still not producing revenues that I might like it to produce.
We do want to try to encourage the federal government to return to the funding of 15 years ago when they were at 50 per cent to criminal and young-offender legal aid. That contribution has now been eroded down to about 20 per cent, so I think there's also a role here for the federal government to step up to the plate. I'm not optimistic there will be changes in the near future on that either.
Do the cuts play out harder in small towns where there are issues of court closures and closed legal aid offices?
There is almost no issue of court closure in any small town in British Columbia, because almost all small towns that had significant court presence now have circuit courts. We put circuit courts back in 15 towns where we closed full-time court services, and the impact of that helped maintain physical access to justice. In fact, across the province, time to trial in the Provincial Court of BC has been slightly reduced over the year of implementation of court closures, which is pretty good evidence of a significant overcapacity in the system.
I do think that in smaller communities, the community legal aid office was not just a law office but a point of entry into a larger array of social services, and a closure of those offices has probably had an impact on the ability of residents in those communities to find out how welfare works or how to make applications for different programs. Offices that do this work are not just doing legal aid, it's bigger than legal aid, so I'm not sure the public was well-served, in terms of how dollars were spent.
A second impact is that there are some folks out there, particularly in smaller communities, often disadvantaged people, for whom offering a 1-800 number or internet site is not a useful tool, because they don't have the literacy and skills to navigate those types of portals. I know LSS is trying to monitor that. I'm certainly open to creative ideas for how to make dollars work as effectively as possible.
What is your overall impression of the state of legal aid in BC these days?
I've always acknowledged that there would be an impact from these reductions, and I know anecdotally that there has been some impact. But I also would say that the change in the budget helped spark an opportunity to help reinvent the Legal Services Society.
I think we have made some progress in helping people rethink the idea of legal aid, to move beyond traditional representation in court, to include offering information and advice, toward helping them solve their own problems. I think we have more work to do to continue that rethinking. That's a reform project that embraces the whole legal system, not just that part which serves the needs of low-income litigants. I think there will always be concerns about the adequacy of legal aid funding from the lawyers whose livelihoods depend on it.
What I know of legal aid in Canada is that there are arguments that could be made about how to improve it in every province, and in every province more money would be helpful. But more money without continued reform is not the answer.
But I know we have more work to do to ensure that people who don't have the means to hire lawyers have access to the services and information and sometimes representation to make sure they get access to justice.
Is there a sense that legal aid is a bottomless pit?
Yes. For as long as we've had the common-law legal system, the cost of retaining a lawyer has always been a barrier to a nirvana of perfect access to justice. Also, when you're paying for your own lawyer, you tend to be more careful over how the money is spent. So if you have a system where someone pays for your lawyer, there is less incentive to maintain discipline on how money is spent.
These are parts of the traditional characteristics of our legal system. Legal aid programs have always had to set thresholds of eligibility, and there's always been something arbitrary about that number. People just above that threshold often have a hugely difficult time paying for lawyers at their usual hourly rates. So you have a permanent question for people concerned with access to justice. My view is that the resolution of that problem, to solve that access gap, is not by pouring money into the system to raise eligibility levels. It's by reinventing and rethinking what access to justice means, so that you can solve peoples' legal problems by some means other than a full-scale court hearing. That's my philosophy.
You can also cut legal aid so far that it costs more than you're saving.
That is true. You will hear anecdotal evidence that suggests there are more underrepresented litigants than there were. I accept that's probably true, but I think it's not just a problem with declining budgets for legal aid, but also a problem of the fact that lawyers have become extraordinarily expensive service providers. Lots of people who would never have met legal aid thresholds under any scheme of eligibility can't afford lawyers.
Some people feel there is a general Liberal government attitude of less concern for people with lower incomes. Two lawyers in Prince Rupert described a remark you made in [MLA] Bill Belsey's office in early 2002. They said that, for people who show up at family court, you remarked that "we should start by hitting everyone over the head with a two by four." Does that sound accurate, and is there a context for that remark?
I don't care whether they're rich or poor. That was an argument about the traditional approach to family law litigation. I was making - in a pretty facetious way - a comment that expresses my concern that too often family law cases become divisive, arenas of conflict, rather than responsible exercises in solving the problem of how to construct new responsibilities after a marriage or relationship has broken down. It had nothing to do with whether someone was poor or rich.
I have from time to time used colourful language to describe my view of the traditional legal system. I have said, for example, that even if I did get $10 or $20 million more for the legal aid budget, I'm not sure I would restore the traditional family law tariff, not because of the economic status of people who use it, but about its tendency towards conflict.