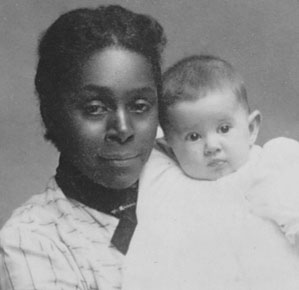 The Atlin Pioneer Cemetery lies not far out of town on the Surprise Lake Road. Not long ago, my wife and I stopped there and walked among the gravestones and markers. One of them, a 1970s replacement for a long-vanished marker, was for "John Ellwood Simons, African, February 8, 1914 age 51 yrs; froze to death."
The manner of his death was not unusual. Others in the graveyard had drowned, or been found dead on a trail, or accidentally shot (one gunshot victim had been mistaken for a bear). Northern B.C. and the Yukon, a century ago, were hard places to live and easy places to die.
In researching my book on the black pioneers of British Columbia, I had never heard of Simons. I still haven't been able to learn anything about his origins or his experience in the Atlin gold-rush era. I can only speculate that he was one of a number of black Americans and Canadians who moved north in search of gold in the early 1900s.
But at the MacBride Museum in Whitehorse a few days later, I came face to face with another black pioneer: Lucille Hunter, photographed in her blind old age before she died in 1973. Making her acquaintance led me into a remarkable community that set down roots far north of the 60th parallel.
A Yukon matriarch
Lucille Hunter had been the matriarch of that community. In 1897 she and her husband Charles had traveled from Michigan to the west coast and then taken the Stikine Trail to the Klondike -- considered one of the hardest routes. She was heavily pregnant. According to the 1901 census, she would have been 23, though other sources say she was just 19.
The Hunters stopped at Teslin Lake to deliver her baby daughter, whom they named Teslin. According to Yukon historian Les McLaughlin, who knew her in her old age, the local Natives had never seen a black person before: "Not quite sure what to call the Hunters, they simply described them as 'just another kind of white person.'"
The Hunters moved on by dog team to Dawson City, arriving in February 1898. They staked three claims at Bonanza Creek and went to work. Lucille helped Charles dig for gold while also caring for Teslin. In 1901, according to the Yukon archives, they were among 99 blacks living in Yukon, among almost 30,000 whites.
A few years later, McLaughlin says, the family moved to Mayo and staked some silver claims. For years, Lucille would walk between Bonanza Creek, outside Dawson, to Mayo -- about 220 kilometers each way -- to work her claims.
Evidently the Hunters did well enough to stay in the Yukon, but their daughter Teslin, after marrying a man named Jorgensen and having a baby son, died. Then Charles died in 1939, age 70. Lucille, now 65, had to care for herself.
She and her grandson Buster continued as miners until 1942, when US construction battalions (largely composed of black enlisted men) began to build the Alaska Highway. Lucille and Buster moved to Whitehorse. According to her obituary, she started a laundry business in a tent, with Buster making deliveries around town. At some point Buster Jorgensen married and moved to the Queen Charlotte Islands. Lucille remained in Whitehorse, living on her own despite her failing eyesight.
McLaughlin recalls going past her tiny house, where the old blind lady listened constantly to her radio. The house burned down one night, but she survived and moved into a basement suite. There she remained until she broke her hip a few years later. After that she lived in hospital until her death in 1973. Her obituary said she was 94, but if her age in the 1901 census is correct, she was probably 99.
Snake Hips Lulu
No doubt Lucille and Charles had known most of the other blacks in the gold rush era, miners like John Woolfork (who filed several gold claims between 1897 and 1907) and others who worked as labourers, waiters, and cooks. One of the most famous Dawson City blacks was Dora Bennett, better known as Snake Hips Lulu, a dance-hall girl, recorded in the 1901 census as a single woman of 28. (She was gone by the 1911 census.)
The Hunters surely knew the Agees, a family from Ontario. Alonzo Agee and his sons Roy and Harry arrived via the Chilkoot Pass on October 9, 1899, and were duly checked through by the Royal Northwest Mounted Police.
Alonzo worked for a time as a deckhand on the steamers going up and down the Yukon River. Then he settled down in Dawson City as a barber, and the rest of the family, including his wife Martha, sons Sam and Harry, and daughter Helen arrived soon after.
Dawson City's hockey star
Harry and Roy worked as barbers with their father, but in 1901 Roy, the oldest son, died of peritonitis. The family carried on. Sam gained fame as a member of Dawson City's 1910 championship hockey team.
What became of the family is unclear. The 1911 Canada Census shows Mattie Agee and a 15-year-old Alonzo (Junior?) living in Dawson City, but none of the others. B.C. vital statistics record the marriage of Helen Agee, 30 (then a resident of Colorado), with Walter Broyls, 32, in Vancouver on May 17, 1920. Broyls too was a barber.
The Yukon Archives offer tantalizing photographic glimpses of a few other blacks: one was a waiter at a July 4 banquet hosted by the U.S. consul, and others worked as cooks for mining operations.
A photograph survives of Lillian Mabel Taylor, who lived in the Yukon from 1902 to 1913. We are told she worked as a cook and laundress, but also owned mining claims. An attractive woman with a Mona Lisa smile, she is holding a white infant. Thanks to census data, we know that she was born in 1889 in Comber, Ontario, returned to Ontario, married twice, and died in Chatham in 1947.
According to an article by Katharine Sandiford in Up Here magazine, published in January 2009, blacks have been in the Yukon since 1848, when Perro Lenoire worked for the Hudson's Bay Company as a hunter and labourer. Sandiford learned a great deal about the black pioneers, the Alaska Highway builders, and those who still live in the Yukon.
She also learned that today's blacks are searching for their history. The Yukon Archives' "Hidden History" website, sketchy as it is, tells them something. But much remains to be learned by patient, systematic exploration of the countless documents of gold-rush Canada.
The experience of the Yukon's black pioneers might be dismissed as a mere curiosity -- the lives of a small fraction of a small population. Only 99 blacks lived in the Yukon in 1901. The 2006 census recorded 125.
But their presence in any numbers at all should challenge our sense of our own history, not to mention our stereotypical views of blacks and other minorities.
The black pioneers, living in a hostile culture, were ready to take a chance on a hostile environment. Sometimes, as with the Hunters, the gamble paid off. Others, like John Ellwood Simons in Atlin, paid with their lives. Win or lose, without drawing attention to themselves, they helped to make modern Canada. And they still have much to teach us about this country.