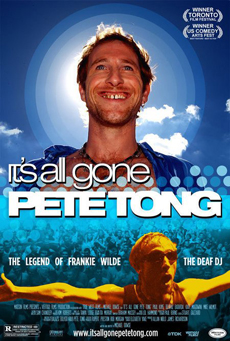 Yes, it's true, Canadian films don't entirely suck, or as director Michael Dowse might say "turn up the good, turn down the suck." And he does, cranking the non-suck knob to eleven, and then breaking it off with his new film, It's All Gone Pete Tong.
When Frankie Wilde, the hero of Pete Tong mistakes the word "husband'" for the much lesser known term "ass band," you know things are not going well. Wilde is a superstar DJ who makes his living spinning disks on the party isle of Ibiza -- an island of lost boys and girls that would make Pinocchio's nose problems a lot worse.
Wilde has his own nasal issues, the most pressing being his need to hoover up vast quantities of cocaine, shoveled up by his own personal coke badger. This is exactly as it sounds: a great big hairy beast, who is alternately ferocious and loving, and far worse than just a regular monkey.
High pitched ending
The first part of the film is told in flashback, like demented version of Orson Welles' Citizen Cocaine. Our first glimpse of Frankie comes at the raging height of his powers, when he's the master of the dance music at Bacchanalia, he is lowered by cable into a heaving sea of bodies, wearing a crown of thorns and what appears to be a large diaper.
Equal parts Christ figure and holy fool, Frankie stumbles drunk and stoned through life, puking, pissing, and fucking up in every way humanly possible. The edict that the road of excess leads to the palace of wisdom occasionally works, if it doesn't kill you first - and it comes very close for our friend Mr. Wilde and his skanky wife.
Unbeknownst to Frankie, the good times are coming to an end. DJ'ing comes with its own set of on-the-job hazards and Frankie's eardrums are literally crumbling from the assault. The first indication that something is not right inside his head is a high pitched ringing sound that pops up one day while he's watching a soccer match on the telly. He moves his eyebrows around, trying to dislodge it, but it won't be dismissed.
'Sleek beast'
Before long, he is trying to fake his way through his former life, but for a DJ who can't hear, life is complicated even without the coke badger breathing down his neck. While trying to produce a record for two Austrian head bangers -- played by Fubar's Paul Spence and David Lawrence -- a freak accident renders Frankie stone cold deaf. And then there are no more jams, def or otherwise.
If this is only Dowse's second feature, hallelujah! We have a mighty talent arising in the East. Although the film has some commonalities with Dowse's previous burnt offering, Fubar, not the least of which is Dowse's own family doctor Dr. Lim, playing himself once again, and the presence of Terry and Deaner in Austrian form. Fubar (fucked up beyond all recognition) takes a similar tact of telling a story about two Canadian deadheads in "documentary" form.
But Pete Tong is a quantum leap forward in terms of sophistication and narrative. Whereas Fubar wandered aimlessly about in mangy homegrown fashion, this film is a sleek beast that gets where it is going without wasting any time.
Lyrical profanity
Even when handling relatively sensitive material, such as Frankie's handicap, the film never loses its touch. The scenes where Frankie learns how to make music once more are simply stunning, and it's interesting to see how Dowse visually represents the loss of sound. From extreme close-ups of lips and teeth making words, to the picture on the front of a pamphlet about lip reading that prompts Frankie to say, "They look like a couple of cunts."
Ultimately, this is a tale of redemption, albeit a rather profane version. Even when he is, coming slowly and uncertainly back to from the darkest depths of druggy hell, Frankie never quite loses his way with the seamier side of the English language. The casual profanity has an ease and flow, so that after a while you lose track of the f-bombs and c-spray that pepper the plot.
It's all part of the mix, along with the film's supporting players, like Frankie's sleazy, sweaty manager (played by comic Mike Wilmot) -- who is willing to exploit anyone as long as there's money to be made -- and genuine DJs, including the real Pete Tong and Fatboy Slim, who comment on Frankie's fate with varying degrees of compassion and glee. The film is full of little throwaway bits of silliness that yield some of the funniest dialogue, much of improvised.
Outcast savant
Although the story is a simple one, it's to the credit of the director that it moves easily along, carried by British actor Paul Kaye's performance as Frankie. The camera often focuses tightly on Frankie's blue eyes, wide with terror, lust, or joy. He registers everything clearly on his face that only a mother could love, with teeth that recall the very worst that English dentistry has to offer.
Kaye was infamous for getting the British press corps banned from various film junkets in his Dennis the Pennis persona: for asking Steve Martin why he wasn't funny anymore, and Robert De Niro how he liked working in comedy (while the actor was promoting Kenneth Branagh's Frankenstein ) -- which actually seem like pretty good questions to me.
Kaye makes Frankie both despicable and likable -- often from one moment to the next. He is never more than entirely real, which makes it almost too easy to believe that he is. That is the game that mockumentaries play, is this true or not?
Mockumentary truth
Dowse has been encouraged in press interviews to pretend that Frankie Kaye is an actual person, in the same way that people want to believe that Ricky, Julian, and Bubbles are exactly who they pretend to be, not simply actors getting a paycheck. The same blurring between real and unreal also worked to effect in Fubar, where some of the participants in the film didn't seem to realize that what they were participating in wasn't entirely genuine: hence the caveat at the beginning of the movie. Pete Tong is also supposedly based on a true story, but true can mean different things to different people.
Fubar garnered the attention of two British producers, who approached Dowse with the idea for Pete Tong. Off they all went to Ibiza to research DJ culture and write the screenplay, and where, thanks to a little too much local color of palest ecstasy blue, the film almost ended up being a nonstarter.
There is a natural fit between British taking the piss and Canadian mock rock. If there is one film genre that Canada has conquered it is the mockumentary: The Newsroom, The Trailer Park Boys, Fubar, and now It's All Gone Pete Tong. Donald Brittain may have been one of the first Canadian filmmakers to mix doc and mock and end up with something entirely new. There is a line between fiction and non that we walk with assurance, and the characters that come out of this mixture of fake and real, seem almost too genuine.
We don't suck
Dowse has said that mockumentaries work because they're cheap and easier to make than dramas. It may also have something from the traditions established by the National Film Board and CBC. Subverting the language and conventions of documentaries comes easily to a generation of filmmakers that grew up suckling the teats of the Mother Corps. It also suits a particular Canadian inclination towards slyness and snark in equal combinations.
Ever since I saw the film, I've been wondering why I liked it so much. In addition to some extremely fine performances, fine writing and a gorgeous soundtrack, I think it's because it simply doesn't feel like a Canadian film. It is profoundly self-assured and unafraid, which is the one thing that has been oftentimes lacking in Canadian cinema: a degree of confidence that allows the audience to simply relax and have fun. Echoes of bio pic, Cassavetes-like improvisation and other influences are pulled in, and like a good DJ, Dowse makes something new and exciting from the combination of different elements.
Hooray for bitter, sarcastic, yet oddly uplifting, Canadian movies! We don't suck!
Dorothy Woodend reviews films for The Tyee on Fridays.