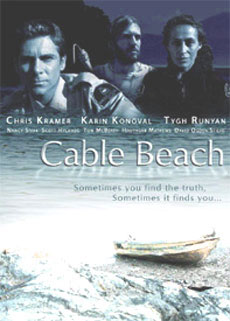 Last week my first feature film, Cable Beach, premiered at Victoria's Capitol 6 Theatre. Monday magazine was brutal: "While we're all for supporting local film production, this Beachcombers 2005 wanna-be is a snoozer."
My heart soared. How come? If I tell you, it might end my film career. But I love to bite off the hand that feeds me. So here goes.
Five years ago, I left Tofino and moved down to Victoria to follow my dream: making movies so brilliant that the earth would shine like the sun. I got a couple of art grants and made three short films, and in the process learned what makes a good screenplay — it has to be as simple and evocative as haiku.
Speaking of haiku — one winter night I rented Kurosawa's masterpiece, Rashomon, a Japanese murder mystery told from four points of view. The witnesses all lie out of self-interest, so it's impossible to tell what really happened. Halfway through, it hit me like a nun: I could set a similar tale on the beach near Tofino. Only five actors, all natural lighting, set design by God.
I told my friend Peter Campbell, who had helped me make my short films. He loved it. CHUM Television had just launched its New VI station in Victoria and announced its "WANNA MAKE A MOVIE" competition — all you had to do was send in an idea and they would spend a million bucks making it into a movie. Peter and I figured we were a shoe-in.
Plot twist #1: CHUM chose my script but passed on Peter, because he was too experienced. They wanted to foster new talent, like myself and newbie producer Nora Arjas.
Cappuccinos and coconut milk
Nora and I met with the suits in CHUM's boardroom, along with story editor Bill Thumm, who produced Tail Lights Fade, starring Bond girl Denise Richards. Tail Lights tanked and took Bill down with it. That's the film world. One day you're downing frappuccinos with Denise, the next you're story editing for CHUM.
I listened to the comments flitting around that boardroom and thought, "What a bunch of lightweights," meanwhile nodding and smiling and saying things like, "Hmm. Interesting..." So I guess the lies began with me.
Nora phoned in October to say CHUM wanted to "move ahead" before Christmas. Then silence, until January. I had turned down other work, and I got so broke that one morning I tried putting tinned coconut milk in my tea (it doesn't work, it just turns into grease). Later that same day Nora tracked me down in Chinatown and gave me a cheque for seven grand, and we hugged.
Nora was unstoppable. She gave me all the money she got from CHUM so I could write undisturbed, and cut hedges to pay her rent. The first draft took months. When I finally e-mailed her my masterpiece she fired back two words: FU#*KING BRILLIANT.
CHUM said they loved it too, but they had a problem. It seemed fostering new talent came a distant second to satisfying the CRTC, who only gave them their broadcast license because they promised to spend seven million dollars on local film production. They ran the WANNA MAKE A MOVIE competition because it meant free advertising, and probably chose beginners because they thought they could push us around.
When they realized Cable Beach wasn't going to make it through their endless rounds of committees in time to satisfy their CRTC license requirements they ran a whole new competition for Island filmmakers with experience.
Speaking of experience — this time Peter Campbell won with Lies Like Truth, written by Edmonton Fringe founder Brian Paisley. Michael Bateman (who edited Flower and Garnet) was slated to direct. Peter, Brian and Michael had been pals for 20 years. Compared with my shotgun wedding to Nora, Lies Like Truth looked like Happy Families.
The Bill Thumb blues
Cable Beach went on the back burner for months. Then CHUM suddenly told Nora they needed a second draft in five weeks. I said that wasn't going to happen. CHUM said, "Where's your commitment to the project?"
Three months later I filed the second draft. More silence. Then I heard through the grapevine Cable Beach had been greenlit for the spring. Nora e-mailed to say I had less than a month to write the third draft/polish. I was shocked by CHUM's lack of couth, but I e-mailed back that I'd get it done somehow. Nora e-mailed to say Bill Thumm had already finished the third draft. When I got the screenplay in the mail the front page said:
CABLE BEACH by William Thumb
And it read like a bad episode of Cold Squad.
I phoned the Writer's Guild of Canada, who asked Nora to put my name back on. Then I phoned Nora and asked her to change my name to Arthur Jackson, a Monty Python character who goes on a TV arts show and gets brutally beaten by the host, who then towers over him and cries, "Get yer own art show, ya pansy!" It seemed appropriate.
By now I had an inkling of why so many Canadian films suck — they're made by rooms full of suits instead of by filmmakers. Such consensus decision-making by its very nature falls towards the centre, and excludes the worst and best films. We'll never know which group the original Cable Beach was in because CHUM owns my screenplay, and it will never see the light of day. If that happened in Russia we'd call it censorship.
Murray Gulkin, the Montreal producer whose 1975 film, Lies My Father Told Me, introduced the world to Canadian cinema, just as Rashomon had introduced Japan, once said, "The producer should be the custodian of the artist's concept." Nora never got a chance to do that. She was too busy wrestling with the infinite number of monkeys down at CHUM.
The shadows and the blinding light
Cable Beach went to camera last summer. Charles Emerson Winchester III (the big bald doctor from M*A*S*H) supplied the star power.
When the Victoria Film Festival loomed I got an e-mail from Nora offering me a free VIP pass. I said I couldn't accept unless I cleared the air first. A flurry of angry e-mails later the air was clear, but Nora was steamed. She donated the VIP pass to a schizophrenic group home in my name. I e-mailed back that she had found her target audience. We were a long way from that Chinatown hug.
Peter's film, Lies Like Truth, opened the festival. Monday magazine called it "Much more engaging than Cable Beach." But Peter and Michael argued over the final cut, Michael slapped an injunction on the premiere, and Peter had to read out a disclaimer before the screening.
I was surprised when Nora and Bill made off with my script, but I was simply flabbergasted when Peter and Michael went at it. Twenty years of friendship down the tube. I guess cinema is such a blinding light that when we move towards it, our shadows get bigger.
The night Cable Beach screened, I was broke. Unable to afford a ticket to my own premiere, and with my VIP pass in the hands of schizophrenics, I walked down to the Capitol 6 Theatre and lurked in the shadows watching Nora hobnob with Charles from M*A*S*H in the foyer. It was cool. On the outside looking in is what being a writer is all about.
After everyone went inside, my friend Dave showed up with a free ticket. I waited till the lights went down and snuck in and stood at the back. The opening scene looked beautiful. When Arthur Jackson's name came up on the screen I was blasted back out of the theatre and down into the streets, where I wandered until the movie was over.
Later I met Dave at Starbucks. He had bad news. Cable Beach wasn't the worst movie he'd ever seen."Some parts I could even tell you wrote, although other parts I thought, there's no WAY Andrew would write that, no matter how drunk he was."
Ninety-five minutes earlier, my heart would have sunk. But ever since I'd seen Arthur Jackson's name in lights I had been filled with joy. I guess I could be angry at what happened to my first feature. But it's hard to stay mad when there's so much beauty in the world. Oh wait — that's from American Beauty. It's just like Wim Wenders said: "America has colonized the subconscious."
Speaking of America — that country owns almost all movie distribution in Canada. Our own films command less than two percent of the box office. The only way movies get made at all up here is when hive-minds like CHUM are forced into it to meet their licence requirements.
And speaking of license requirements — CHUM met theirs, thanks in part to Cable Beach. Nora got a film made, Bill got a writing credit, and I got 20 grand and a religious experience. In fact, a good time was had by all — except by you, the audience. Which may be the real reason Canadian filmmakers command less than two percent of the box.
Andrew Struthers is the author of The Last Voyage of the Loch Ryan (New Star) and The GreenShadow (New Star Transmontanus).