Edward Burtynsky and Jennifer Baichwal's new documentary, Watermark, begins with a torrent of water rushing past the camera. It's unclear at first what we're witnessing -- a wave? a broken levee? -- but its ferocity is unmistakable.
You get a similar feeling the first time you look at Burtynsky's photos from the companion book to the film. The images can appear at first like abstract paintings, only slowly revealing themselves as stunning, panoramic photos of planet earth's water systems.
It's all part of the Canadian artist's double-edged effect. Burtynsky's photos often take something essential and known, and cast it as a grandiose, unfamiliar work of art. They also often illuminate the deleterious consequences of our everyday activities on the natural environment.
Equally integral to much of Burtynsky's work is its geographical scope, and Watermark is no exception. The documentary takes us to China, with its massive Xiluodu Dam and bucolic rice paddy fields, to Huntington Beach, site of the U.S. Open of Surfing, to the banks of the Ganges River in Allahabad, where millions gather to wash off their sins, and beyond.
At first Burtynsky and Baichwal immerse us in these worlds, interviewing workers and local residents, but by the end the film becomes more of a collage, offering brief glimpses of each place then skirting off to the next location.
Using helicopters to capture sweeping shots of the landscape, and dark sound design that casts the Xiluodu Dam as something like a nightmarish space station, Burtynsky and Baichwal have created an engrossing and often breathtaking document of our wondrous if increasingly unstable planet.
Watermark follows on Baichwal's Manufactured Landscapes, which took its subject from Burtynsky's photographic explorations of how continued industrialization, particularly in China, is affecting our planet, and how reliance on the goods produced by that process leaves millions of people ill and impoverished.
In that film Burtynsky couched his work, somewhat dubiously perhaps, in political neutrality: "If I said, 'This is a terrible thing we're doing to the planet,' people will either agree or disagree. By not saying what you should see, that may allow them to look at something that they've never looked at and to see their world a little differently,' he said in an interview.
In Watermark, as the initial onrush of water gives way to a picture of the site in Mexico where the Colorado River used to flow before it was re-diverted through engineering -- a place where human settlements once existed that's now reduced to an arid desert -- it's clear this latest film won't be coy about the effects of human activity on the planet, nor the repercussions they could entail for our species.
The Tyee spoke to Burtynsky at his studio in Toronto about Watermark, our fraught relationship to water, and how we might start cleaning up the mess we've made of our global house. This interview has been condensed and edited for clarity.
The Tyee: Like Manufactured Landscapes, Watermark has a journalistic mission at its heart. It works to tell the story of human activity's consequences, but it also goes in this sort of more spiritual and cosmic direction at times, which gives the film a broader scope. Was it difficult making those two aspects work together?
Edward Burtynsky: "We wanted both of them to be present. I think that this [film] is even more sparsely narrated than Manufactured Landscapes. What we tried to do is keep the characters as authentic as possible. For instance, we had the possibility of bringing in and interviewing some people who are experts on the Colorado River, who studied it their whole lives, have done a PhD on it, know everything about it. They come with an interesting perspective, but at the end of the day, a woman walking in the desert [where the Colorado River used to run], that used to be where she lived... she had to move, and she tells her story from that displacement, which felt more authentic. It's a lived experience versus a more intellectual experience of trying to understand what's happening. I think [her story] brings home these events in a more human way than having someone just saying, 'So many people were displaced.'"
In Manufactured Landscapes you made a point of saying that you want your work to be politically neutral. Watermark seems much more urgent, much more of a "shaking the viewer" kind of film.
"The more I worked on water, the more I recognized that it probably sits as one of the most important issues of our time. Of all the resource depletion that we're doing and all the interventions that we're doing in nature, water is the most consequential. One thinks that water, it's a hydrological cycle, it just happens, it regenerates itself. But it doesn't.
"Water at the end of the day, politically, is probably the greatest destabilizer of any society. If a society can't provide enough water to Phoenix or Scottsdale or Vegas, that city is now in jeopardy."
In the film, you say your work is "a lament for the loss of original nature.' But the concept of original nature, not only is it hard to define it clearly -- to know where nature ends and humanity begins -- but the implication becomes that humans have no way of living in nature without negatively disrupting it.
"Well, what I do say is that one of the benefits of being Canadian and the Canadian experience is that you can actually go out there and see nature untrammeled -- what the surface of the planet was before we came along. What that reference point is.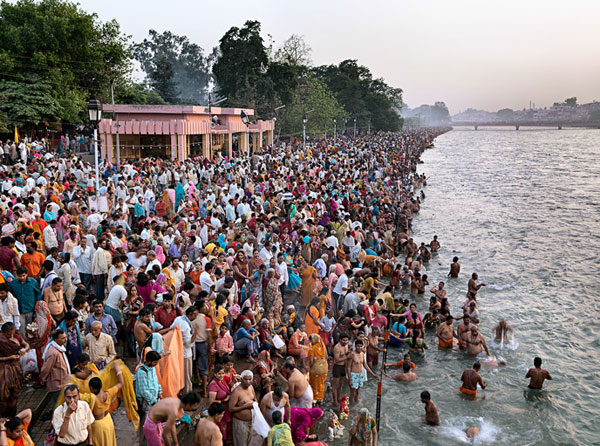 "We're the species that's now clearly in control of the resources and using them at breakneck speeds. You'd have to be under a rock not to know that we're not the best managers out there. Just look at the state of the oceans -- if somebody said 50 years ago that in 50 years 90 per cent of the great fish of the oceans will be fished out, you'd say 'No, they're too big. You could never do that.' But with all the trawlers and the satellite information feeding where schools are going, the fish are at a huge disadvantage now, just like forests are at a disadvantage.
"When Descartes separated mind and body, we were able to say: 'Nature is over there and we're over here.' Versus we are nature, which is a very different position. If we are nature, then there's a different kind of reverence and respect and a co-habitation where we live with it, we are part of it. Versus it's a cupboard where we go to get stuff, which is the position that capitalism and the world have now taken: that nature is a storehouse of goodies that we get to turn into the things that we need."
The transition in your work from oil to water is interesting because politically we're at a moment now where people are saying, 'We might run out of oil... but we have fracking!' Which actually uses up ridiculous amounts of water...
"And contaminates the aquifers too, which is even scarier."
Right. And the oil sands use up a lot of water. Everything we see as a solution simply moves the problem somewhere else. It's interesting to watch your work take that turn.
"I was watching that as well. There was a film done called Gasland that shows a family that go to their kitchen and turn on their tap and they're not getting any water. It's just gas. They put a lighter up and it ignites. All of a sudden there are flames coming out of their spigot. And the water that finally comes out is this brown, mucky, undrinkable stuff. And everywhere there's major fracking, [the director] found people with contaminated wells and gas coming out of their pipes instead of water. That's the same problem as drilling at 23,000 feet and the BP oil spill. As we move into new technologies, yes they solve one problem, but do we fully understand the risks?"
In Watermark, you talk about how when you drink the water of a particular location, you become connected or united to that land. But people also speculate that water is the next resource that great wars will be fought over -- dividing the world the same way oil has. After doing all this work, are you optimistic that we'll be able to get out of the mess we've made?
"I liked when Robert Kennedy Jr. was asked [the same question] in an interview. He had just come back from the Yukon and he was being interviewed by the Globe about a trip down a river -- and when he was asked the question he said, 'Not a lot, because right now the bad guys have all the money.' And they control so much with that money. A lot of these big corporations have a very deep connection to what messaging gets out there, what can get out there.
"In the States, Obama now is in his second term, and he went in there saying he was going to do something about global warming. He went in there saying, 'I want to put a carbon tax into place to speed the transition along.' I think his intentions were there, but you just run in and realize that you're up against a force.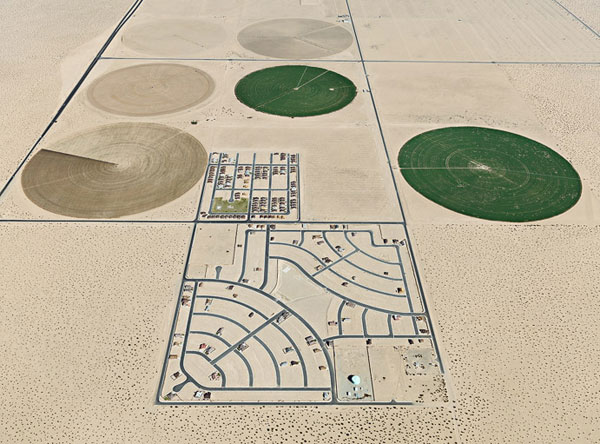 "If you actually do something that plunges the electorate deep into a recession then you're done, you're out. The electorate won't put up with that. So can you have a healthy, steaming economy with a decent growth rate, and also at the same time conserve and not exploit as much of the resources as is necessary to keep that growth?
"It's really complicated and it's not easy. I believe that the best hope is for citizens to unite and to begin to become aware and to elect governments and hold them accountable to the kinds of things are necessary to take us out of this trajectory.
"Because whatever the cost is now to try and solve the problem will be insignificant compared to trying to move New York to higher ground, or London to higher ground. Most of our major cities are on major rivers exiting out in the ocean. Now think of all those cities that are no longer viable. What's that worth?
"I think future generations are going to say, there was an opportunity but we failed to act. And maybe we're not programmed that way..."
For such long-term thinking?
"Yes. Our success is based on our immediate ability to survive and adapt to changing conditions. The possibility of us having to give up something for a future generation we don't know is not within our DNA. Which is too bad."
"There is this kind of grief and sadness about it. All the human ingenuity and all the great things that man has made and achieved: we're custodians of them, and we're the ones that can assure their future. As far as we're concerned, we're the most advanced living thing in the universe at this point, until further notice, until something else shows up. It'd be a shame to blow it. Because it takes a lot. There are a lot of things that had to happen for you and I to be able to have this conversation. Consciousness was hard won.
"What I point out is that, in my life -- I'm 50 plus -- almost every decade brought another billion people on the planet. When I was born there were 2.5 billion, and now there's seven. So something clearly is happening. There's a runaway species. We're in an unprecedented, rogue moment, where a species is overtaking the planet. And we're it."
"Put it this way: We're not very good guests to the host. We're making a mess of the house. We're trashing it."
Hopefully we can clean up.
"Hopefully, hopefully. I think the role of art is important. If you're not consciously aware of what we're doing, I think photography and film are great mediums to make us aware. These are real places in the world and we're bringing these real places into consciousness.
"It's very easy to get judgmental. You know: corporations, you're bad, environmentalists, you're good. It has that polarizing effect. And then nobody respects either. What I want to say to corporations is: A dead planet is bad for business. Your business model falls apart when everybody is dying.
"And from the environmentalist point of view: how do we go about feeding and clothing and housing seven billion people and try to keep all that in check? We have no choice but to engage in technological innovations that allow us to continue. Unless we let whole chunks of the world go to hell and don't look. Or we can start trying to create a global consciousness that we're all on this ship together, and we better start talking about it in a constructive way or we're forsaking future generations to a pile of shit."
Watermark screens at the Vancouver International Film Festival and opens theatrically on Oct. 11 at Fifth Avenue cinema in Vancouver. Jennifer Baichwal and Edward Burtynsky will attend an Oct. 11 screening for a Q&A.
Watermark opens this Friday, Sept. 27 in Toronto and on Oct. 11 in other major Canadian cities.
Burtynsky will also participate in the upcoming Capture Photography Festival in Vancouver.