Idle No More, Meet the Norwegians
Canada's elite lack guts dealing with oil giants. First Nations might embolden all of us.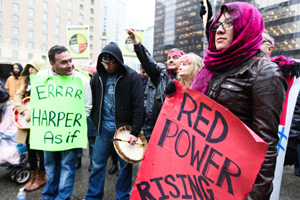 Norway is a long way from Attawapiskat but there may be some important lessons for Canada's First Nations from across the Atlantic in the looming showdown with Stephen Harper. In a recent series for The Tyee, I documented how this tiny Nordic country stood up to powerful outside oil interests intent on exploiting their natural resources and achieved a remarkable economic success.
By standing their ground with a clear vision and united front, Norwegians negotiated arguably the toughest ever terms with the world's most powerful industrial sector. They now enjoy full employment, no debt, generous social programs, and have over $600 billion in the bank -- putting them $1.2 trillion ahead of Canada.
Norwegian experts I interviewed repeatedly stressed that this achievement was rooted not in policy or economics but in their culture. Because people in Norway have such a strong and ancient connection with their land, and a famous Viking chutzpah dating back to the Iron Age, they refused to capitulate to outside timelines or artificial industrial imperatives.
Seen through this lens, the First Nations of Canada have a far better chance of replicating the Norwegian success story than the rest of our country. Their awakening could well lead the way forward towards transforming resource management in our country. And it needs transformation.
Alberta has run consecutive budget deficits since 2008 even through the province collects resource rents on 70 per cent of Canada's petroleum production – the sixth largest in the world. This shocking giveaway of public resources is indicative of resource misuse throughout the country.
Here in B.C., we are now importing discounted Chinese labour to work in our coal mines in a sleepy capitulation to outside interests where Canadians are not even afforded employment in exchange for our natural bounty.
The decimation of Atlantic cod stocks was arguably the greatest ecological catastrophe of the 20th century and another example of an almost unimaginably abundant resource obliterated on the altar of short-term gain and sheer stupidity.
Game changers: First Nations
There is little evidence that we have learned much from these failures, however a long-overdue game changer may be the groundswell of anger from First Nations around the lack of economic benefits from resource extraction within their traditional territories. A pregnant example is a billion-dollar diamond mine operated by de Beers since 2008 within 100 kilometres of Attawapiskat, yet not a dime of this revenue is currently going to the impoverished community.
In fact, APTN reported last year that the current housing crisis in Attawapiskat was partially caused by de Beers overloading the town the sewage system and flooding numerous homes that are now uninhabitable. Chief Theresa Spence‬ has been on a severely reduced diet for a month in protest of these and other indignities visited on her people.
What likely frightens Mr. Harper above all is that newly mobilized Aboriginal groups will use civil disobedience and their constitutionally guaranteed rights to consultation to thwart his agenda of massively scaled up resource extraction -- particularly bitumen pipelines to supply China.
And he should be worried. Native groups have a remarkable record of success in the courts. Whatever supposed consultation occurred with the proposed Northern Gateway pipeline was bungled so badly that the project will likely be tied up in courts for years, regardless of whether it is approved or not.
Norway's brave path to shared prosperity
In a larger sense the awakening of Aboriginal Canada could fundamentally change resource use in Canada. Like Norwegians, First Nations have ancient cultural ties to the land. Companies seeking to exploit resources on these lands have learned the hard way that ignoring aboriginal interests can stop their expensive projects in their tracks.
Shell Oil wanted to open up 400,000 hectares of the Stikine watershed in Northwest B.C. to oil and gas development. They failed. The Tahltan long opposed drilling in what they call the Sacred Headwaters and last month they succeeded in securing the entire area permanently off-limits. This type of push back, achieved with little resources and small numbers, is rooted in land, memory and culture.
Imagine if native communities moved beyond sporadic blockades to demand their fair share of resource rents? And not the paltry pittances typically agreed to by provincial governments, which seem to view resource wealth as something left behind by previous owners when they moved into the house.
Imagine if First Nations demanded Norwegian-scale revenue and management sharing? Not only might this lift native communities out of shocking levels of poverty, it could also show the rest of the country what bumpkins we have been regarding the giveaway of our treasure trove of resources.
Such determination will not come from non-native Canada, but we might all benefit from it. While many Canadians were fretting about the NHL lockout, it was First Nations taking to the street to oppose Harper's gutting of Canada's environmental laws. Their fight has the potential to win a better future for all Canadians.
comments powered by

Disqus