Tyee's Climate Change Crash Course: Part 3
Reading the planet's past to understand the magnitude of risk we face.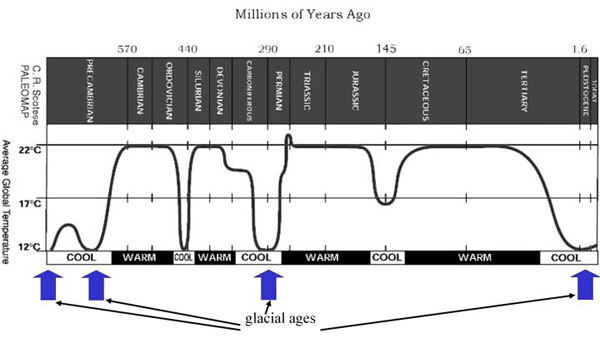 [Editor's note: There's no bigger subject than climate change, and maybe none more important to understand. But too often it's a subject for arguments, when we need a reasonable discussion based on what's actually happening to the planet around us. We thought it might help to revisit the basics of what's going on in the air and the oceans, our human role in events, and what kind of future we can expect if we don't make some changes. So welcome to a first for The Tyee. Scientifically trained writer Eric Nadal has created a nine-part series made up of eight short, straightforward, simple to understand classes in climate change, followed by a quiz you can take -- with a certificate to hang on your wall if you pass. Climate Cadet? Gaia Geek? Smarty Boots of Atmospheric Science? Graduates are invited to put whatever they wish on their next job applications. And the planet will thank you.]
Part 3: CO2 as Earth's Thermostat
Building on what we learned in the first two lessons of this course, a growing body of observations underscores what we know from physics about CO2's pivotal role as a greenhouse gas, suggesting that its relative presence in the atmosphere has been a main driver of climate change throughout Earth's history.
For example, it was probably very high levels of CO2 early in our planet's history that compensated for a much dimmer sun at that time, keeping Earth warm enough to develop life. (By contrast, the effects of higher CO2 levels today are being felt under an older, brighter sun.)
More recently, and despite the sun's ongoing brightening, a very gradual but large reduction in CO2 levels over millennia, as rocks and sediment removed more of it from the atmosphere than volcanoes were adding, lowered the Earth's "thermostat" from warmer, ice-free conditions to a much cooler period about 50 million years ago. The lower temperatures allowed our large polar ice sheets to form. Smaller fluctuations in CO2 levels since have helped those ice sheets wax and wane dramatically, taking us in and out of ice ages.
Human emissions are now returning CO2 back to the atmosphere many times faster than natural processes once removed it, at a pace that dwarfs any other natural forcings over the same period. For example, the greenhouse effect of rising CO2 levels is about 10 times more powerful than fluctuations in the sun over that period (0.06 to 0.30 watts per square metre). Nevertheless, the record of the past gives us some idea of how the extra forcing we're introducing into the climate might actually alter our world.
What we've learned about the past helps put the present into perspective. For instance, the climate forcing produced by the CO2 we have added to the atmosphere up to now is already one-quarter as much as the forcing (seven to eight watts per square metre) that carried us out of the last ice age 20,000 years ago. That forcing raised global temperatures by five to six degrees Celsius on average, and by more than that over land.
Other data suggest that during the cooling phase 50 million years ago, the ice-free oceans were some 67 m higher than today's until CO2 concentrations dropped below 350-550 ppm. Only then did some of that water become frozen in ice sheets. (Interestingly, climate modeling today indicates that Greenland's ice sheet would become unstable at somewhere between 400 and 560 ppm of CO2 in the air.)
Since the mid-1700s we have pushed the CO2 level up from about 277 ppm to 394 ppm -- within or near this critical zone for ice to form -- or to melt. The last time the CO2 level in the atmosphere was this high, about 15 million years ago, the oceans were 25 to 40 meters higher than today's. Average global temperatures were three to six degrees Celsius hotter; local ones over land, much higher still.
Of course, what happened 15 million years ago is not a perfect guide. But even a fraction of the change the Earth experienced during the last climate shift on this scale would produce a planet unrecognizable to human civilization.
On Monday (that's right students, you have Sunday off!): The link between CO2 and extreme weather. Find the entire series so far here.
comments powered by

Disqus